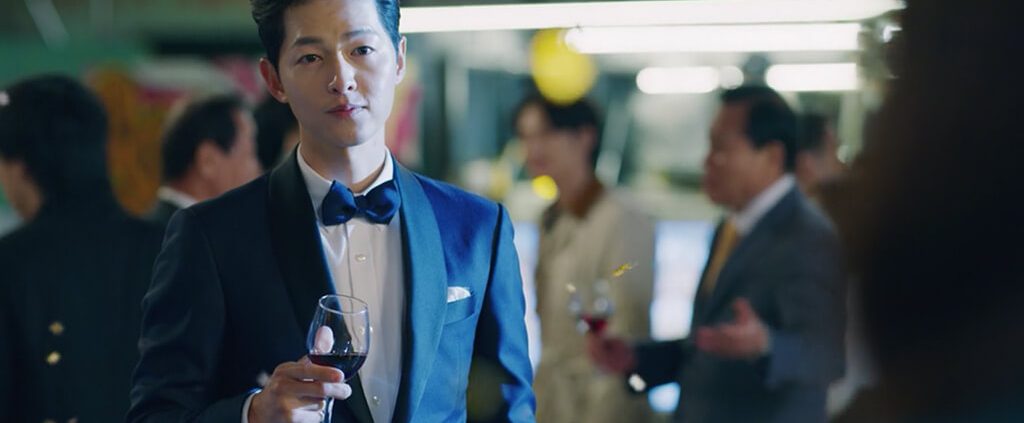 Screenshot taken from Netflix
Editor's note: This review contains major spoilers.
Stars: 4/5
In Vincenzo Cassano's world, justice is a farce. He scoffs at the term "hero of justice", and describes himself as "a scumbag who cleans up scums". He fights evil with evil, and barely bats an eyelid as he takes out his enemies with a shot to their head or a stab to their chest. He's driven by vengeance and loyalty to the Cassano Mafia family, who adopted him from Korea while he was a young boy and raised him to be their consigliere (trusted advisor and right-hand man to the leader of the mafia family) in Italy.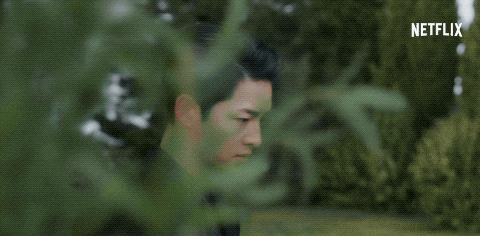 Episode 1 of the 20-episode Netflix dark comedy, Vincenzo, begins with Vincenzo (played by Song Joong Ki), returning to Korea after the death of Don Fabio, head of the Cassano mafia family, to retrieve a secret stash of gold bars hidden under Geumga Plaza in Seoul. However, he ends up getting embroiled in the schemes of a super evil multi-million-dollar conglomerate, Babel Group, initially fronted by slow-witted Jang Han-seo (Kwak Dong-yeon), and later his sadistic and inhumane older brother Jang Han-Seok (Ok Taec-yeon).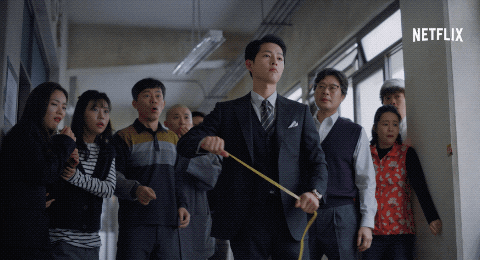 In the process, Vincenzo finds himself an unlikely family in the hodgepodge troupe of tenants at Geumga Plaza, who are highly suspicious of his intents at first, but soon become die-hard fans of their favourite "corn salad" (a hilarious mispronunciation of consigliere), and proudly call themselves the "Cassano Family".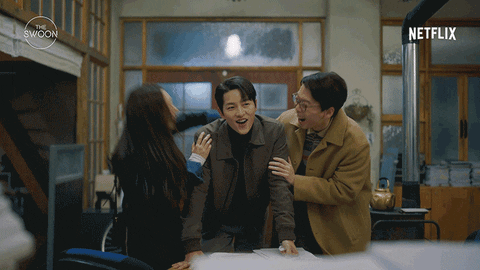 It's not the first time we've seen an anti-hero like Vincenzo grace our screens, but for viewers who are most familiar with Song as Yoo Si Jin, the honourable and selfless army captain in the hugely popular 2016 Korean drama, Descendants of the Sun—which turned his reel love story into a whirlwind romance and marriage with his co-lead  that ended just as quickly as it begun—it might have been surprising to see their favourite heartthrob play such an ambiguous character.
For the most part, Vincenzo, which has become Korean broadcasting network, tvN's 6th highest rated series, is a delightful and refreshing mix of slapstick comedy and mobster drama with specks of romance. The show does a marvellous job taking the viewer on a rollercoaster ride of emotions, replete with shocking twists, laugh-out-loud moments, and tear-jerking scenes.
Song delivers as the effortlessly dapper and suave baby-faced vigilante, constantly decked in perfectly tailored Booralro suits, whether he's at a fancy party or in the midst of slaughtering his enemies. And yet, he still manages to retain a level of relatability through comedic moments such as his encounters with Inzaghi, the pigeon perched on his window ledge (which has since inspired numerous memes).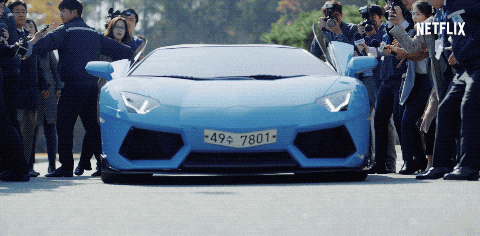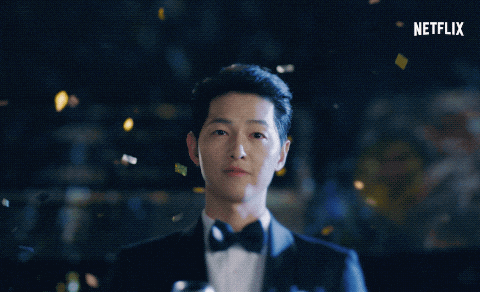 Three Views of Justice in Vincenzo
Justice (or the lack of it) is the main theme of this popular Netflix series, and it's tackled differently by three of its key lawyers: Hong Yu Chan (founder of stalwart Jipuragi law firm), Hong Cha Young (Yu Chan's daughter, headstrong and pragmatic Wusang lawyer, who later on teams up with Vincenzo), and Vincenzo himself.
In the first few episodes, we watch how the indomitable Yu Chan tries again and again to seek justice for his clients the "right" way—by going through the proper legal system. But his efforts prove futile and we soon learn that corruption is embedded at every level of the justice system.
Cha Young, on the other hand, has decided that her version of justice would be one that enables her to win cases. Backed by her seedy law firm Wusang, she has no qualms about going against her own father in court and using morally questionable tactics to win. But her worldview is uprooted in the worst possible way when her father gets murdered. That's when she decides to team up with Vincenzo, to take revenge on the perpetrators from Wusang and Babel.
The next few episodes take on the style of a light-hearted, Korean heist comedy, with Vincenzo showing off his bag of mafia-styled tricks to make sure the baddies pay for their actions through creative pranks and scares like fake shootings, zombie performances, and pig's blood. Although sceptical at first, Cha Young quickly gets behind Vincenzo's style of justice, especially when he assures her that they "wouldn't kill anyone" in the process. As a viewer, it was satisfying to see the underdogs finally get the upper hand as they outwit their enemies.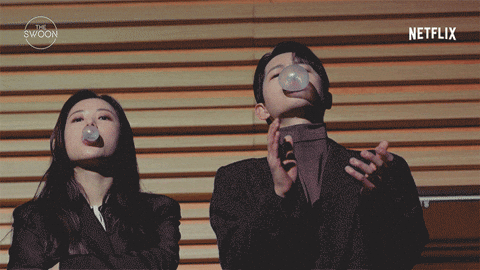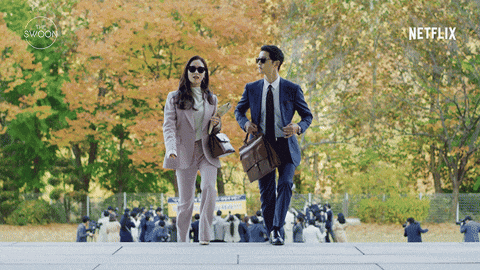 When Justice Takes a Different Turn
But the pranks are no longer enough when more innocent people are killed, and Vincenzo urges Cha Young to harden her heart so that it's easier to take revenge. By episode 19, she concludes that there is "no law that can punish a monster like Han-Seok" and ends up abetting Vincenzo as he goes on a systematic killing spree to take down the show's baddies one by one. The eviler his adversaries, the grislier the murder.
Though the entire series is meant to set the viewer up for the final downfall of Vincenzo's opponents, it was uncomfortable to watch it play out when it eventually did. As a South China Morning Post article aptly wrote, "David-versus-Goliath story turns into a tale of vengeance with Song Joong-ki's Vincenzo turning sadistic, which the audience is somehow expected to forgive."
As much as I enjoyed Song's portrayal of the polished mafia consigliere, watching Vincenzo torture his enemies even as they pleaded for him to put a bullet through their heads and spare them of the excruciating pain and misery just didn't sit right. Perhaps, as the show's protagonist, I was expecting that he would be "different", and would redeem himself by choosing to spare his enemies at the very last moment.
Instead, all the baddies get killed and Vincenzo gets away scot-free as he escapes the country. It's the type of ending Song's fans would applaud, but one that is also highly problematic.
As an article from The New York Times noted, "viewing habits can affect your thinking, political preferences, even cognitive ability". So as believers, perhaps it is worthwhile to dissect the key themes and underlying message of the series, and consider what the Bible has to say about them:
1. We live in a broken world
Vincenzo's parting line in the series, "Evil is prevalent and vehement" is one that the Bible agrees with. In Romans 1, we are given a picture of the wicked and godless world we live in, where mankind is "filled with every kind of wickedness, evil, greed and depravity" (Rom 1:29). So while the series depicts an exaggerated view of systemic corruption, where the poor workers and clients are oppressed while Babel Group continues to flourish and thrive, it is not too far off from our own realities—where we see the strong take advantage of the vulnerable, both at the individual and societal levels.
2. We all need a Saviour
In the face of such helplessness (especially if we're the ones being oppressed), we all want a Saviour who can rescue and avenge us for the wrong we've had to suffer. And that's why we naturally rally behind an anti-hero like Vincenzo, who seems to have figured out all the loopholes in the justice system and goes about dispensing retributive justice (where a person is punished for their wrongdoing) in a Robin Hood-esque style.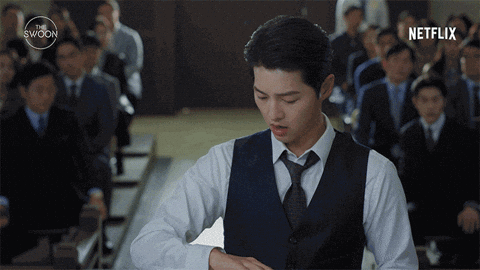 But no matter how winning Vincenzo's smile is, his approach, while satisfying at first, proves limiting and problematic, making him hardly any different from the "bigger" baddies on the show. And even he needed the help of his Cassano family (and even Han-seo) to get him out of precarious and life-threatening situations.
And as Vincenzo demonstrates, when we look to other sinful humans or ourselves to fulfil that sense of justice, all it leads to is an endless cycle of vengeance, just like how Vincenzo and his Cassano family keep getting locked in battle with the Babel group to see who will outwit one another.
On the contrary, we see another form of justice displayed on the cross—one that wasn't as sexy or pretty, but was complete, and ultimately glorious. The truth is: every single one of us has done wrong, and are all guilty in the eyes of God. And God's solution to that injustice was not to punish and destroy us all, but to send his son, Jesus Christ, the only fully righteous and just one, to take the punishment on our behalf. And this is the same God who calls us now to: "Learn to do good; seek justice, correct oppression; bring justice to the fatherless, plead the widow's cause" (Isaiah 1:17).
Vincenzo did get one thing right though. And it's that "Justice is only right when it's impeccable". And the only way that can happen is if we leave it in the hands of Jesus, the one who is not only all-just and all-perfect, but paid with his life so that we can be reconciled to God. As Romans 12:19 says, "Beloved, never avenge yourselves, but leave it to the wrath of God, for it is written, "Vengeance is mine, I will repay, says the Lord."
When we live according to God's rule, justice is not a farce.
https://ymi.today/wp-content/uploads/2021/05/Vincenzo-A-Sexy-But-Troubling-Take-on-Justice.jpg
613
1024
Joanna Hor
https://ymi.today/wp-content/uploads/2017/05/ymi-logo-black-3.png
Joanna Hor
2021-05-07 18:30:16
2021-10-04 15:37:54
Vincenzo: A Sexy But Troubling Take on Justice