Title: Why We can Still have A Merry Christmas
Artwork by: YMI x Emilia Ting (@emiliating_96)
Description: Whether you're living through a Covid-19 free Christmas, or in the middle of it, we can all agree that the most wonderful time of the year certainly doesn't feel like one this year. Thanks to travel restrictions and limits on gathering numbers, it's natural if we're all feeling a little down. 
But let's not lose heart, and take time to discover reasons why this season can still be a merry one (not a weary one) that's filled with hope, joy, and love.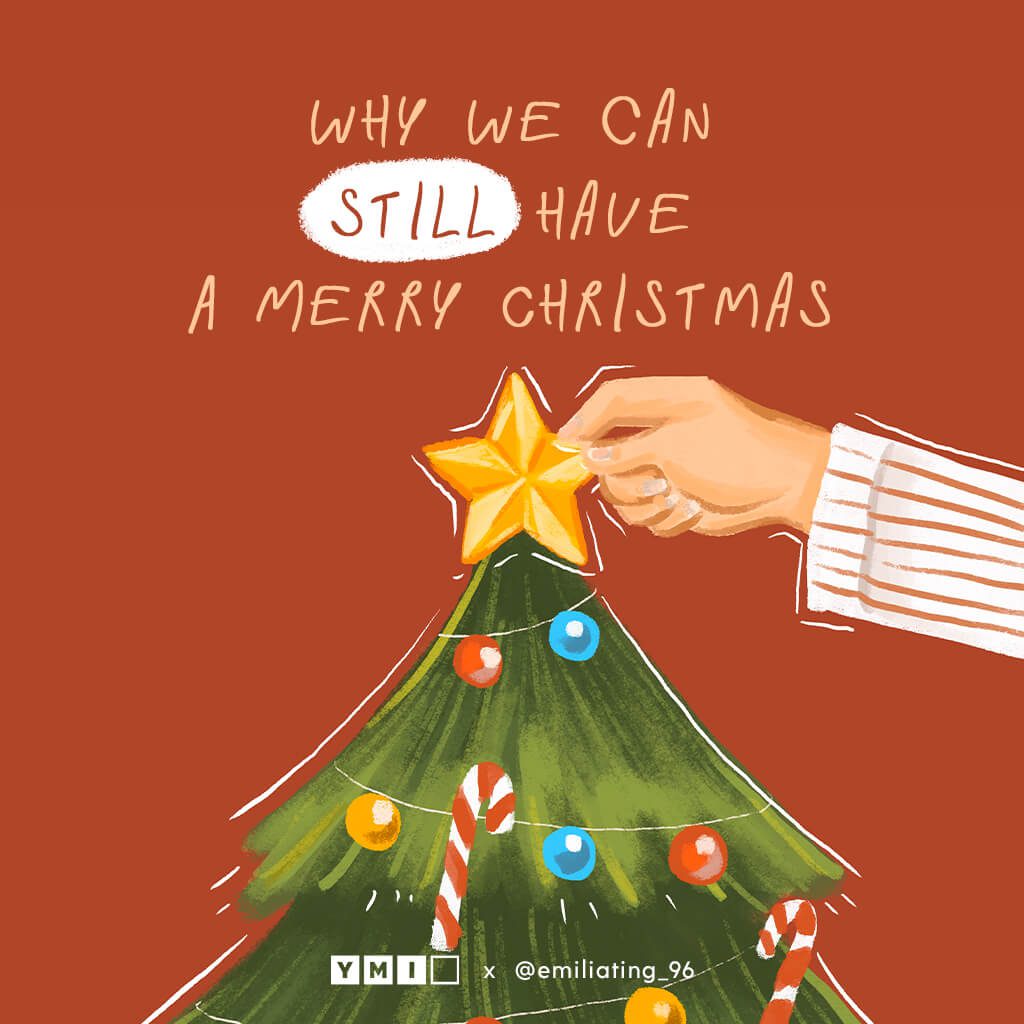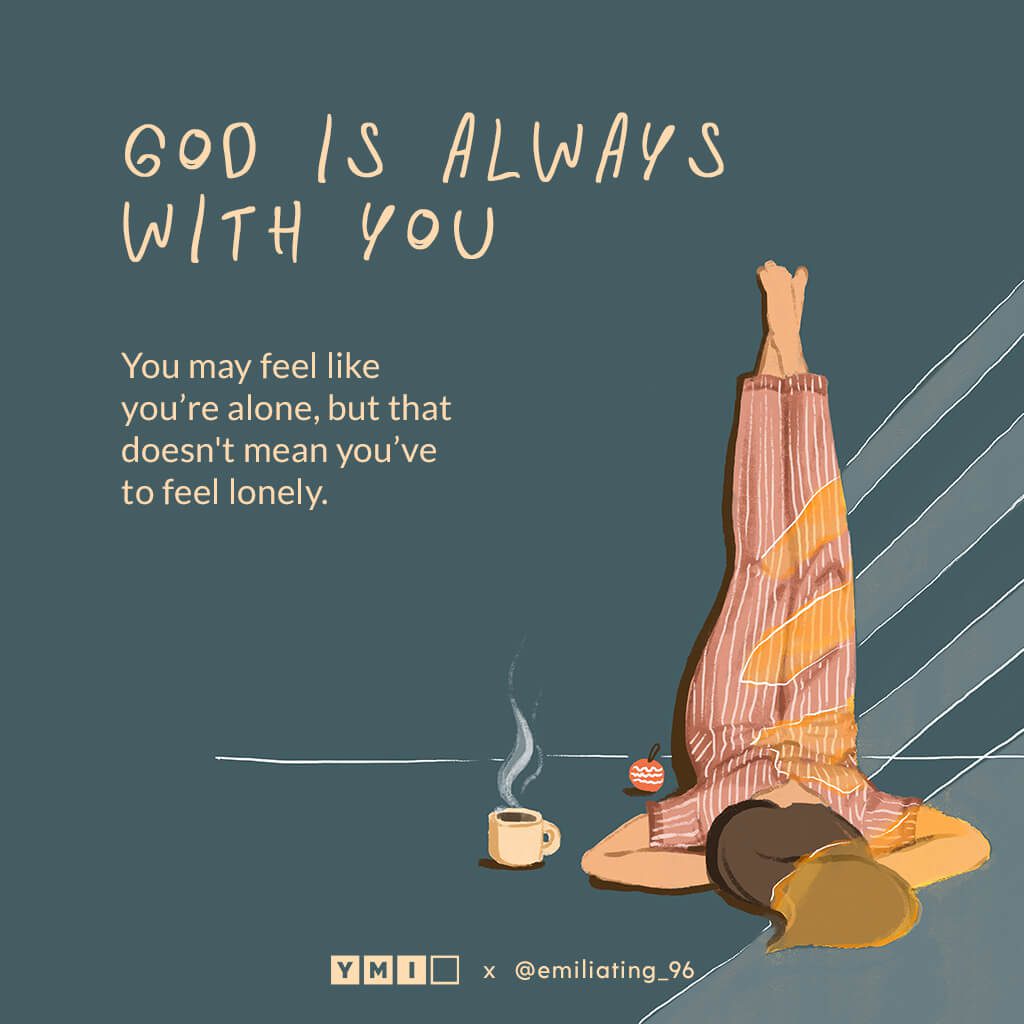 Maybe we're in a foreign country, unable to head home due to the pandemic, and are jealous of our friends who get to spend time with their loved ones during this festive season. Or maybe, we've family to spend Christmas with, but we still feel so alone in their midst.
Just because we feel like we are alone doesn't mean we've to feel lonely. God is always with us, no matter where we are, and He is never far from any one of us. Scripture says "in Him we live and have our being" (Acts 17:27-28), and that God is with us always to the end of the age (Matthew 28:20).
This Christmas season, why not start a conversation with God whenever you're feeling lonely? It doesn't matter where or when, we can relate to God and tell Him whatever is on our mind.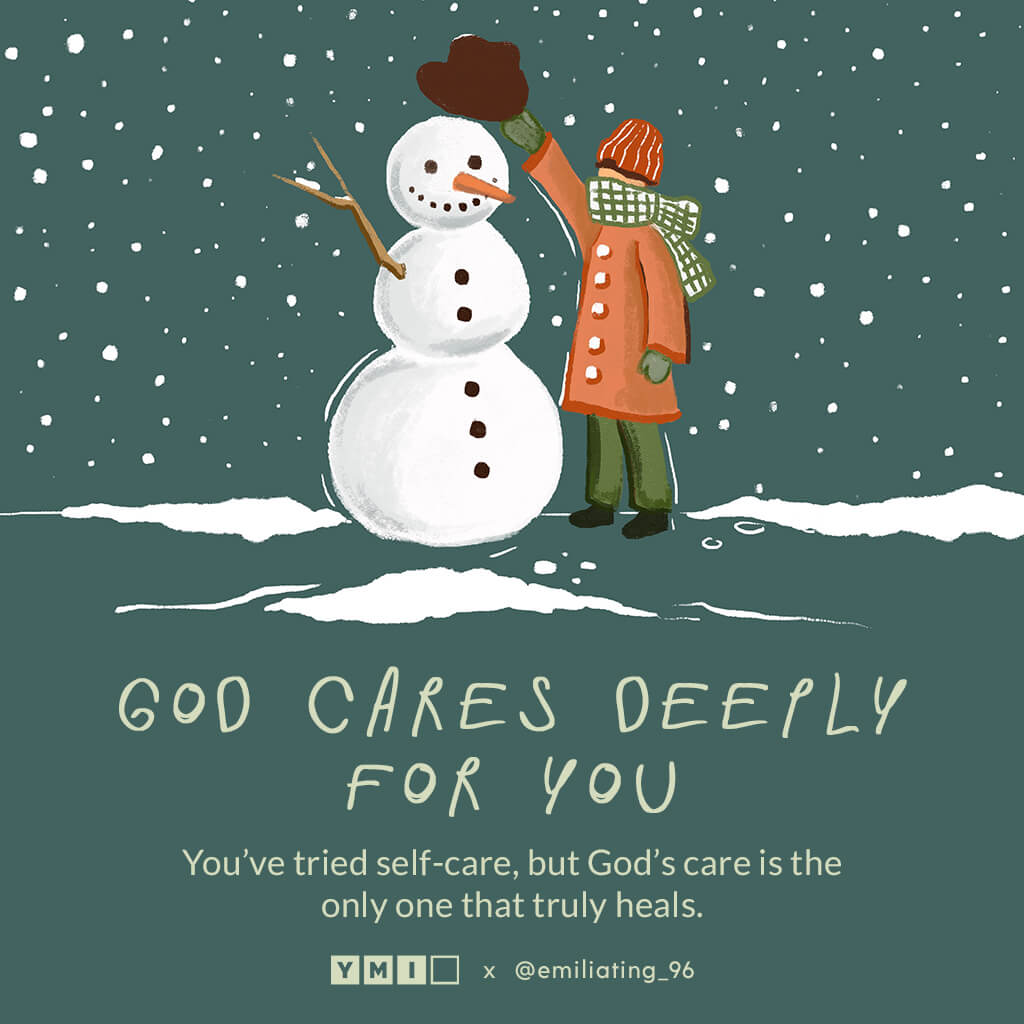 Our plans were wrecked and we've all faced numerous disappointments this year. Maybe we've tried nursing our hurts and disappointments with a little self-care, by going out for a walk or mindfully hugging a mug of coffee. Or we've tried counting our blessings in hopes it'll lift our mood.
Yet, the pain of the hurt and disappointment lingers, and despite our best attempts to take stock of our blessings, our mood hasn't quite lifted. 
While self-care can be beneficial, it's a temporary balm since we're relying on our broken selves to heal us. However, God wants us to entrust Him with all our worries because He cares deeply for us (1 Peter 5:7). 
And here's a beautifully comforting truth: When the pain seems too much to bear and we can't find the words to say, know that the Spirit is interceding on our behalf (Romans 8:26). 
Many of us would have spent the last few months working from home, and feel like we haven't achieved much this year since our bucket list has had to take a back seat. 
The state of doing nothing we have found ourselves in can seem like a massive full-stop on life. And we can feel listless and unaccomplished, with nothing to look back on this Christmas.
Despite what it seems, God has been using this time to grow our faith in Him, to prioritise our prayer life, and to teach us to focus on the One who truly matters. Scripture says we are to consider it "pure joy" whenever we face trials of many kinds because out of this, we'll have a character that's "perfect and complete, lacking nothing" (James 1:2-4).
God is working in our lives for good even when we can't see it, and we can trust He'll accomplish what He has set forth to do in us (Romans 8:28).
We've not denied ourselves the pleasures of our eyes, and even bought early Christmas treats for ourselves (we've also popped up our Christmas tree).
Initially, receiving our online shopping items, indulging in homemade treats gifted by friends, and admiring the Christmas tree we've just decked up fills us with a dopamine hit. But once the parcels are open, and the cookies eaten, we still feel a sense of emptiness.   
It's only in Christ that we find true fulfilment and sufficiency. Scripture says the sure way to fulfill the designs of our heart is to delight ourselves in the Lord (Psalm 37:4)
God is able to meet all our needs according to the riches of His glory in Christ Jesus (Phil 4:19), and the satisfaction gained will last exponentially longer than a new purchase or a baked treat.
We know of someone who has queued outside the food bank for a hamper, or has had a pay cut, or whose mental health has declined after losing his job and receiving one rejection email after another.  
Covid-19 has more than robbed us our plans for the year, it's also taken with it our security, jobs, and our mental health. Life doesn't feel so good right now, and we begin to wonder if God's even good in all of this. 
But those who seek the Lord will lack no good thing (Psalm 34:10), and just like the Psalmist, we too can taste the Lord's goodness if we rely on Him even if things aren't looking or feeling good right now (Psalm 34:8).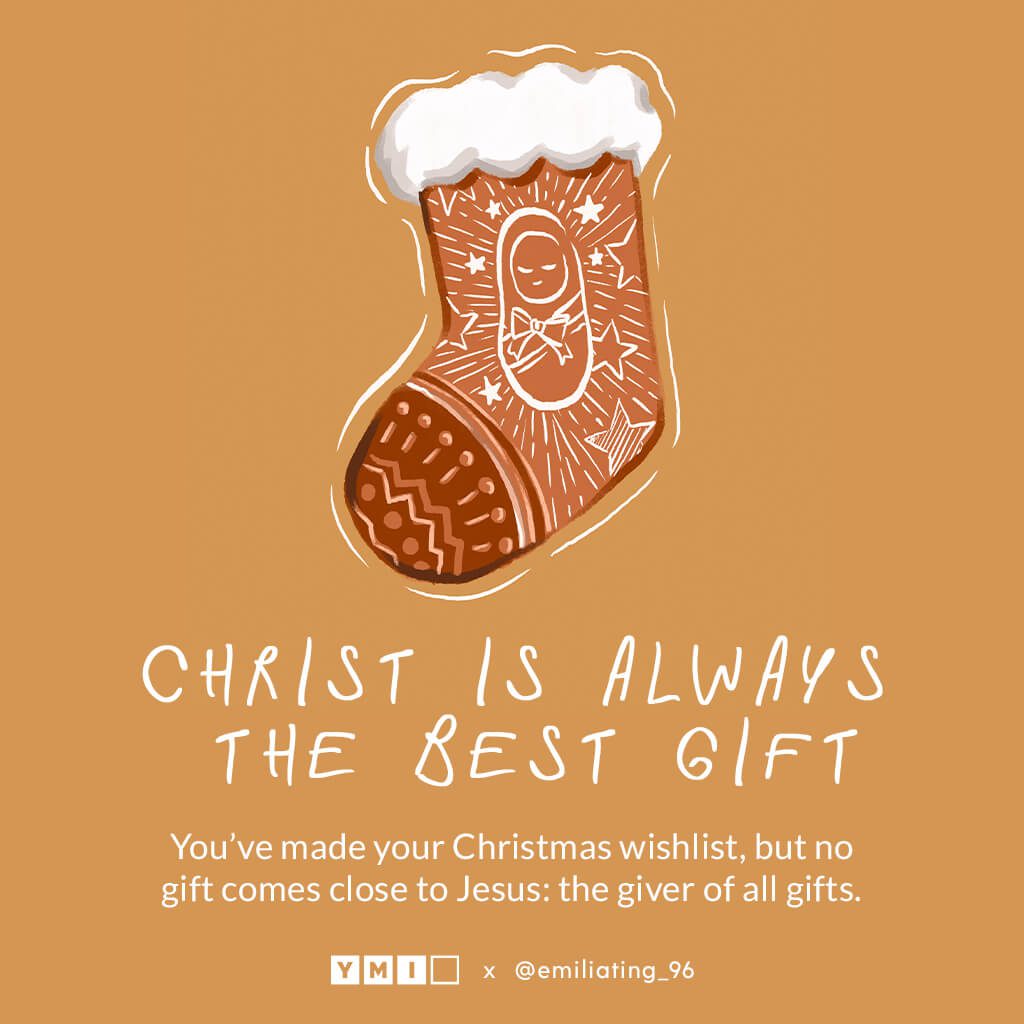 Our Christmas wish lists are made and we have emailed our list to everyone. There's now only one thing for us to do . . .
We wait with anticipation for Christmas Day to roll around, eager to rip the present wrapping open to see which items on our wishlist made it under the tree (or to our letter box). 
But there's a timeless gift that will always top everything on our wishlist. It's the most precious gift given to us nearly 2,000 years ago—Jesus. He was given to us not just to save us from sin (Matthew 1:21), but to give us all things we need for life and godliness (2 Peter 1:3). 
This Christmas, let's receive, marvel, and consider once again the ultimate gift: Jesus Christ, the giver of all gifts. And let's not stop there, but to share this gift with all those around us!  
https://ymi.today/wp-content/uploads/2020/12/00-Why-We-can-Still-have-A-Merry-Christmas.jpg
1024
1024
Emilia Ting
https://ymi.today/wp-content/uploads/2017/05/ymi-logo-black-3.png
Emilia Ting
2020-12-22 09:00:22
2023-01-23 22:00:25
Why We can Still have A Merry Christmas