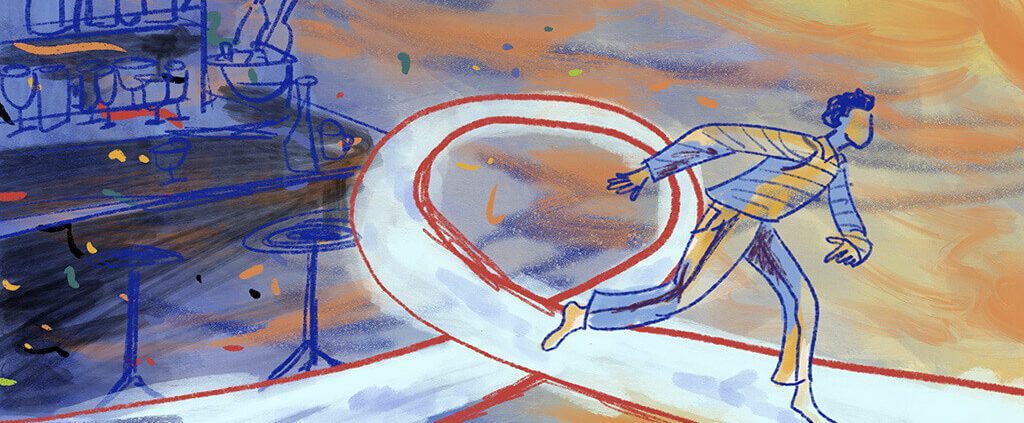 Written by Marlo Justine Gando, Philippines
Growing up, my father was not always by my side. He worked long hours to provide for my family as an anesthesiologist. Instead of his presence and guidance, I grew up with the company of my two sisters and thought that it was normal to play dress-up with them.
One time, my mom let me stay with my older male cousin while she went to work. My cousin repeatedly molested me. When it first happened, I was shocked, but after each episode, I began to crave it more and more. As the years passed, my feelings towards members of the same sex deepened. I started to explore my attraction towards men during my college year. Some nights, I would meet with multiple guys and engage in sexual activities with them, unbeknownst to my parents. I had a carefree attitude back then and did not think about the consequences.
During that period, I was also a youth leader at church. But while I was leading other people to worship on the outside, I was being pulled further away by my inner sexual cravings. On the inside, I craved a father figure. I yearned for someone who would take care of me and support my emotional needs—which my own father did not provide ever since he caught me as a child dressing up in female clothes. To me, my father detested me for being gay and wanted to draw a distance from me. So I sought love and acceptance in the wrong places and from the wrong people, hoping that someday, someone would accept me for who I was and believe in me.
A few years later, I got a job at a Business Process Outsourcing Company. I thought my attention would be diverted once I was busy with work, but I was mistaken. As soon as I started earning my own money, I began visiting clubs and bars, mingling with guys, and indulging myself while being a respected youth leader at church at the same time. I was living a double life.
I also became an advocate for the LGBT community, wanting to help individuals be aware about HIV/AIDS. I felt I was doing something right by supporting a cause even though I didn't understand it myself.
Sometime in 2017, a coworker who knew that I was an advocate for HIV/AIDS awareness, asked if I could accompany him for an HIV test. I agreed and decided to also get myself tested. When I received the test results, I was stunned. I was HIV positive.
It was very surreal and I did not know what to feel. My counselor made all the necessary arrangements to prepare me for medication and other procedures. On the way home, I tried to shrug off the negative feelings I was experiencing.
Experiencing God's Unexpected Grace
It took weeks for me to accept the news. At first, I tried to show that it was nothing, that I could still live a normal life despite it. However, the more I tried to shut out my feelings, the more they lingered. I decided to quit my job. Loneliness and depression kicked in.
One time when my older sister and I were lying on the same bed, I broke down and asked her, "Ate masama ba akong tao?" ("Am I a bad person?") Hugging me as I sobbed, she replied, "May purpose ang lahat, maaaring hindi natin alam sa ngayon, pero may purpose ang lahat."  ("All things that happen to us have a purpose. Though we may not know it right now, everything will make sense in the end.")
When I told my family about my condition, my dad replied, "Anak, wag mong sabihing hindi ka namin pinagsabihan ha" ("Son, please don't say we did not warn you of this.") before hugging me.
Yet, despite knowing about my condition, my family members did not treat me any differently or disown me. It was as though nothing had happened. My family members still shared meals with me and gave me chores to do at home. My condition was never brought up ever since I told them about it. Their positive treatment helped me, especially since my dad was a medical doctor and knew exactly what I had gotten myself into. Even if he did worry about it, he did not show it.
Because of what I shared with them, my dad started to frequently spend time with me and my mom. We went to church and ate together, something that my mom had been praying about for years. At that moment I knew that God orchestrated all of these things to happen in His own timing.
Surrendering My Double Life to God
After roughly 11 months of taking a break and reflecting on what mattered most to me, I decided to look for a job again and thankfully got accepted into a company. I began to search for an accountability group and a close friend of mine from work referred me to my current discipleship group leader. I told him about my condition, but he did not judge me. In fact, I'm amazed how secure he made me feel. He helped me to get back on my feet again and seek Jesus intentionally each day by having regular bible study and accountability sessions.
With my family relationship restored, the guidance of my mentor and best friend for six years, and the love and understanding of my discipleship group, I began to surrender my double life to God. But I am still a work in progress. God is just beginning to mold me into a beautiful masterpiece that proclaims His wonderful, saving grace day in and out.
I was a broken person, undeserving of the love that was demonstrated on the cross, a sinner saved by grace. Now I am restored for a greater purpose, to make Jesus known through my life's testimony. I am ready to face my giants and conquer mountains for the glory of God. I am a recipient of God's love, an agent of change. I am a vessel who was greatly broken to serve a greater purpose.
I, Marlo Justine Gando, am a servant of God, and I proclaim that Jesus is the only one who completely loves me and is all that I will ever need.
Today, HIV has a new meaning in my life: HE IS VICTORIOUS over me.
But thanks be to God, who gives us the victory through our Lord Jesus Christ. (1 Corinthians 15:57)
https://ymi.today/wp-content/uploads/2020/09/HIV-Turned-My-Life-Around—For-Good.jpg
613
1024
YMI
https://ymi.today/wp-content/uploads/2017/05/ymi-logo-black-3.png
YMI
2020-09-24 10:00:34
2020-09-24 10:08:44
HIV Turned My Life Around—For Good