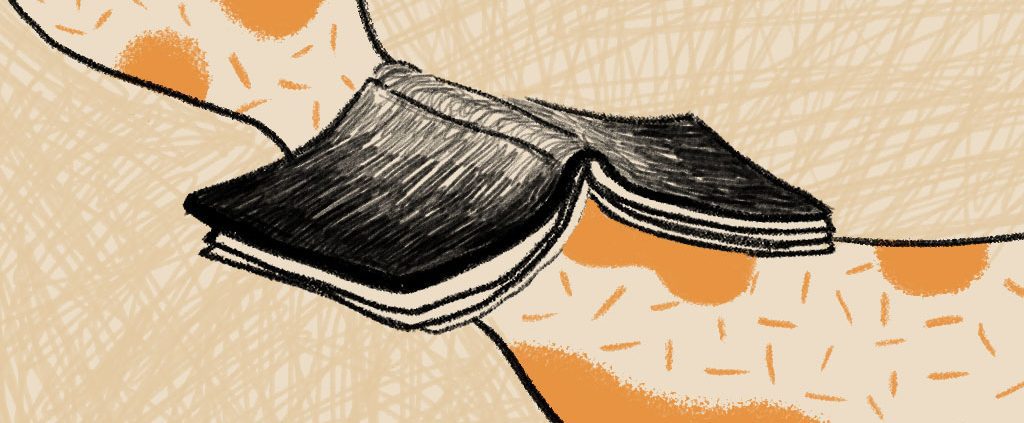 I don't know about you, but as a result of quarantine and all that it entailed, I find myself very unmotivated. And unfortunately, my Scripture reading has suffered as a result. Whereas I used to begin my day reading the Bible, or at least have time set aside for it, my daily agenda has been turned upside down, and with it, my Scripture reading.
The shame and guilt that we sometimes feel from not sticking to a regular Scripture reading plan can be overwhelming. If we are feeling guilty over this, let us be encouraged instead to pray—confessing our lack of desire to read, and asking God to give us that desire. We can ask God to help us recognize Scripture as the lifeline it is, because it points us to Jesus, the One who is Life and Light.
If I go too many days without reading the Bible, there's going to be a pretty big crash. There was a time a few years ago when I was not regularly reading Scripture. I was, however, reading a book that encouraged lots of hustle and grit and a "just get-it-done" attitude. With that voice dominating in my head, I went forward on a project I had been wanting to work on. But ultimately, this project fell flat, and I realized that I hadn't listened for God's will and prompting. If I had been reading God's Word, I'm confident that His voice would have been louder, and I would have been guided by His promting, not my own.
So we need to do something about staying regular in our Bible reading. I've been brainstorming ways we can help each other stay accountable in reading the Bible—partaking of our lifeline and breathing deeply of this sustenance.
Find a Friend
One of the best ways I can think of is to do this together. Instead of facing this problem in isolation, let's call on the body of Christ and do it together.
The ways to do this are endless. Find an online reading plan to share with a friend—YMI has a study through Ecclesiastes. Or carve out time with your close friends, discipleship group, spouse, or kids. When the quarantine began, my husband started leading us in reading a Psalm each morning, and I'm grateful for this, because on some days, it is the only Scripture that I absorb. Let's make it a routine part of our day. Set a daily appointment, or put a reminder alarm in our phones.
Freshen It Up
Something that has always been helpful to me when I'm stuck in a rut with Scripture reading is reading a different translation. Setting fresh eyes on something can be a huge help. When we've read the Bible often and are very familiar with it, it can be easy to read without really thinking about it or processing it. Reading a new translation with new words and phrases can help us slow down and really think about what we are reading.
Consider trying the Message, The Voice, or The Passion paraphrases and retellings. Or check out a "Reader's Bible," where chapter and verse markings have been taken out. Chapters and verses were added much later to the words of Scripture, and while they can be helpful in finding what we're looking for, reading without them can help us see how the Bible was originally written and read. It will feel like an actual book, like it should!
Put Pen to Paper
Copying Scripture out with my own hand has long been a discipline I love. When I take a pen to paper and copy something out, it sinks in more deeply. It takes something that might be overly familiar, and forces me to consider it anew. Perhaps begin with a short book, and aim to copy the whole thing out in a journal over the summer. Or maybe choose a few favorite Psalms or stories to pen on notecards and then place around your home, desk, car.
Try Tuning In
We can use any number of apps to listen to Scripture—Dwell has become one of my favorites. Having the Bible read over us and read aloud in our home can sometimes be more impactful than we realize. Some say the "mindless" noise in our backgrounds affects us more than we know. If that is true, then our background noise should be something life-giving like Scripture.
Some of us might also want to listen to Scripture through music. There are musicians who take straight Scripture and put it to music. One of my favorite groups is Psallos. They have both a Romans and Hebrews album where those entire books are set to music. The Romans album stirs my soul in a way that regular worship music doesn't. Let's flood our homes with this type of music, and get these truths stuck in our heads.
If like me, you have fallen out of the habit of reading Scripture, be kind to yourself. Ask God to reveal to you why this has not been working lately. If it is lack of desire or know-how, ask God to instruct you in those ways, and try out some of these tips. But if what God shows you is that you're not reading out of laziness, I encourage you to dive in. If I am honest, this is where I am. As I write this, I sense a call to obedience, to grow up and do what I know is right and what is true—which is to throw myself upon this Book that points me to Christ.
Eugene Peterson says in his book Eat this Book, "What I want to call attention to is that the Bible, all of it, is livable; it is the text for living our lives. It reveals a God-created, God-ordered, God-blessed world in which we find ourselves at home and whole."
https://ymi.today/wp-content/uploads/2020/06/Creative-Ways-to-Stay-in-the-Word.jpg
613
1024
Ashley Ashcraft
https://ymi.today/wp-content/uploads/2017/05/ymi-logo-black-3.png
Ashley Ashcraft
2020-06-26 12:00:30
2021-09-21 01:15:42
Creative Ways to Stay in the Word