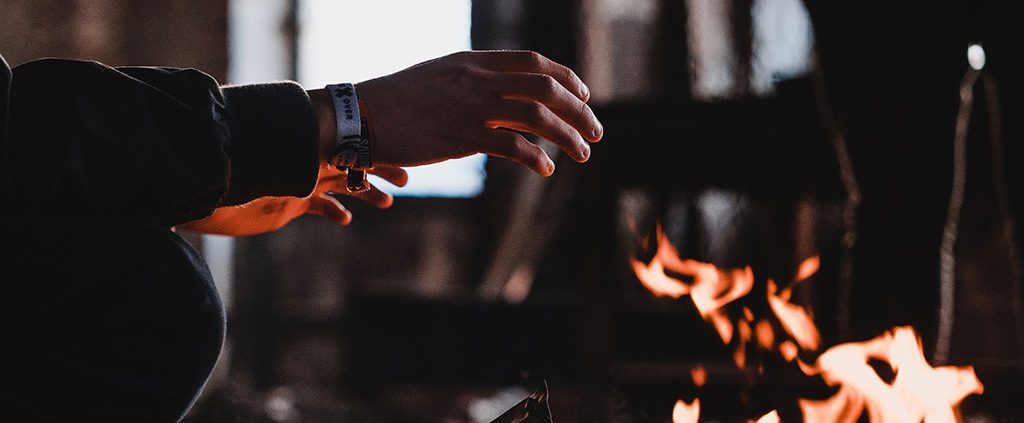 Written By Debora Asima Rohayani, Indonesia, Originally In Bahasa Indonesia
17 September 2015 is a day I will never forget. On that day, my aunt's house was burned down in a fire accident. Our house was right beside hers, so half of it was also consumed by the flames. I was at work when I received a phone call informing me about this disaster. I ran home as soon as I could.
When I arrived at the scene, I realized that my aunt's house had completely burned down—nothing survived. What made it worse was discovering my twin nieces—who were only two years old—were also caught in the fire and lost their lives. As I took in the damage from this accident, my heart broke into pieces, and I felt like my feet couldn't support my body.
My mom sat in front of our house silently, without any expression on her face. I was at a loss for words, but I hugged her and said, "It's all gonna be okay, mom." Deep down in my heart though, I wasn't fully convinced that everything was going to be okay. But I knew I needed to cheer my family up, so I held back my sorrow.
But all my resolve vanished the moment I stepped into my home. Everything lay in ashes. I couldn't hold back my sorrow anymore and began to cry. This was worse than a nightmare. I began questioning God, "What did I do to deserve this disaster? Is this what I get from serving You in church, praying, and reading my Bible everyday? My siblings served you too!" Without realizing it, my mind began to be filled with such thoughts.
As I lay my questions before God, I was suddenly reminded of Job, who lived a pure and blameless life, but also had experiences and unfair disasters befall him. This verse then came into my mind:
"In all this Job did no sin, and did not sin by charging God with wrongdoing." – Job 1:22
Job tried to put himself in God's shoes to understand what had happened to him—and what he experienced was one that's too hard for humans to bear. The more I looked into the account of his life in the book of Job, the more I realized that the disaster I myself had experienced pales in comparison.
But still, it was difficult to accept the aftermath of the accident. For days, we had to sleep without any electricity supply since it was burned down in the fire. Our neighbors tried their best to share whatever they could with us, but then abruptly cut it off without us understanding why. For the first time in my life, I slept right under the sky, without any roof over my head. Whenever it rained, we had to take shelter in our neighbor's home. I was also assaulted by memories of my nieces and shed tears over their untimely deaths numerous times.
I now found myself at the lowest point of my life. I began going into a phase where I doubted God and wondered if I should stop believing in Him. It became even more difficult to hope that anything good might come out of this situation when I heard about the cost it would require to rebuild our house. It meant that my mother would have to fork out the savings she had set aside for my little brother's education. He would have to give up his dreams of entering college.
As the eldest daughter, I felt helpless to contribute in any way, as I was still a student in my first semester in college. My situation felt completely hopeless at that point.
Just as I was about to give up, these words popped up in my heart: "Do you only want to receive the good from God? Aren't you willing to accept the bad as well?" These words were like a wake-up call for me. From my point-of-view, it was clear that what I had experienced was so bad and unfair that I couldn't see any good from it. But what if I saw it from God's point-of-view?
I immediately regretted the thoughts I had entertained in my head, and my demands that God understand my feelings. I believe that nothing happens in this life without His permission. So instead of giving up on Him at my lowest point, I should be building my trust in Him. I needed to learn to be like Abraham, who "believed against hope" (Romans 4:18) and trusted God to fulfill His promises to him.
After I resolved to do this, my perspective and view of my situation changed. Months after the disaster, I felt God's hand of protection over me and my family. Although we went through many tears and sacrifices, and were on the brink of giving up, God comforted us and reminded us that He will never leave nor forsake us.
I thought back to how my mother has been the sole breadwinner of our family for the past 15 years after my father passed away, and was reminded that God always provided for the needs of our family of four. In the end, my brother still managed to get into college. I began to be grateful for how God enabled my mother to earn enough to support our family.
I may not be able to see God's plan for my life from the beginning to the end. But I know that God is actively at work in every area of my life.
If, like me, you've felt overwhelmed by the burdens of this life, and feel as if nothing good seems to be happening in your life, I want to encourage you to keep placing your trust in Jesus Christ. He has proved His love for us by defeating the power of death on the cross. And He is able to help us overcome our temporary troubles.
I might have experienced many disasters and griefs in my life. But I only found the strength to keep going because of the knowledge that Jesus is always by my side. We may stumble, but He will never abandon us. And if we hold on to the hope we have in Him, we'll begin to see the purpose He can wrought out of our temporary troubles. Place your hope in God, He will never disappoint us.
"There is surely a future hope for you, and your hope will not be cut off." – Proverbs 23:18 (NIV)
https://ymi.today/wp-content/uploads/2019/05/When-Half-My-Home-Burned-Down.jpg
613
1024
Contributor
https://ymi.today/wp-content/uploads/2017/05/ymi-logo-black-3.png
Contributor
2019-05-27 10:00:32
2019-05-27 10:03:52
When Half My Home Burned Down