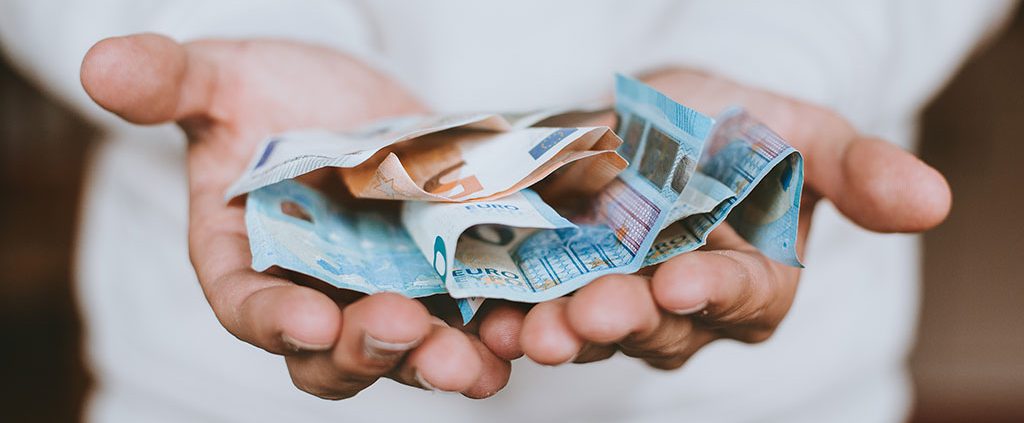 My daughter will turn two this summer, and she has a new favorite word. "Mine!" seems to work its way into her limited vocabulary at a pretty regular rate.
I find myself wondering where she picked up this need to stake her claim on her toys and possessions. And then I realized that I have the tendency to do the same, and that perhaps this desire to cling to and hold on to what we have, is innate in all of us.
What does Scripture have to say about this? Prevalent as a theme in Scripture, stewardship seems to be the resounding answer to that topic.
Stewardship means to take care of something. The Bible tells us that this first involves a mindset—an understanding that everything we have has been given to us. The psalmist reminds us: "The earth is the Lord's, and everything in it, the world, and all who live in it" (Psalm 24:1). All my "possessions" aren't really mine to begin with—they are on loan to me from a gracious God who gives us more than we could ever deserve.
A second thing stewardship involves is action. Knowing that all I have is a gift, I need to ask myself what I'm going to do with it. Remember the parable of the bags of gold? Jesus tells his disciples a story in Matthew 25: Before a man goes away on a journey, he gives one servant five bags of gold, another two bags, and yet another servant just one bag. The first two men use what was given to them to make something more, while the third servant hides away his one bag of gold.
When the master returns, the first two show the master all that they earned during his absence. They'd used their time and resources well; they had been good stewards of the gold given them. But the third servant has only the original bag of gold to offer back. He had been stingy and ungenerous; he'd protected his resources instead of using them.
Let me be clear. God's pleasure is not based on how much we can produce or earn. We all know that no amount of good works can earn God's approval (Ephesians 2:8-9). But this parable leads us to ask an important question: if everything we have is a gift, how can we use what we've been given to further the announcement of God's kingdom? How can we value all He's given us by making much of Him?
When we hear of stewardship these days, it is usually connected to the idea of money. But I have learned that stewardship is about much more than our finances—but every aspect of our lives. Here are some personal ways that God has taught me more about what it means to be a steward.
Stewarding My Resources
Growing up, our neighbor Lee had a pick-up truck. Lee would offer this truck to our family anytime someone was moving. There were four kids in my family, and come college-time, it felt like someone was always moving in or out of a dorm. So we borrowed this truck from Lee a lot over the years. I remember that he wasn't stingy or overprotective of his car, or even annoyed with the time it took to help us. Once when I thanked him for letting us borrow his truck, he said, "Oh, it's not my truck. This is the Lord's pick-up truck, and it is for His people whenever they may need it."
This happened years ago, and I still think about his kindness. How easy it is for us to hoard our possessions in the name of "taking care of them." How ungenerous I have been with things like my car, home, or my computer.
After that conversation with Lee, I began reframing my thinking and asking myself how I could use what I have to bless God's people, and thus bless Him. I remember when my husband and I bought our first car. He had heard Lee's story before, and so we had the same mindset that day.
We sat in that car and thanked God for entrusting it to us, all the while recognizing that it wasn't really ours at all. We prayed that we would be faithful in our stewardship of that vehicle, that it would be used, whenever and however, to love and serve the people around us.
That car was borrowed here and there while we had it, but after a few years of driving it, we lost it in a terrible accident. This is definitely not what we had hoped for this car—we wanted it to be a car that we could continue to steward for a long time. But even so, buying that car and praying that prayer was a sincere and humbling experience. It was not our own; it was the Lord's car. And then, when we lost it, we were reminded again just how temporary all our possessions really are.
Stewarding My Health
The last few years, I have become more and more convicted that we need to be good stewards in taking care of our bodies (1 Corinthians 6:20). And I've worked hard toward a healthy weight by exercising consistently, eating right, and drinking enough water every day. Only when I am healthy can I pick up my ever-growing kid, work the ground in my yard, or carry wooden pallets to the dumpster at a volunteer project.
Learning to take care of my body has not been easy—it has been a long journey and a lot of hard work, and maintaining it sometimes feels like the hardest part. But it is worth it, because the body that God has given me is a gift, and I believe He has work for me to do with it.
Stewarding My Life
In Matthew 5:13-16, Jesus talks about being salt and light in the world. Eugene Peterson paraphrases verse 16 this way in The Message translation, "Keep open house; be generous with your lives." I love this.
I am a teacher, and sometimes I get a class that I find difficult to connect with. A few years ago, I took on a class like this, which was probably the most difficult of my teaching career. The students and I simply couldn't get along, and as a result, I was very closed off with them. But when I read Peterson's paraphrase about "being generous with my life," I was immediately convicted—I was not being generous with these students. I was holding them at arm's length. I was not letting them in.
I don't even really remember what I said that next day in class, but I made an effort to tell them an anecdote and connect with the students on a personal level. I'll never forget a student saying, "What's going on with you? You're so much happier today!"
I am embarrassed to even write that, and my heart still breaks a little when I think about it. I was not keeping open house with my students, and they could tell. I regret that I was not generous in the way that mattered most—with my very life. How was I to mirror a gift-giving God to my students if I myself was not being generous? When we live out His generosity, we bear His image and allow others to see Him more clearly.
Stewarding My Time
I was recently at the funeral of my cousin's husband. He was just a few years older than us, with two young children. It was sobering to realize how quickly this temporary life can come to an end. People often say "time is precious" and "time is money." Time is viewed as a commodity, and we are cautioned to guard it closely. So, if time is so special, we need to start moving, friends. We need to realize that each day we've been given is a gift.
Even as I write this, I recognize that time is probably one of my weakest areas as a steward. At the end of my life, will my time have simply passed, or will I have used the time to make much of God and love His people? How are we using those hours in which God has kept us alive? I encourage you, friend, if God has sparked an idea in you, make it happen. Don't let another month or year go by without acting on what He's ignited in you.
On my birthday this year, I went to lunch by myself and mapped out the year ahead and some of the dreams and ideas God has given me. I set a specific plan for prioritizing what He has kindled in me, to be proactive in obeying His calling in my life. I'm doing my best (and asking for His help all along the way) to make good use of the time He's given me.
Friends, I hope and pray that we will continue to recognize God as the Gift-Giver, and that we would endeavor, with great anticipation and pleasure, to make much of Him by employing the many resources He's granted us.
https://ymi.today/wp-content/uploads/2018/06/Stewardship-Is-Not-Just-About-Money.jpg
613
1024
Ashley Ashcraft
https://ymi.today/wp-content/uploads/2017/05/ymi-logo-black-3.png
Ashley Ashcraft
2018-06-18 10:00:15
2021-03-10 13:06:35
Stewardship Is Not Just About Money