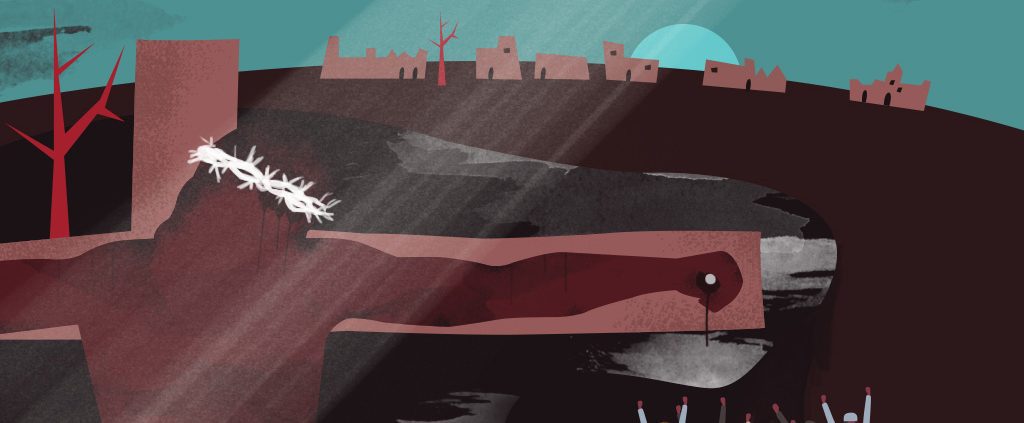 It was the start of the Holy Week. But he was withdrawn, quiet, and visibly tired. Though he had his ups and downs, I had never seen him more downcast than this.
Upon probing, he shared that there wasn't one specific cause; he just seemed to have lost joy in life in general. Small things irked him and good things no longer excited him. And even though he tried to read the Bible, he couldn't hear God speaking to him.
"I think I'm burned out," my colleague finally concluded. I tried to give him advice and said a prayer for him. Aside from that, there seemed little I could do about his situation.
The same day, I received another piece of news. A friend of mine had to take an urgent flight back to his home country because his father-in-law had suddenly passed away.
A couple of days later, I learned that another friend's grandmother had been warded in hospital because her throat cancer had worsened; the prognosis sounded bad.
Though it was the week leading up to Good Friday, it didn't feel any different from any other week. And I couldn't help but recall how it was exactly during the week of Good Friday, five years ago, that I went through the most difficult period of my life. Then, I was facing immense pressure at work when, out of the blue, my own father suffered a massive stroke.
Holy week or not, it seemed to make little difference; the trials and difficulties of life wouldn't let up.
But who said they would? I suddenly heard myself ask.
Holy week or not, we still live in a sinful world abounding with troubles and pain. Every day, people are crying, struggling, suffering, dying—and there seems to be no end in sight.
But what makes the world of difference is this: It was into this exact same sin-filled world that Jesus entered more than 2,000 years ago to die on the cross, in our place, for our sins.
Sometimes, as we mull over the significance of Jesus' death, we may gloss over the fact that Jesus didn't just come to die—He came to suffer. During his earthly life, Jesus was not exempt from the trials and hardships that we go through today. Our Redeemer, Savior, and Lord, was also "a man of suffering, and familiar with pain" (Isaiah 53:3).
And that makes a whole lot of difference to the lives we are living right now.
How? Regardless of what life throws at us in whatever season, we can rest assured that there is someone out there who knows exactly what we're facing. Because He's personally gone through it all.
So if you've been diagnosed with a medical condition, remember Jesus, who lived every day of His life acutely aware that He would die an imminent and cruel death (Matt 16:21).
If you're struggling to accept God's will (perhaps things are not going the way you want at work or at home), remember Jesus pleading with God in the Garden of Gethsemane (Luke 22:42).
If your friends have betrayed or left you, remember Jesus, who was betrayed by His beloved disciple Judas (Luke 22:3-6).
If you've been wrongly accused or called names, remember Jesus, who was falsely accused before Pilate and Herod (Luke 23:2, 10).
If you've lost all you have, remember Jesus, who gave up His heavenly throne to enter our broken world (Phil 2:6-8).
If you've been deprived of your rights, remember Jesus, who was stripped of His for our sake (Phil 2:6-8).
If you're going through physical pain, remember Jesus hanging on the cross (Isaiah 53:4-5).
If you're feeling abandoned by God, remember Jesus, who was forsaken by God on the cross (Matt 27:46).
Remember Jesus.
Remember that He died to give us a way to live.
Remember, too, that He lived to show us the way to live.
This Good Friday, as we remember His death on the cross, let's also pour our hearts to Him and approach Jesus with confidence, knowing that He understands and will give us the mercy and grace to face our trials. (Hebrews 4:14-16).
https://ymi.today/wp-content/uploads/2018/03/Jesus-Didnt-Just-Come-to-Die.jpg
613
1024
Joanna Hor
https://ymi.today/wp-content/uploads/2017/05/ymi-logo-black-3.png
Joanna Hor
2018-03-30 10:00:42
2022-03-25 13:56:13
Jesus Didn't Just Come to Die