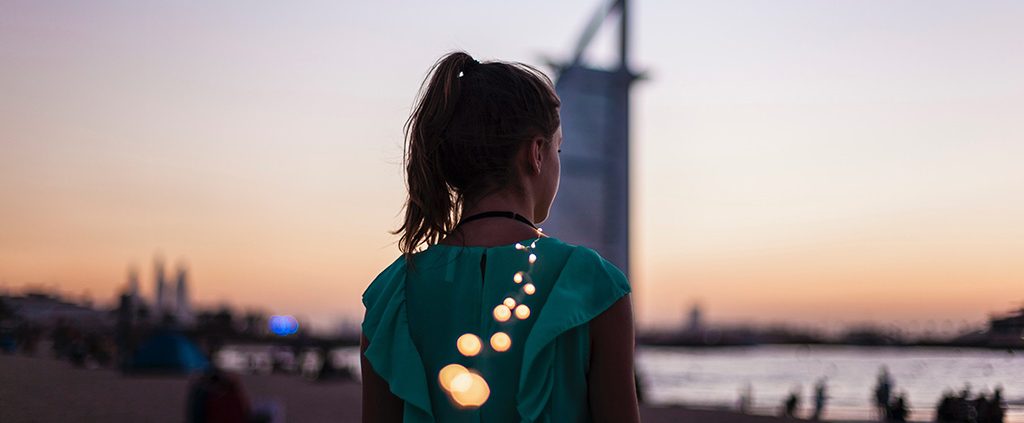 Written by Hilary Charlet, USA
You might have heard this saying: "Every new beginning comes from some other beginning's end."
It makes sense, but it's probably not something we might readily welcome. How much kicking and screaming do we do when something ends and leaves us feeling broken and defeated?
For me, it came in the form of a relationship that ended out of nowhere. I was blindsided. All I heard was he "couldn't do" the relationship any longer. While he was seemingly already out the door, there I was, still stuck in the comfortable pattern of what we were doing. I wanted to try to make it work. I wanted to bask in the happy feelings and hold on to them as long as I could.
There had been someone else in the picture. Yet, I still wanted to forgive and forget. Even though doing so would probably diminish my self-esteem and happiness, I felt that it was what I needed to do. But what I wanted to happen was quite the opposite from what actually took place. Instead of showing grace and forgiveness, I found myself constantly comparing myself to the other lady and wondering why I hadn't been good enough to be "picked". As if it should have even been a thought.
When I finally came to terms with the end of our relationship, I couldn't see how I could still have hope for something good after an ugly end to something I thought was picture perfect. Why would I even want to try to be vulnerable when the same thing could happen again?
However, the more I thought that way, the harder I became on myself and the unhappier I became—until I realized that God was leading me to new beginnings—a new place (well, sort of . . . moving back home was different from where I'd been), new friendships, new Bible studies, new hobbies, new priorities, new outlooks on life, and so on.
I decided to lean on Christ to fulfill the longing in my heart, instead of people. Diving into His Word and His promises, I began to see how valuable and how loved I truly was, regardless of what people said or did. For the first time in a long time, I was so excited to see God move in it. I felt fresh, I felt peace unlike anything I'd felt before, and I felt so much excitement over the anticipation of what God would do. And I saw how our cup can still be overflowing with hope even after things end:
 1. God is protecting us from lesser things.
If we are meant to have something which is necessary and required for our journey, God will give it to us. Philippians 4:19 assures us that "And my God will meet all your needs according to the riches of his glory in Christ Jesus." He will give us our every need, so we need not worry. If He gives us something that we need only for a certain amount of time, He may take it away eventually. He doesn't want to hurt us; He loves us unconditionally. He isn't trying to upset us, but to protect us from things that are less than what He has planned for us. What He has in mind is beyond our imagination, we couldn't even dream it up (Isaiah 55:8-9).
After resting in His truth, I slowly began to let the relationship go and trust that God would provide—not the relationship that I wanted, but the one that He created just for me, the one that I needed and that would glorify Him.
2. God is healing and restoring us.
What I thought was "good" for me was actually wearing me out on a daily basis. The feelings of frustration, comparison, and anger crept in no matter how hard I tried to keep them out. How could something good be doing that? I was broken in places I hadn't been before, and I didn't know how to get past it.
That's when I learned to lean into Jesus as the One to fill my heart with love, peace, and joy, instead of looking to others. I didn't need someone, I needed Him. Jesus wants us to feel complete (Colossians 2:9-10); He wants us to be filled with His love (Eph 3:19); He wants to heal, to restore, to bring new life to the pieces we thought would be forever broken (Psalms 147:3).
Where I had felt broken before, He filled me with His love and promises that I am valuable, that I am a treasure, and that no matter how lonely I felt, He was there every moment of every day. When we place our trust in Him, He will teach us, mold us, and piece us back together in the most beautiful way. He will be our Peace, and He will make us new.
3. God's plan is unfolding before us.
When something ends, it might feel like the end of the world. We might stumble and not know what steps to take. But we forget that our story is simply unfolding before us, and God can see from the beginning all the way to the end. When we look back, we will see that what looked like the end of the world was merely stepping stones.
Now, almost a year after all of this happened, I look back and can't believe how much I let that relationship control me as it did. By God's grace, I've moved on completely and have learned to embrace the present moment. I've found my peace in Christ: He loves me more in one moment than anyone else could in a lifetime, and I make it a point to reflect on that every day.
Though endings may be scary, we have to remember that there are great things ahead, and this will give us peace, hope and even excitement. Each ending we face is simply a moment in time, another chapter for us; God writes the full story. He has a plan, and His plans are good. Each ending is simply the beginning of something greater.
https://ymi.today/wp-content/uploads/2018/01/Why-We-Can-Have-Hope-in-New-Beginnings.jpg
613
1024
Contributor
https://ymi.today/wp-content/uploads/2017/05/ymi-logo-black-3.png
Contributor
2018-01-05 10:00:10
2019-12-26 23:26:45
Why We Can Have Hope in New Beginnings