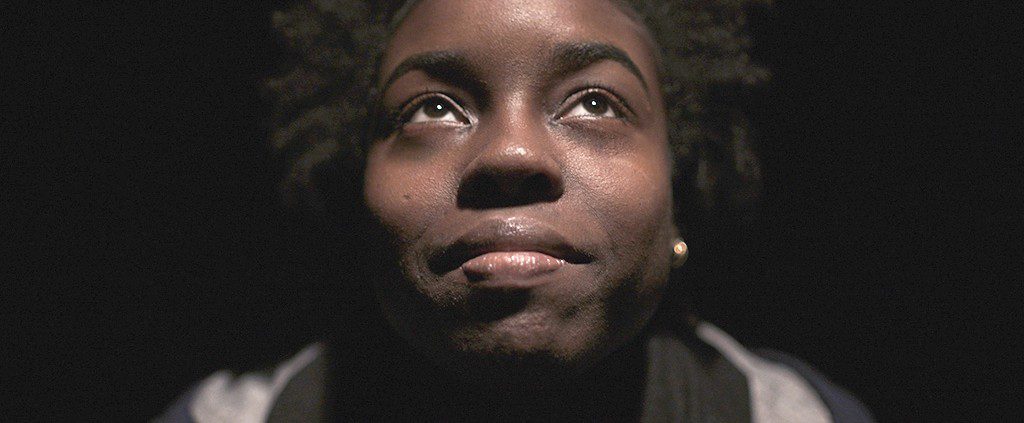 It was night. The boy was in bed, his eyes heavy with drowsiness. His grandfather was sound asleep in another room.
Suddenly, the boy heard someone call his name. His eyes sprang wide open. It was such a clear voice, as though the person was standing beside him. Looking around but seeing no one, the boy thought it must be his grandfather who called him. So he went to his grandfather's room.
"Grandpa, you called me?"
Grandpa woke up, startled. "No, I didn't. Go back to bed."
The boy climbed back into bed. Shortly after that, he heard his name again. He went back to Grandpa, and again, Grandpa said it wasn't him. It happened again, and once again, the boy was at Grandpa's side.
Finally, Grandpa realized what was happening. He told the boy, "Go back to bed. If God calls your name again, say to Him, 'Yes Lord, I'm listening to You.'"
So the boy went back to bed, and sure enough, he heard the voice call his name again.
This time, he said, "Yes, I'm listening to You."
And God began to tell the boy what He wanted to say.
Remember this story? It's found in the Bible, except that the boy was Samuel and the grandfather was the priest Eli. That was the night when God first called Samuel (1 Samuel 3).
Many of us wish we could hear God speak to us the way He spoke to Samuel. But while most—if not all—of us won't get to hear God's voice in such a clear way, there are a few things we can glean from this account on how to recognize God's voice.
1. Realize that you can hear the voice of God
"[T]he Lord called Samuel. Samuel answered, 'Here I am.'" — 1 Samuel 3:4
I used to struggle with not being able to hear God. But He led me to realize that just as Samuel can hear God's voice, we as Christians can hear the voice of Christ. Jesus, the Good Shepherd, said His sheep hear His voice (John 10:27, ESV).
That's when I began to take the Shepherd at His word. When I stopped doubting, I began to hear Him more clearly.
2. Recognize God's voice through His Word
"Samuel did not yet know the Lord: The word of the Lord had not yet been revealed to him." — 1 Samuel 3:7
Samuel heard a voice call his name, but he did not know it was God who was speaking. He had to be told by Eli that it was the Lord (1 Samuel 3:9). In the same way, although God may be speaking to us, we may not know that it's His voice. So we need to learn how to recognize His voice. We can't do that if we don't know how He speaks. And how would we know how God speaks unless we know who He is and what He's like?
The passage says that Samuel didn't know the Lord then because the word of the Lord wasn't revealed to him yet. That tells us that knowing God's Word is crucial to knowing God Himself.
The Bible says, "All Scripture is God-breathed" (2 Timothy 3:16). The Bible is God's revelation of Himself to us in writing, His primary means of showing Himself and His ways to us. So if we want to understand and know Him well (Jeremiah 9:24, ESV), we have to understand and know Scripture well.
The more I get into God's Word, the more it helps me to know God better—what His character and His ways are like. I get a more complete picture of who He is, and that allows me to recognize His voice more clearly.
So if I hear a voice that prompts me to indulge in lust or envy or pride or selfishness or hatred, I know it's definitely not Him speaking, because the Lord exercises and delights in kindness, justice and righteousness (Jeremiah 9:24). It cannot be God's voice because it would be contrary to His character, which is compassionate, gracious, patient, loving, faithful, forgiving, and just (Exodus 34:5-7).
When I hear a voice that tells me to obey the Father's commands and reveal His heart to others (John 15:10, Matthew 5:16), to love the Son and walk as He did (John 14:15, 1 John 1:7), to grow in the fruit and gifts of the Spirit (Galatians 5:22-23, Romans 12:6-8; 1 Corinthians 12:8-10), then I recognize that it's clearly God speaking to me because it's consistent with who He says He is in His Word. The Bible is our plumb line to discern how He speaks.
God can also speak in a variety of other ways. For example, He can speak to us in an audible voice; in His still, small voice, like a gentle whisper in our heart (1 Kings 19:11-13); through the people around us (Acts 21:11); in dreams (Genesis 40); through nature (Romans 1:20); in visions (Acts 9:10-18); in prophecies (Acts 11:27-28); through circumstances (Acts 16:6-7); and through miraculous events, among many others.
However, unless we are grounded in our understanding of what God and His ways are like through reading the Bible, we would not be able to accurately interpret these other forms in which He might speak to us. Just like how we would tend to misinterpret what a person does or says when we don't truly understand his or her character, we'd be more likely to misinterpret God's voice and actions if we don't know what He's really like.
Jesus said, "My sheep know Me" (John 10:14). We have to know the Shepherd so that we know what His voice sounds like. And to know Jesus, the Word of God (Revelation 19:13), we need to know the Bible, God's Word.
3. Seek the counsel of those who can recognize the voice of God
"[I]f [the Lord] calls you, say, 'Speak, Lord, for your servant is listening.'" — 1 Samuel 3:9
As a priest, Eli would have known Scripture very well. He would have meditated on God's commandments and ministered to other people from God's laws. This is why it didn't take long before he "realized that the Lord was calling the boy" (1 Samuel 3:8). It was his knowledge of God's Word that helped him to discern that it was God who spoke to Samuel.
As we are learning to recognize God's voice, we can also seek counsel from godly people who are more mature in their faith and more experienced in hearing from God. They can help us to learn how to discern His voice better.
Now that you've recognized His voice, obey!
"Then Samuel said, 'Speak, for your servant is listening.'" — 1 Samuel 3:10
When Samuel said he was listening to God, he also meant that he was ready to obey Him. The Hebrew word for "listening" is shama, which carries the meaning of "to obey".
It's not enough to just hear what God says. More than just recognizing God's voice, we must also be willing to obey Him when He speaks. Jesus said, "Blessed . . . are those who hear the word of God and obey it" (Luke 11:28; emphasis added). And when we do, we are delighting our Father's heart with our obedience (1 Samuel 15:22).
If we find that God has stopped speaking to us regarding a certain issue, one of the possible reasons could be that He's waiting for us to first obey Him on what He has already told us on the matter, before He tells us what the next step is. If we do not desire to obey God when He does speak, why would He keep speaking to us when we keep ignoring Him?
In Jeremiah 7:23, it doesn't say, "Distinguish My voice, and I will be your God." The devil can clearly distinguish God's voice, but he doesn't desire to obey or submit to Him as his God. Rather, the verse says, "Obey My voice, and I will be your God, and you shall be My people. And walk in all the way that I command you, that it may be well with you" (emphasis added).
As the sheep of our Good Shepherd, we are called to follow Him by listening to His voice (John 10:27). To do that, we need to know Him through His Word so that we can learn how to recognize His voice. And when we experience the joy of recognizing His voice, our joy will be complete when we obey and follow Him in the way He calls us to walk.
https://ymi.today/wp-content/uploads/2017/01/How-Do-We-Recognize-Gods-Voice.jpg
613
1024
Raphael Zhang
https://ymi.today/wp-content/uploads/2017/05/ymi-logo-black-3.png
Raphael Zhang
2017-01-17 10:00:52
2017-01-16 16:39:04
How Do We Recognize God's Voice?