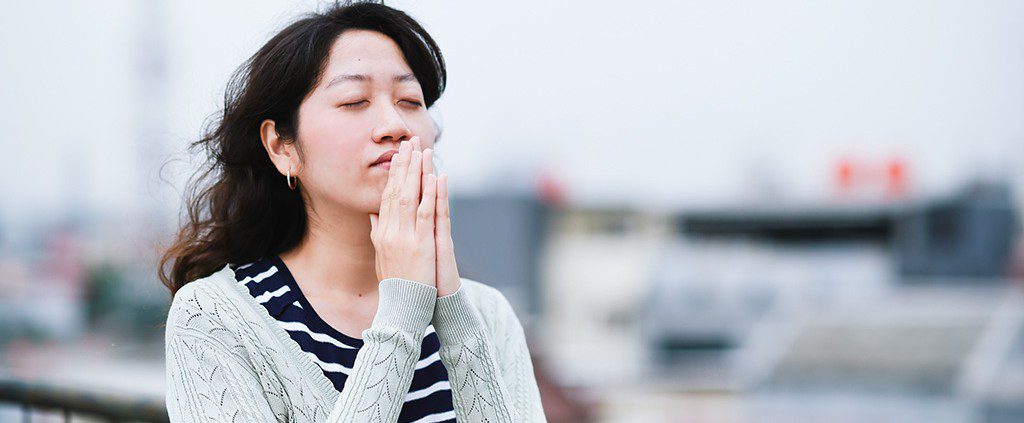 Photo by Ian Tan
Despite being Christian for almost 22 years, I never liked nor knew how to pray for the better part of those two decades. I'd always think, "Why do I need to pray when God already knows everything?"
It was really only in recent years that I began to understand more about prayer.
1. I Can Pray About Everything
For a long time, I thought God would be more willing to hear and answer my prayers only when it came to "Christian" things. You know, like praying for the salvation of others, petitioning Him to help my family or friends when they're in need, or asking Him to give me the desire to do His will, among other things.
In case you get the wrong idea, these are all very good and biblical things to ask God for—and He will surely answer! What I'm saying is that aside from these things, I didn't think I could ask Him for "little" things—like if He could provide a cab for me when I was running late or hold the rain until I could find shelter—much less tell Him about my day.
So God had to tell me through different experiences that He does care about these things as well. He wants to hear me tell Him my needs or simply, how my day went. A few years ago, a godly couple I had come to know shared with me that they would regularly talk to Him about their day over a cup of coffee, as though they were talking to a friend. What they said reminded me of Exodus 33:11: "The LORD would speak to Moses face to face, as one speaks to a friend . . ." They encouraged me to do the same because God likes to connect with me in this way, too.
A few weeks ago, God assured me of this again with a dream, in which "Psalm 18:6" came up. I didn't know what the verse was, so I decided to look it up:
"In my distress I called to the Lord;
I cried to my God for help.
From His temple He heard my voice;
my cry came before Him, into His ears."
I'm thankful that God isn't a God who is far away and doesn't hear my prayers. Rather, He is a God who will hear my voice when I pray to Him. And when He does, He listens intently, for my cry goes into His ears.
The Bible also tells us to "not be anxious about anything, but in every situation, by prayer and petition, with thanksgiving, present your requests to God" (Philippians 4:6; emphasis added). When we do that, "the peace of God, which transcends all understanding, will guard your hearts and your minds in Christ Jesus" (Philippians 4:7).
Imagine a son who talks to his father only about the "important" things, like wanting to learn the ropes in his father's company or asking his father to help his friends out when they're in trouble. While these are good things for the son to ask his father about, that would be quite odd, wouldn't it? In fact, it'd likely make his father rather sad. Which father wouldn't like to know how his son's day went, what things his son is excited about, and what are the concerns that weigh his son down?
In the same way, as much as our Abba Father loves it when we pray about the "important" stuff, He also loves hearing from us about the "little" stuff. When we spend quality time with Him, He listens attentively to us, as a loving father listens intently to his child's voice.
2. I Can Pray to Partner with God
I also used to think that my role in prayer was quite passive. If something is part of God's will, I thought, He'd do it even if I don't ask Him to, wouldn't He? As a result, prayer felt rather redundant and boring.
However, God led me to understand that prayer is one of the main ways He uses to work out His will. I was astonished when I found out that Jesus is always interceding for us (Hebrews 7:25, Romans 8:34) and the Holy Spirit is also constantly interceding for God's people (Romans 8:26-27). Why does the Son of God and the Spirit of God, being Persons of the Godhead, need to pray to the Father? I don't have the answer to this question, but it made me realize that if Jesus and the Holy Spirit are praying, shouldn't I do the same?
While it is true that God already knows everything, I've learned that prayer is one of the important means God has instituted for His purposes to be accomplished. In fact, He invites us to partner with Him to let His kingdom come and His will to be done on earth as it is in heaven (Matthew 6:9-10).
I now pray more actively with a sense of purpose, being fully aware that I am actually working alongside the Father to realize the plans He has. When I pray according to His will, He hears me and I have what I ask of Him (1 John 5:14-15).
3. I Can Pray to Have God Himself
Recently, I heard a pastor share a message on God's power being made perfect in the Apostle Paul's weaknesses. Even though Paul would have liked for God to take the thorn in his flesh away, God told the apostle that His grace would be sufficient for him (2 Corinthians 12:1-10).
As I was listening to this, a thought—that I believe was a revelation from God—formed in my spirit: "Do I want God to answer my prayer or do I want God's answer to my prayer?"
That was a hard-hitting, soul-searching question. When I pray to God about a certain matter or need, do I want Him to answer my prayer in the exact way that I ask or do I want His answer to my prayer, regardless of what the answer may be—"Yes", "No", "Wait", "I've something better", or "I've something entirely different in mind?" Do I trust that because God knows best, His ways are better than mine? (Isaiah 55:8-9)
If I were to distill the essence of the question, it is this: When I pray, do I pray wanting God to fulfill my heart's desires, or do I pray wanting God Himself as my heart's desire?
There's a wonderful perspective on prayer from Mother Teresa that captured my heart the moment I heard it. She said, "Prayer enlarges the heart until it is capable of containing God's gift of Himself. Ask and seek and your heart will grow big enough to receive Him and keep Him as your own."
I've seen that a way for me to start caring for things I didn't initially care about—but I know I should—is to pray about them. Because when I do, I find myself beginning to be more aligned with God's heart on the matter. This happened when I started praying for Singapore, and again when I prayed for my cell group. The more I prayed, the more my heart's burden and love for my country and my cell group grew.
I know now that prayer is something God can use to enlarge my heart until it can contain more and more of His heart. Ultimately, I've learned that the purpose of prayer is for God to keep breaking my heart for what breaks His, so that more of God can come in. Prayer is about having more of God and less of me, so that He becomes greater and I become less (John 3:30).
Prayer can be generally understood as talking to God. I'm so thankful that my Heavenly Father welcomes me to go to Him like a little child and tell Him my needs and concerns as well as my joys and passions. He lovingly listens to my voice and cares about what's in my heart.
But as His son, what excites me even more is that my Father invites me to know His heart and to care about what He cares about. Nothing brings me more satisfaction and gladness than knowing that my Father is willing to confide in me what His concerns are (Amos 3:7) and that He invites me to work alongside Him to accomplish His purposes (Mark 16:20).
To me, that is what becoming a son of Abba Father is—to share Daddy's burdens and to have a part in what He's working on, and in so doing, to become more and more like my Daddy (2 Corinthians 3:18).
That, to me, is the heart of sonship—and the heart of prayer.
https://ymi.today/wp-content/uploads/2017/01/3-Things-I-Never-Knew-About-Prayer.jpg
613
1024
Raphael Zhang
https://ymi.today/wp-content/uploads/2017/05/ymi-logo-black-3.png
Raphael Zhang
2017-01-31 09:00:32
2017-01-31 21:53:04
3 Things I Never Knew About Prayer