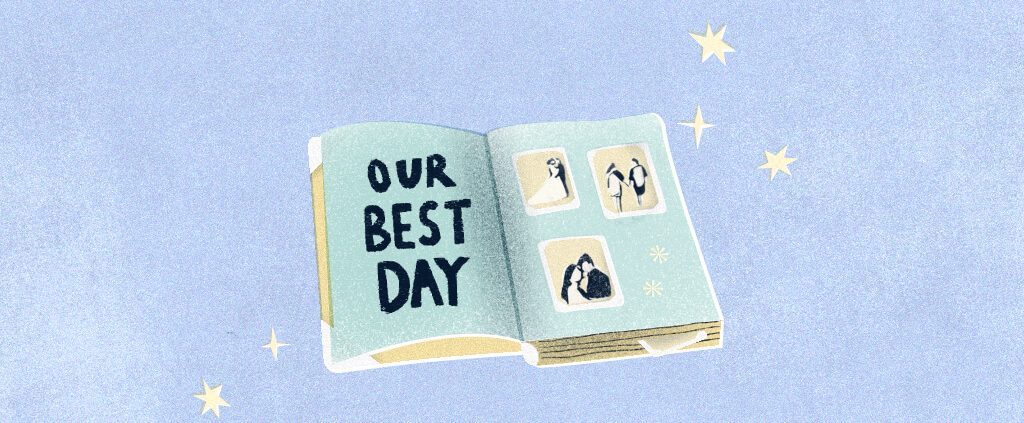 It's day four of our 10-day honeymoon, and I'm sitting by a little gas fire, alone.
My fiancé—no, husband, I remind myself—is fast asleep in the middle of the afternoon. He came down sick right after our wedding a few days ago, and though I want to somehow make him better, my excited chatter and restless limbs won't do him much good. So, I tuck him into bed with a kiss on the forehead and go pour myself a glass of wine.
Matt and I have been looking forward to our honeymoon for weeks. A chance for us to get away together, have a break from the crazy pace of the last few months, get to know each other in a *cough* new way, and have an adventure of a lifetime. But this trip is not quite what I hoped it would be.
The sun is setting, and I'm left wondering what we'll do for dinner; we'd planned to go out somewhere special, but with Matt sick in bed, we're bound for a night in. With no phone reception and the nearest grocery store at least a 40-minute drive away through dark country roads, we'll have to make do with our leftovers from breakfast—a half-eaten sourdough and a packet of spinach. 
I didn't think it would be like this
I don't mean that anything is wrong. I just mean that the mirage of a perfect start to a perfect life together has been, well… almost laughable.
In the week before our wedding, I cried more than I had done in months. With one blow after another, our perfect plans were quickly pulled apart. We learned that 28 interstate family members wouldn't be able to come, Matt needed to find three new groomsmen, my dress didn't fit me, I hadn't been sleeping, and we were both battling colds. 
The day before our wedding, Matt and I sat on the couch and stared at each other. With tears threatening to leak out, we cancelled every one of our honeymoon bookings—the flights, the cool hotel, the mountain hike and fancy restaurant booking; everything. I was devastated. Border restrictions had tightened, and the trip we'd planned for months lay unravelled at our feet. Too drained and disappointed to organise a whole new honeymoon, we settled for booking two nights at a remote Airbnb and decided we'd figure out the rest as we went.
When Matt proposed five months ago, I was determined we would be the "chill" couple who wouldn't be fazed by anything, who would agree on most things, and who would have a whole bunch of fun planning our wedding.
Spoiler alert: that was not the case.
It's not that I've become cynical or jaded just days after skipping down the aisle. But I do wish that somewhere between the glamour and excitement, someone had told me that preparing for a wedding—and a marriage—would be hard. It would be stressful and draining and often far from magical.  
Our wedding day was spectacularly fun, and I wouldn't take it back. But I would go back and tell the newly engaged me what she was in for.
I would tell the newly engaged me the truth
Marrying Matt would be the best thing she'd ever done, but it wouldn't come easily.
I would tell her the truth: that she wouldn't have time to read the pre-marriage books she set out to; that they'd spend more time poring over the guest list than looking each other in the eye over dinner; that "waiting" for marriage would get harder; that she would feel lonely and isolated because her friends wouldn't understand what she was going through; that moving into a new home would often feel more sad than fun.
I would tell newly engaged me that she didn't have to have a teary moment of elation to prove she'd found "the dress". Maybe then she wouldn't have run out of the bridal boutique with sobs in her chest because the dresses were itchy and the ladies were bossy and her mum was overseas and the price-tags had too many zeros and she could barely breathe.
I would tell newly engaged me that despite being ridiculously in love, she and Matt would argue more than they ever had while dating. I would tell her that it was okay to disagree on the wedding songs and whether the canapés needed to start at 3:30 or 4:00, because through it all, they'd learn to communicate and compromise and say, "I'm sorry".
The wedding is just one day. Marriage is a lifetime
I knew that our marriage wasn't about the wedding day. But I still couldn't shake the  overwhelming pressure I felt to plan a magical day that would symbolise our "perfect match". 
After all, the wedding was the only thing anyone wanted to talk to me about for months—what colours I'd picked for my bridesmaids' dresses, who our photographer would be, which traditions we were following, the food options we'd chosen. I was surrounded by unsolicited advice and endless emails from wedding vendors asking about details I didn't even care about. 
The underlying message was subtle, but clear: you're a failure if your wedding isn't perfect. Unwittingly, I'd started to believe the lie. 
And now, in the middle of the honeymoon that I thought would be the most incredible ten days, I find myself disappointed that it isn't perfect. 
But amidst the frustration of readjusting to a trip we didn't plan for, I take comfort in this: We didn't get married because being together feels good all the time or "just makes sense". We got married because we love each other. We choose to love each other, even on the days—or weeks—when that's hard.
During pre-marriage counselling, we talked a lot about what "loving each other" truly meant. Of course, it's hard to talk about love without visiting 1 Corinthians 13:4-7. Since I knew the passage by heart, I'd assumed there wouldn't be much more to learn from it. 
I was wrong. When we reflected on the passage with our marriage in mind, it hit me in a whole new way. "Wow, that's going to be hard," I thought. "To love Matt even when he's upset me? To put him first even when I don't feel like it? To seek what's best for him, even when that means putting his needs before my own?" The more I dwelt on the passage, the more I understood that marriage wasn't about putting myself and my needs first. It was about learning to humble myself and love with patience, grace, and intentionality, in the same self-sacrificial way that Jesus loves us. And by loving each other despite our flaws and imperfections, we'll learn more about the way Jesus loves us unconditionally. 
So yes—I will post pictures of our first dance under twinkle lights and our happy tears during wedding speeches. I will share film photos from our honeymoon, and videos of Matt and me saying our vows, because those moments were real and beautiful and worth documenting.
But just know (because I didn't), that you do not have to have a wonderful lead-up to your wedding for it to be right. That your honeymoon does not have to be wild and adventurous and extravagant to be special. 
And that, if you're lucky enough to find yourself on the other side of it all, kneeling on the tiles by a little gas heater while your husband sleeps beside you . . . you'll be so, so happy.
Even if all that's left for dinner is spinach and leftover bread. 
Editor's Note: This article was originally published on the writer's blog here. This version has been edited by YMI. 
https://ymi.today/wp-content/uploads/2022/02/03-article-illustration-2.jpg
613
1024
Madeleine Grace Scholefield
https://ymi.today/wp-content/uploads/2017/05/ymi-logo-black-3.png
Madeleine Grace Scholefield
2022-02-22 14:00:23
2022-02-22 16:48:10
What You Won't See in Our Wedding Photos