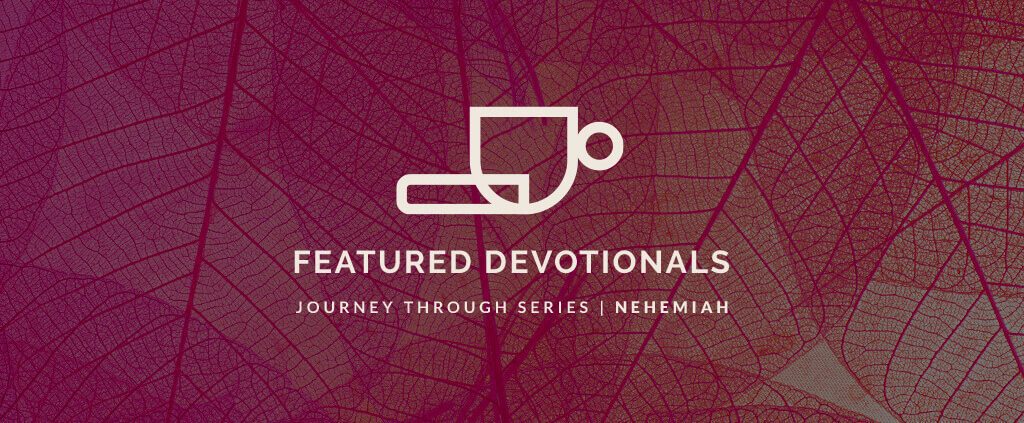 Day 22 – Nehemiah 8:1-9
Nehemiah 8 records a high point in the book, when the people gather with tangible unity to worship the Lord (Nehemiah 8:1). They ask Ezra to bring out the Law, which he does before the assembly (v. 2). The reading and proclamation of God's Word should happen each time we gather to worship God, as it is an essential part of worship. We note here three aspects of the centrality of God's Word in our lives.
First, it is relevant. Ezra reads the Word for six hours (v. 3), while a group of Levites explains what is written so that the people can understand (v. 8). The people listen carefully (v. 3); they are interested in the truth in God's Word and want to apply it in their lives. To understand God's Word is to see its relevance for daily living.
Second, we note the deep reverence for God's Word. When Ezra opens the Book of the Law, ″the people all stood up″ (v. 5). Reverence is shown not just by standing up, but even more importantly, by obeying God's Word. In other words, reverence for God's Word is shown by accepting its authority, cherishing it, and obeying it. We need to develop the psalmist's attitude to God's Word: ″my heart trembles at your word″ (Psalm 119:161); ″I have put my hope in your word″ (v. 81); ″I keep your precepts with all my heart″ (v. 69). We show our reverence for God's Word by obeying it not only individually but also as families and corporately as a church.
Third, the people respond to God's Word. When Ezra opens the Book and praises God, the people respond by saying ″Amen! Amen!″ (Nehemiah 8:6). They join Ezra in praising God, lifting their hands (which meant they prayed) and by bowing down with their faces to the ground and worshipping God (v. 6). This is the proper response to God's Word.
The people also weep when they hear the law (v. 9). God's Word comes as a spiritual sword that cuts deep into sinful and negligent hearts (Hebrews 4:12); it is depicted as a powerful hammer (Jeremiah 23:29) that can break stubborn hearts-not to destroy but to redeem and rebuild. And when it enters ears and lands on hearts, it can reprove and correct (2 Timothy 3:16). Weeping in response to God's Word has often been a sign of revival in the history of the church. How wonderful when God's Word moves the hearts of people.
Think Through:
Have you experienced the Bible's relevance for daily living, and how have you shown your reverence for it? Do you see areas where you need to deepen your experience?

How do people show that they have been deeply moved by God's Word? How can you pray for more of this in your church?
Taken from Journey Through Ezra & Nehemiah: 60 Devotional Insights by Robert M. Solomon.
https://ymi.today/wp-content/uploads/2021/09/Featured-Devotionals_Nehemiah_1.jpg
613
1024
Robert Solomon
https://ymi.today/wp-content/uploads/2017/05/ymi-logo-black-3.png
Robert Solomon
2021-10-05 00:00:00
2021-09-01 16:33:06
The Word to Live By