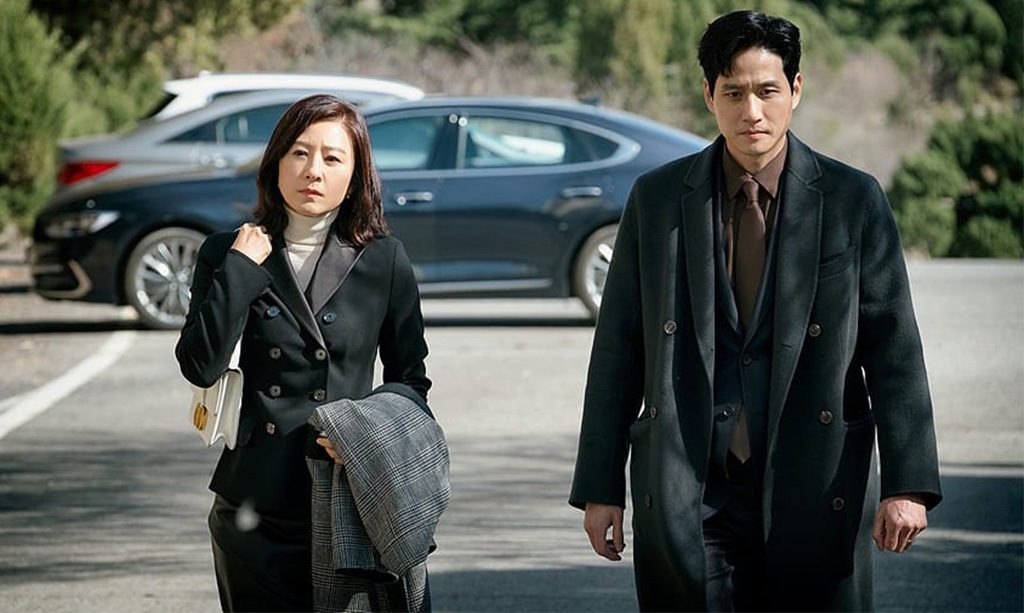 Editor's Note: This review contains spoilers.
How does a loving relationship dissolve into one filled with hatred and resentment?
This is the question at the heart of "The World of the Married", the recently concluded k-drama that has been keeping viewers alternating between suspense and disbelief over the past eight weeks—sparking introspective conversations about fidelity and trust, and shattering k-drama rating records in its wake. 
Adapted from the BBC drama, "Doctor Foster", this thriller-makjang (excessively exaggerated melodramas) drama centers around a couple, Lee Tae Oh and Ji Sun Woo, and their bitter, revenge-filled battle for custody of their son. The drama opens with a portrayal of Dr Ji Sun Woo as someone who has the perfect life—she's a doctor who's worked herself high up, has a devoted and youthful-looking husband, and an adorable and loving son.  
But this veneer of perfection is shattered when she finds evidence of her husband cheating on her with Da Kyung, a much younger woman, and the plot moves at break-neck speed (for a Korean drama, at least) and brings its viewers on an intense ride, keeping us guessing what highs (or lows) the characters would be put through next as they wreak havoc on each other's lives.
It Starts with The Lure of Temptation
As Sun Woo picks up the pieces of her life, "The World of the Married" hints at some of the possible reasons that led to Tae Oh's betrayal of her trust through the different characters in the drama.
We see Tae Oh's mother pinning the blame for her son's infidelity on Sun Woo—she was too suffocating, too successful, too sleek and sophisticated. We hear the characters chiming in, "You never had enough time for him", or informing us that it's part of a man's instinct to cheat, so there's no point in fighting it. And finally, Tae Oh himself tells his ex-wife, with a tinge of regret, two years after their divorce that he was looking for something fresh and exciting, but "love is all the same once you get married."
It was infuriating to watch the different characters absolve Tae Oh of all blame, and put the crushing responsibility of his failings on his wife, which made me wonder: Are we also guilty of making excuses for the sins we commit when we become lured by temptation? 
We never got to see exactly how Tae Oh began his affair with Da Kyung, or what drew him to her—and perhaps that's the point this drama wants to make. It's not so much the how that matters, but what we do when we come face to face with temptation. And the drama is clear and unsympathetic in showing us, as James 1:14-15 (ESV) puts it, that ". . . each person is tempted when he is lured and enticed by his own desire. Then desire when it has conceived gives birth to sin, and sin when it is fully grown brings forth death."
How often do we deceive ourselves (James 1:16) into thinking that what we already have isn't enough? By the end of the drama, Tae Oh admits that he couldn't see that what he had in front of him was good, and didn't realize what he had lost until he had nothing left. No family, no home, and a career that was hanging by a thread. All for the sake of a few moments of stolen pleasure. 
I've never been married, nor have I ever been in a cheating relationship, but I've heard enough stories from friends and loved ones who've found themselves entangled in similar situations to know that extreme as some of the characters' actions are, the drama does give us a realistic insight into the struggles that surface when the thrill of falling in love wears off, and romance settles into routine. 
Regardless of our marital status, that feeling of boredom and discontentment—or that sense of wanting more than what we already have—is one we can all resonate with. As I watched the different characters grapple with challenges and temptations of their own, we see that all of them were unhappy in their own way. 
That helped me see that perhaps what we need is not the thrill of the next adventure or a more exciting work project or even a better partner, but to recognize that what we do have are good and perfect gifts from above, from our Father of lights "who does not change like shifting shadows" (James 1:17)—even when our feelings do.
How We Respond to Betrayal Matters
The tipping point of the drama comes at the end of the second episode, when Sun Woo gives Tae Oh a chance to come clean, telling him that she can forgive an affair but not a lie. But he chooses not to and gaslights her, accusing her of overthinking and being distrustful. 
This unleashes her fury and sets into motion a series of dramatic moves and mind games as she exposes her husband's own secret in the most humiliating manner possible, destroying her own good reputation and standing in society in the process.
As the drama traces Sun Woo's descent into madness, it gives us a glimpse into what happens when dishonesty and distrust builds up over time, and "jealousy and selfish ambition" are allowed to reign—leading to "disorder and every evil practice" (James 3:16). Perhaps if both of them were "open to reason" (James 3:17, ESV)—open to hearing each other out, there might have been a chance for them to salvage their marriage?
The drama doesn't give us answers to this question, but showcases the destruction that takes place when we react to betrayal by giving in to the voice of our hurt and choosing to plot against each other, instead of sowing in peace.  No one really ends up happy. 
When There's No Redemption
Even though the "The World of the Married" shines the spotlight on Tae Oh and Sun Woo's relationship, it isn't just about the world of one married couple—but many others who respond in different ways to their cheating or abusive spouse. While we do see glimmers of hope in some of these relationships, we also see that there are very real consequences to the decisions that we make—both to ourselves and the people around us. 
The drama concludes with an open ending, but in the final scene, Sun Woo tells us in voiceover:
. . . when things happen between the married couple, it's like cutting out one person in a relationship when most of their lives are shared. The pain passes on to each other. If we could endure every day, painfully reflecting on the mistakes we made without being obsessed with the pain, maybe we could be saved.
How can we move on from the pain of decisions or circumstances we can't control? As Sun Woo and Tae Oh's actions demonstrate, tightening our grip on these moments can only result in deeper hurt. But when we're able to surrender them into the hands of the one who is the Master of time, allowing our pain to shape us or teach us to exercise the wisdom that comes from above (James 3:17), in time, it will move us closer to God's vision for redemption in our lives.
https://ymi.today/wp-content/uploads/2020/05/The-World-of-The-Married.jpg
613
1024
Rebecca Lim
https://ymi.today/wp-content/uploads/2017/05/ymi-logo-black-3.png
Rebecca Lim
2020-05-25 13:00:55
2020-12-21 12:33:13
The World of the Married: When A Loving Spouse Turns into Your Greatest Enemy