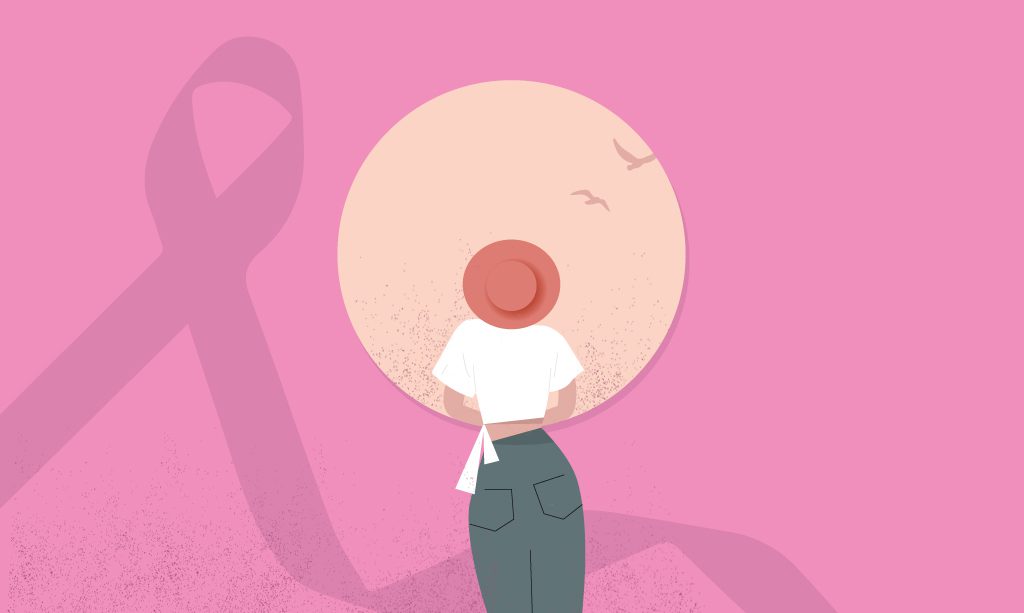 Written By Debra Hunt, New Zealand
The three words you never want to hear: "Unfortunately, it's cancer."
I was 31 when I received my shock diagnosis. My husband and I had three small children, a mortgage, and I was working as a children's pastor at my church.
Breast cancer was not part of my five-year plan—or any plan I'd made for my life for that matter. I was a non-smoker, reasonably fit and healthy, with no family history of breast cancer.
Despite all this, I found myself sitting in a small seasick-green room, listening to my doctor explain how far my cancer had spread. It hadn't been caught early, and was quite advanced, so she detailed a treatment plan involving surgeries, chemotherapy, radiation, and 10 years of endocrine therapy*. She estimated that if I went through all this treatment, I would have a 75 percent chance of being alive in five years' time.
Over the weeks that followed, I gradually let go of the dreams and hopes I had for the immediate future. The half marathon would have to wait. So would my goals for the church I was working at.
Why does God allow cancer?
My life was interrupted. I found myself asking, "Why God? Why would You let this happen? Why would You allow this cancer to hold me back from the things I thought You wanted me to achieve?"
My church family prayed for me. I prayed for myself, begging God to heal me.
What I felt God say in response was that I simply needed to trust Him on this path. Yes, He could heal me, but would I trust Him even if He didn't?
It took me a couple of weeks of wrestling with the concept, but after many tears, I realized that my response was, "YES." Yes, I could trust God, even if He didn't take my cancer away. The Bible says He is trustworthy, and I chose to believe it. I put my faith in Him because I knew He wouldn't be careless with me. I leaned into a long-time favorite verse, "Cast all your anxiety on him because he cares for you" (1 Peter 5:7).
I appreciated The Message's paraphrase of this verse as well: "Live carefree before God; he is most careful with you" (1 Peter 5:7, MSG).
So, I decided to stop asking God to instantly fix me, and instead, to trust Him through the process of treatment.
Unexpected Blessings
What I found during my treatment, was that although it was hard, God wove blessings into the journey.
You see, when I really thought I might die, the world became insanely beautiful. Reminded of my own mortality, I drank in sights and sounds like I'd never see them again.
I would step through my door in the morning, and be struck by the sight of dew drops on leaves—the way the light filtered in through branches, or the way flowers closed up so tightly at night but opened themselves widely to the sun during the day. The beauty around me became so acute and intense that it almost hurt. Having my life threatened led me to a deeper appreciation of creation; I could see God's artistic hand everywhere.
I was also blessed with a special closeness to Jesus. I was surprised, because I didn't feel like walking with Him through this time was hard work . . . I felt like He actually carried me. I'm generally a bit of a pessimist and prone to negativity, but it seemed like Jesus helped me to feel more positive and upbeat than normal. Yes, it was still challenging a lot of the time, but I always could feel Him with me, and I had an unexpected peace deep in my heart.
Having cancer has also opened up some doors for me, and given me a platform from which I can share more about God's love. I've been speaking at events and blogging, and that has not only helped me to process my experience, but has also allowed me to speak life and hope to a wide array of people that I wouldn't have met otherwise.
Cancer Is Not a Good Plan
Do these good things mean that I think cancer is God's good plan? No. No way.
When He makes everything new, there will be no more sickness and weeping (Revelation 21:4). Cancer was not God's plan for mankind, and it won't reign forever—He will put an end to it. But unfortunately for now, it's here, and it affects roughly a third of people at some point in their lives.
As I continue in my fight against cancer, I know that God isn't sitting up in heaven telling me to toughen up. He is right here with me, weeping with me at the brokenness of my body.
I know this because Jesus has compassion on His creation. When Jesus' friend Lazarus died, Jesus wept at the destruction and sadness—even though He knew the story had a happy ending! He knew He would raise Lazarus from the dead, and yet He was overcome to the point of weeping (John 11:35). So, I know that it hurts God to see His creation suffering and being cut up, poisoned, and irradiated.
Cancer is not God's plan. It is a result of our fallen world. But one day, Jesus will end cancer once and for all.
For now though, I believe God can use even this horrible disease to do wonderful and surprising things. While we may be shocked by a diagnosis of cancer, God is not. He already knows how He is going to bring about something beautiful from it. He is the one who replaces ashes with a crown of beauty, and turns mourning into dancing (Isaiah 61:3, Psalm 30:11). So we can stop fretting and trust Him with our lives. In fact, He tells us we must do this (see Matthew 6:25-27 and Philippians 4:6-7).
I'm one year out from treatment now, and I'm doing okay. I still struggle with my health, the ongoing side effects, and the anxiety of the cancer returning. But I am so grateful for all the good God has done, and will continue to do, on this journey.
Cancer, sickness, or suffering is not God's plan for you or for any of His precious creations. If you're currently going through a difficult time or battling illness, will you join me in trusting Him to use even the grimmest of circumstances for good?
* Endocrine Therapy is a hormonal treatment used to slow or stop the growth of cancer
https://ymi.today/wp-content/uploads/2019/10/Can-Cancer-Be-Part-of-Gods-Plan-2.jpg
613
1024
Contributor
https://ymi.today/wp-content/uploads/2017/05/ymi-logo-black-3.png
Contributor
2019-10-03 10:00:03
2021-11-22 22:36:51
Can Cancer Be Part of God's Plan?