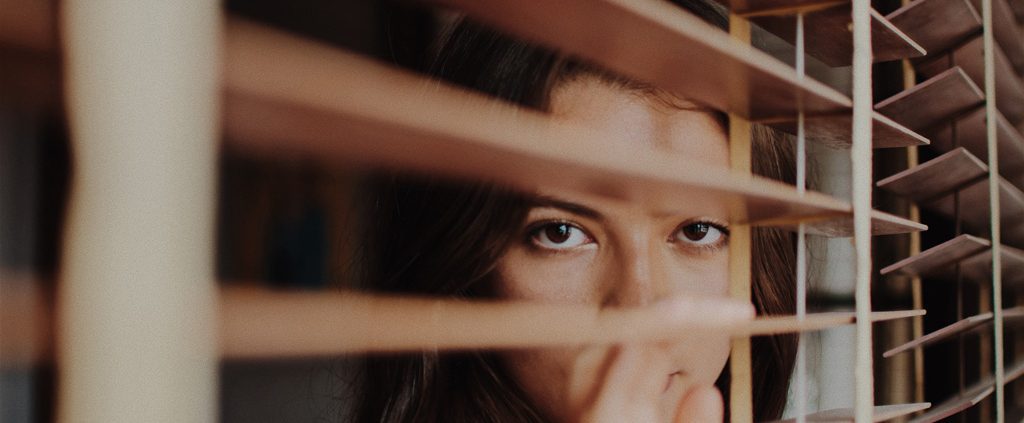 It was just like any other Saturday night, and I was hanging out with my friends after the church service. A large group of us went out for dinner as usual and had a grand time talking and relaxing. I was enjoying myself, laughing and cracking jokes with my friends sitting closest to me.
Then suddenly, I looked around at all the people around our tables—friends and strangers alike in the restaurant. I became uncomfortably aware of all the conversations going around me, the sound of people chewing food, utensils clattering on plates, and food orders being yelled in the kitchen. The smells of the many different meals around me became too much to take in and I started getting dizzy.
Knots formed in my stomach, and it was becoming difficult to breathe calmly. I quickly got up from my chair and made a beeline for the exit. It wasn't much better outside though, since we were downtown and there was so much activity. People swarmed all around me on the sidewalk, and traffic was busy as ever. Soon, the sensory stimulation overwhelmed me; it was something I had zero control over, and I simply couldn't handle my surroundings anymore.
The tears started coming and I felt myself going down another one of my dark mental spirals of fear, confusion, and insecurity. I walked and walked until I found a small, lonely alley and tried to calm down enough to try the breathing exercises my counselor had taught me. Standing in that alley trying to ground myself in reality again felt like forever, but the intense emotion of fear finally faded and I felt safe again.
This scenario has happened countless times in the three years since my battle with anxiety started. It has happened in restaurants, in stores, in church, in friends' homes, on the metro, and other places. I panic when my brain realizes it can't control its surroundings and the way my senses are affected.
The struggle is constant and ongoing. Panic comes unexpectedly and usually for no obvious reason. Often I'm frustrated with myself—why can't I be like the rest of my friends and peers, who can enjoy themselves and not be so deeply affected by their senses as I am?
God Comforts Me
But even in the midst of fear and confusion, I am increasingly realizing that God is near. Regardless of what we're going through, God always has something to speak into our lives (Psalm 91:15). And He has been teaching me to distinguish His voice from my intense fears of suffocation and feelings of despair, so that I can push past my anxiety and clearly hear  what He has to say.
God created me, and He knows all my weaknesses and faults. He has been gracious to me even as I learn to trust Him through my hardships. This can be seen in how He has surrounded me with close friends who understand my struggles, who know when to keep me company or talk me through my panic. I do not take this for granted.
Each time I have a panic attack, I also discover more and more how much comfort even the simplest, shortest of prayers or a well-written passage can bring. One day a friend shared with me an excerpt from Bob Goff's book Love Does:
I get the invitation every morning when I wake up to actually live a life of complete engagement…it's ushered in by a sunrise, the sound of a bird, or the smell of coffee drifting lazily from the kitchen. It's the invitation (from God) to actually live, to fully participate in this amazing life for one more day.
I realized that my senses are a gift from God so I could experience His amazing creation. God wants me to receive His blessings and enjoy His goodness (Ephesians 1:3), and my senses are an invitation for me to enjoy life and enjoy my relationship with the Creator through it.
Learning to Love Others
With this in mind, I am learning more and more how to take my panic attack triggers, turn them around, and practice seeing God in them. Most of my triggers are people-related (crowds, outdoor noises and smells), so I am trying to see past my difficulty and love people around me more.
After a panic attack, I will often focus on being useful or kind to people around me, largely so I can take my mind off my panic. Sometimes I am prompted to pray for people around me. Other times I stop and notice that people have specific needs I can help with, such as lifting something heavy, walking up the stairs, or needing directions.
It's amazing what happens when we take time to look around us and see how we can serve others. This is what Jesus did (Matthew 14:13-14), and as His followers, we're to do the same. This can be very hard to do when we're caught up in our present troubles. I know that often it is difficult for me to even see light at the end of the tunnel. But when I am able to look around me, I have often received unexpected blessings by giving to people through acts of service.
Be Willing to Seek Help
Improving mental health is a process. For anyone experiencing trouble in this area, please be encouraged knowing that getting better really is possible, even if it is a slow process. Prayer and Bible reading have been vital for me, but they were not enough on their own. I saw a licensed counselor for some time, to help me learn to push through my intrusive thoughts. God can and certainly does use the medical expertise He's given others to help us live better lives. Don't be afraid to reach out and seek help.
We all have an opportunity to experience nearness to God through hardship. We don't have to be "good" at maneuvering life and all its aspects (e.g., mental health). We just have to be open to letting God come to us. Spend time with Him, make it a point to talk with Him throughout your day. Ask for medical help if you need to, there is no shame in wanting to live better. Don't push away those who sincerely care for you and want to be there with you; they can be angels in disguise. These are choices we make every day. Invitations to experience God's grace.
When darkness and confusion seem to be clouding your mind, know there is still a God of love and power Who is holding you and seeing you through it all. As He promised in His Word:
When you pass through the waters, I will be with you;
and when you pass through the rivers, they will not sweep over you.
When you walk through the fire, you will not be burned;
the flames will not set you ablaze.
For I am the Lord your God, the Holy One of Israel, your Savior.
(Isaiah 43:2-3a)
https://ymi.today/wp-content/uploads/2018/07/God-Is-With-Me-In-My-Panic-Attacks.jpg
613
1024
Marissa Luk
https://ymi.today/wp-content/uploads/2017/05/ymi-logo-black-3.png
Marissa Luk
2018-07-06 10:00:43
2021-07-12 10:08:50
God Is With Me In My Panic Attacks