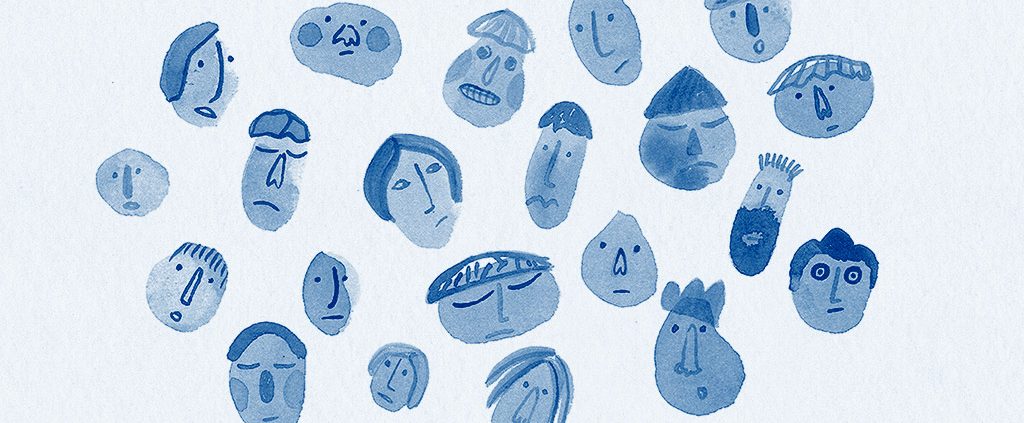 Written By Carol Lerh, Singapore
Your hands turn sweaty when you think about going to school.
Your heart pounds like a drum when you're almost at the counter but still can't decide what to eat for lunch.
You cry because your friend hasn't replied to your text message like they normally do.
You can't help these feelings any more than one can control the butterflies in their stomach before a presentation, or their breathlessness before an interview.
Then you read Matthew 6:25, "Therefore I tell you, do not worry about your life, what you will eat or drink; or about your body, what you will wear." And on top of all your anxieties about the day, you start to feel guilty for worrying when you should have trusted the Lord.
Does this mean you don't trust God at all? You start to wonder, is anxiety a sin?
I know how it feels. I've been there before.
Since sin is disobedience to God's Word, surely I have sinned. By not following what God has told me to do—place my trust in Him, not to be anxious about my life, bring my requests to God by prayer and petition (Philippians 4:6)—I must be sinning against Him.
In the parable of the sower (Matthew 13), the seed sown among thorns are those who hear the Word of God but get choked by the worries of this life and deceitfulness of wealth. In this parable, the concerns we have about life is what thwarts spiritual growth and widens the gap between us and God. Anxiety makes us focus on our problems and forget about God. We lose faith in God when we worry, just like Peter lost faith when he took his eyes off Jesus and focused on the raging waters around him (Matthew 14).
It looks like this: I believe in a powerful God who created the heavens and the earth, defeated death and Satan and gave me everlasting life, but I don't think He'll get me through the next 24 hours.
On the other hand, the bible does not explicitly state that anxiety, in and of itself, is a sin. In 1 Corinthians 7:32 (ESV), Paul says that an unmarried man is "anxious" about pleasing the Lord, while a married man is "anxious" about pleasing his wife. Here, Paul describes anxiety as a deep, valid concern we feel towards different things, and can even be directed towards the right source—God!
In Luke 10:38-42, Jesus visited Mary and Martha in Bethany, and Martha kept bustling around, concerned about many things. Yet Jesus did not point out her anxiety as a sin or tell her to go and sin no more. He said to her, "Martha, Martha, you are worried and upset about many things, but few things are necessary—or indeed, only one" (Luke 10:40, emphasis added).
Instead, it's our response that matters. When we get anxious, we have two choices: Go to God, or indulge in our worries
Going to God is the way the psalmists do it, and this leads them to remember that they have a God in whom they can seek refuge (Psalm 16:1), find help (Psalm 18:35) and deliverance from their fears (Psalm 34:4). Indulging in our worries, however, will lead us down the path of the seed sown in thorns, forgetting about God, and eventually ending with unbelief which is a sin.
I know the textbook answer and I chose it. I cried out to God, but I didn't wait for Him to answer. I worried even harder, searching for freedom from these worries in the depths of the worries themselves. I thought that if I worried until I resolved the things that made me anxious, I would be okay. If I double-checked my essay another 30 times or prepared for all the possible reactions my friends might have to the text message I just sent, I could help God fulfil his promise of peace to me. I was scared and doubtful, even though I knew I should stand before Goliath with courage, confidence and peace.
But those things swallowed me up. I curled up on my bed, sobbing and too terrified to move. I lost control and ended up in the hospital.
What would you do?
There is no secret to overcoming anxiety. 1 Peter 5:7 says to "cast all your anxiety on him because he cares for you." The key is to keep doing it even when it may feel like God's not listening. I gave up the first time, but if I had kept going, cried out to Him like the author of Psalm 13, "How long must I wrestle with my thoughts and day after day have sorrow in my heart?" I would have remembered His faithfulness in the past, and would eventually be able to say, "But I have trust in your unfailing love; my heart rejoices in your salvation."
In Jesus' Sermon on the Mount, He spends 10 verses talking about "do not be anxious," and then gave an alternative to worrying. Matthew 6:33 says in the midst of it all, "But seek first his kingdom and his righteousness, and all these things will be given to you as well." Instead of focusing on myself, I wish I had focused on God instead, searched for Him intently, dwelt in His Word, thought about His will and remembered His promises.
I struggle with anxiety, even today. But now I choose to commit every problem to God and live one hour at a time.
I will still be tempted to worry over and over and over again. The panic attacks will still come and the voices that mock me in my head will still laugh. But may God help me remember to run to Him, because Isaiah 41:13 says "For I am the Lord your God who takes hold of your right hand and says to you, do not fear; I will help you."
Back to Homepage
https://ymi.today/wp-content/uploads/2018/05/Is-Anxiety-A-Sinillustration.jpg
613
1024
Contributor
https://ymi.today/wp-content/uploads/2017/05/ymi-logo-black-3.png
Contributor
2018-05-03 12:45:55
2021-07-05 10:05:09
Is Anxiety A Sin?