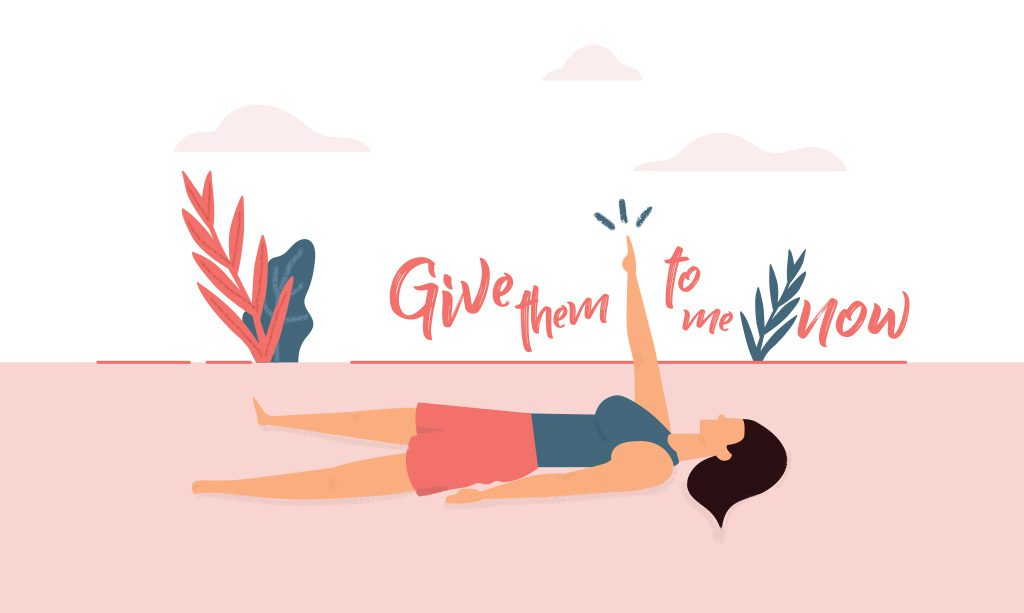 You bless us when we pray to You, don't You?
In church, we're taught to clasp our hands tightly, shut our eyes, bow our heads and pray earnestly for whatever we want. I think I score brownie points for attending Sunday service regularly and serving in different ministries—you know, music, children, and youth ministry.
Your Word instructs us to ". . . present your requests to God" (Philippians 4:6) and ". . . he will give you the desires of your heart" (Psalm 37:4). Now that's a promise written in the Bible. Oh, in fact, You promised again in Matthew 6:33 that " . . . and all these things will be given to you as well."
Since You so kindly offered and promised, here are four things I want. I'm not sure why You had denied me of them for the past 20 years, but it's not too late to give them to me now. Like, right now.
1. Talent in Music
You seem to have forgotten about this when You created me. While You gave my friends the gift of perfect pitch and the enviable skills of playing multiple instruments, I was stuck with the amazing ability of not being able to differentiate between different notes.
Okay, fine. You did give me the ability to play one instrument. But, seriously, the guitar isn't that hard to pick up and so many other people can play more than one instrument. Can't I just have one more musical talent?
Also, if You had made me talented in music, I could have been the next Chris Martin of the gospel music industry. Just think of all the melodious tunes I could have written and the many lives my music would have impacted for you. Better yet, there would be thousands of people at my concert praising Your name.
Doesn't that just sound wonderful? It sure does to me.
2. An Abundance of Money
This is important. Do you know how embarrassing it is when I need to count the coins in my wallet at the end of each week to see if I can afford the additional ice-cream cone from McDonalds?
Now, if You had made me rich, I would be able to buy whatever I wanted without worrying about the price tag that comes with it. Too many clothes? That wouldn't be an issue; I could just get another wardrobe. Not enough space? I could move into a huge house and not worry whether my king-sized bed could fit through the door.
I could even give to missions and help You grow Your Kingdom. I could sponsor pastors training in Bible school and plant new churches. I know, God, I should start giving now. But look, I'm not earning that much now, so You shouldn't expect so much. I'll definitely start giving when I earn more.
So just give me the wealth first, okay?
3. A Pretty Face
Wow, God, just look at that girl—her large sparkling eyes, high cheekbones, and beautiful smile.
Instead of making me look like that, you gave me slits for eyes and a round face. No amount of make-up can enhance my features or change the way I look—I've tried it. No matter how fashionably I dress, it doesn't change the fact that I'm not pretty. With a face like hers, I could wear rags and still look effortlessly beautiful. And that's probably when guys will start to notice me.
Of course, it's not about being complimented or being the envy of others. I just want to be pretty so that I can help Your people feel better about themselves when I dish out beauty tips on how to look prettier.
4. Intellect
You know that I've never been the one to ace all my subjects or top the class. I've always been comparatively slower in understanding concepts and learning new things. None of my teachers or friends has ever called me "smart".
Honestly, God, I think that's Your fault. If You had blessed me with wisdom like how You blessed Solomon, I wouldn't have to struggle so much during classes and spend so many late nights cramming for exams. And I wouldn't need to go for endless hours of tuition to catch up with the syllabus. Don't You know how much effort it takes for me to walk to my tuition classes two blocks away?
And if I were smart, I would have been in a position to help my weaker classmates with their schoolwork. I wouldn't need to be that annoying friend asking for help instead. You said it's more blessed to give than to receive (Acts 20:35); I want to obey You, okay?
I've said my piece and I hope You understand why I need all these things. Seriously, God, I have a tough life now. I know You said suffering produces perseverance, character; and character, hope (Romans 5:3-4). But I'm not the "suffering" kind. I know myself better than You do.
Look, if You gave me all these things, I'd praise You every day and tell everyone of Your goodness. I mean, I could do it now as well, but wouldn't You look so much greater if I had more when I praised You?
Editor's Note: In case you were wondering, yes, this was meant to be a little exaggerated and tongue-in-cheek. Some of it is true, like the musical talent bit. But no, the author doesn't always have McDonalds ice-cream cone every week. Still, there may be a couple of thoughts here that probably have crossed your mind before. Share with us what you struggle with and how God has been speaking to you. We want to hear from you.  
https://ymi.today/wp-content/uploads/2017/08/4-Things-God-Should-Have-Given-Me.jpg
613
1024
Constance Goh
https://ymi.today/wp-content/uploads/2017/05/ymi-logo-black-3.png
Constance Goh
2017-08-07 10:00:37
2017-08-07 11:48:55
4 Things God Should Have Given Me