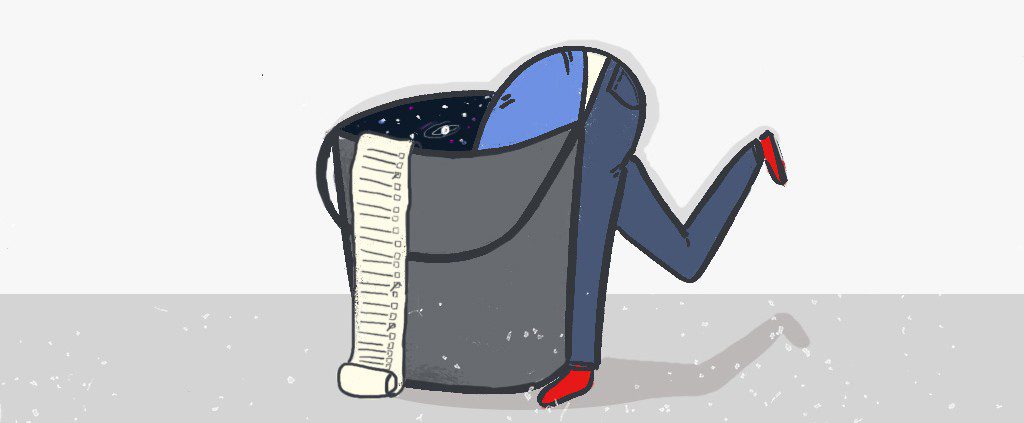 Written By Karen Kwek
A lifelong scribbler, Karen enjoys the company of friends, a great cup of tea and seeing the gospel transform hearts and lives. She worked as a book editor until she and her husband traded peace and quiet for parenthood. It seemed a good idea at the time.
"Tell me, what is it you plan to do with your one wild and precious life?" Recently my sons' school principal addressed his students with this line from Mary Oliver's poem "The Summer Day", recognizing that with their best years lying ahead of them, life is full of wonder and possibility.
And not just for the young. In the 2007 film that coined the "bucket list" phrase, Morgan Freeman and Jack Nicholson played two terminally ill men setting out to fulfil a list of things they each want to see or do before dying.
Since then, helped by social media, the bucket list has become an enduring thing. The sharing of all kinds of personal experiences, from travel and adventure to the artistic and culinary, not to mention photographs enhanced by every filter known to Instagram, makes for no lack of bucket list ideas and recommendations.
Today there are even specialized bucket lists, so that each of your must-do categories can have its own Top 10—10 Places To See; 10 Bestsellers To Read; 10 Extreme Sports To Try . . . In fact, why stop at 10? Sample the best that this world offers, and you can then die happy!
As Christians, should our bucket lists look the same as everyone else's? At first, we might ask why not. After all, this world in its present form is passing away, and compared to eternity, our earthly lifetimes will be gone in a flash. Since Jesus has saved us for eternal life with God, what harm can it do to enjoy everything that He's given us in the here and now? Surely these awesome experiences are all reminders of a powerful and loving God.
On my own list have long been a few special places—the lands where Jesus lived, as well as Dorset's Jurassic Coast and Petra the Nabatean city in rock. I'd also like to watch an illusionist perform live, navigate a river in a houseboat, and hunt for truffles in Italy with friends and a trained dog!
But as I look again at these things, I realize that although enjoying creation and our God-given life is a valid expression of our relationship with God, the world's obsession with the bucket list is based on some assumptions that may not hold up on closer examination:
1. Those who are not working through a bucket list are missing out.
Now, I know it's very likely that Galilee, Dorset, Petra and Italy will not last forever. Certainly the apostle Peter writes of the destruction by fire of the earth and heavens and everything in them (2 Peter 3:10-12) when Jesus returns. We are told, however, that "we are looking forward to a new heaven and a new earth, where righteousness dwells" (2 Peter 3:13). The earth will not stay destroyed.
Although the Bible doesn't go into many details about what the renewed world will be like, we have every reason to believe that it, too, will be a physical, embodied world with, well, impressive topography! Dare I hope that some of earth's amazing places will be recreated, only even better?
If this is so, no one who is saved by Christ will be missing out on any of these life's experiences at all. Even if the new earth is nothing like the old, there will surely be even better things to do or see there! To borrow an idea from the world of software development, who goes back to the beta-version once the live release is out?
2. Bucket list experiences can be enjoyed only during this lifetime.
The assumption here is that life is fleeting and best spent living to the fullest before we're six feet under and it's all too late. Indeed, life is short, but just as the world will not stay destroyed when Jesus returns, Christians will not stay dead! The apostle Paul describes our immortal resurrection bodies as spiritual, that is, not immaterial but instead animated by the Holy Spirit, perfectly suited to the new heaven and new earth that will last forever.
This means that any mountaintop on the new earth could still be fair game for those of us who would like to climb it with imperishable legs! My husband and children also like to imagine the kind of beyond-Michelin-stars foods there might be at the great wedding dinner mentioned in Revelation 19:9!
3. Bucket list experiences make us into better people.
As the torchbearers of a carpe diem spirit, bucket list champions usually come across as people who are keen to try new things, challenge stereotypes, confront their fears or step outside their comfort zones. We'd probably like to think that they're people who know what they want and can muster the determination to pursue it. We're tempted to buy into the assumption that these not-to-be-missed experiences will be somehow life-changing and character-transforming, helping us become the kind of people we long to be.
But as Christians, it's worth asking: What kind of people should we long to be, and how do we suppose this change happens? By grace, through faith, Jesus has already enacted a crucial change in our status before God. We who were once dead in our sin are now alive in Christ, through no merit or effort of our own (Ephesians 2:8). Consequently, the apostles urge us to live "a life worthy of the calling [we] have received" (4:1), making every effort to be found spotless, blameless, and at peace with God (2 Peter 3:11, 14). Peter reminds us that we already have in the gospel everything we need to live a godly life, because we know Jesus!
For this very reason, make every effort to add to your faith goodness; and to goodness, knowledge; and to knowledge, self-control; and to self-control, perseverance; and to perseverance, godliness; and to godliness, mutual affection; and to mutual affection, love. For if you possess these qualities in increasing measure, they will keep you from being ineffective and unproductive in your knowledge of our Lord Jesus Christ. (2 Peter 1:5-8)
Although bucket list experiences may provide us with some unique insights, it turns out that growing into the kind of people God is pleased to use won't necessarily involve swimming with orcas or hiking to the Iguazú Falls. I'm not saying that God never chooses to test our mettle Jonah-style, but most of us will find that training in the virtues of godly living and Christian character comes from practicing God's Word in our day-to-day relationships with our parents, siblings, spouses, children, friends, colleagues and acquaintances. It is in these contexts that qualities such as goodness, self-control, brotherly affection and love are really tested and strengthened.
So, is there a better bucket list?
But before you yell, "Killjoy!" and stop reading, does this mean we should delete our bucket lists and never do or see anything out of the ordinary? I don't think so, and I am not about to prescribe a one-size-fits-all "Christian bucket list" for you.
Instead, I have been asking myself how my relationship with God redefines my bucket list and my ultimate goals in this life. What does it mean, in practical terms, to learn to "number our days" (Psalm 90:12), wisely "making the most of every opportunity" (Ephesians 5:16)? The New King James Version translates this as "redeeming the time", and the apostle Paul goes on in later verses and Ephesians 6 to explain that this concerns understanding what God's will is and acting rightly in relationships.
Besides His will that we work at personal godliness, God's will for humanity is also revealed in His  holding back the end of time for us. As Christians we are reminded to live with the day of Jesus' return in mind. This is the single event towards which all of human history is hurtling! And lest we forget just why God is not bringing it on sooner, Peter writes that God has a very different perspective of time compared to ours: He is not slow to keep His promise to return; rather, He is patient, wanting people to come to repentance (2 Peter 3:9). Human historical time is not random; it is purposed for the unfolding of His salvation plan! God is not simply killing time but filling it with redemptive purpose, calling His people to Him, one sinner at a time. And so, in these times where sin is present, there is redemptive work to be done in the sense that people urgently need to know Jesus.
It seems to me, then, that since God's will in human historical time is to see as many turn to Him as possible, I can re-evaluate my bucket list in at least these two ways:
Time
Is my view of time aligned with God's? How long would it take for me to achieve every single item on my bucket list, and could that time be more wisely spent on relationships that bring others to Jesus or encourage them in their Christian journey? Writer David Andrew puts it this way in Christian publication The Briefing #273: "Christians should be arguing for seeing life as a set of relationships to be brought under the authority of the gospel of Jesus Christ—the prime relationship. Sadly, however, many Christians act no differently to anyone else in their management of time—they maximize the economic rather than the relational."
Other limited resources, such as energy and money
How much of my energy and income would be spent achieving every single item on my bucket list? Realistically, some of the trips and activities that people seek are terribly expensive. Am I willing to invest some (if not most) of that energy and money (or even suffer a loss in income) for the sake of relationships that bring others to Jesus or encourage them in their Christian journey? These considerations have a direct bearing on the kind of job I might choose, how I spend my leisure time, or even whether I see my time raising my children as an opportunity to make disciples for Jesus. Would I be willing to maximize the relational rather than the economic?
After all this reflecting, I've pared down my list, and I won't be upset if I never get to do everything on it in this life. Those things can wait. I've also come to realize that on a few occasions when I tried to seek God's Kingdom first, He graciously gave me experiences which might even be on other people's bucket lists! (It's true—one modest example is how my husband's Bible college studies took us to another country for several years, somewhere we'd otherwise never have experienced as residents. Ask me more another time!) I don't say this to boast, merely to challenge myself. I'm certainly not there yet, but wouldn't it be amazing if redeeming the time meant improving my bucket list so drastically that my life's passions could be Jesus'? Then, if Jesus were to return tomorrow, I wouldn't have to change a thing about my "one wild and precious life"!
What's on your bucket list? How could you make it better?
https://ymi.today/wp-content/uploads/2017/05/So-You-Think-You-Have-the-Best-Bucket-List1.jpg
613
1024
Contributor
https://ymi.today/wp-content/uploads/2017/05/ymi-logo-black-3.png
Contributor
2017-05-19 10:00:03
2017-05-17 16:24:42
So You Think You Have the Best Bucket List?