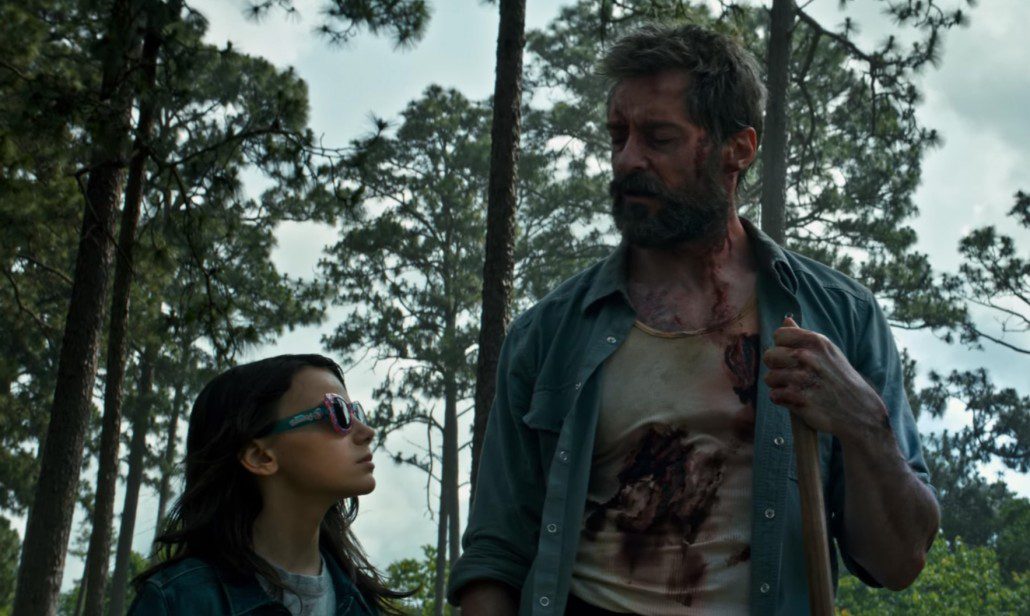 Photo taken from Official Trailer
Rating: 3 out of 5 stars

Written By Simon Moetara, New Zealand
Logan is a far cry from the other superhero actioners in the X-Men franchise. Unlike 2000's original X-Men, rated PG-13 in the US, where the blood-letting was kept to a minimum, this final R-16 instalment is a far darker and more brutal film, gut-wrenching in its visceral violence and profanity.
(Spoiler alert) It is 2029, and the mutant gene has been eradicated. Wolverine is drinking heavily and clearly sickly, working to support an ailing Charles Xavier (Professor X). A woman approaches Logan and asks for his help. Big, nasty corporation Transigen have cloned mutants to be super soldiers, but these mutant kids have escaped. Long story short, Logan ends up reluctant protector to a young girl named Laura, cloned from his DNA. He sets off on the road with Laura and Professor X with heavily armed bad guys in pursuit.
Following in the footsteps of violent anti-violence films like Clint Eastwood's Unforgiven (1994), this is no cartoonish portrayal of violence without consequence: innocent people suffer, and those who deal in violence bear the consequences.
Logan draws on the classic 1953 western Shane (watched by Professor X and Laura in the hotel, and quoted by Laura over Logan's grave). In Shane, a gunslinger tries to live a peaceful life, but in the end has to don his guns once again to protect the peaceful folk against the bullies. In the film's finale, he says to the young farmer's son who idolizes him: "There's no living with a killing. There's no going back from it. Right or wrong, it's a brand, a brand that sticks." For Logan director James Mangold, the film reflects the philosophy of Shane's final words, in that Shane/Logan can never have a life, because they have taken life.
In one particular scene, where Laura explains that she has nightmares in which people hurt her, Logan says of his nightmares, "Mine are different. I hurt people." Laura admits that she has hurt others, but they were bad people. Logan retorts, "All the same . . . " His hanging, unfinished reply speaks volumes. The justification that "they deserve it" doesn't mean much for Logan. It's still killing, and it leaves its mark on the soul, a "brand that sticks".
In the end, Logan chooses to care and sacrifices himself to save Laura and her friends. With his final words he says to Laura, "Don't be what they made you." Laura has the ability to make choices; she doesn't need to be a feral killing machine.
Jesus taught, "Do not resist an evil person. If anyone slaps you on the right cheek, turn to them the other cheek also" (Matt 5:39). American Baptist minister and leader in the civil rights movement Martin Luther King said, "Violence begets violence; toughness begets a greater toughness. We must meet the forces of hate with the power of love." As American priest and author Barbara Brown Taylor points out, the main purpose of turning the other cheek is "to disarm the violence in us". In following Christ's example, rather than taking life, we seek to lay down our lives for others in loving service.
Logan also highlights the importance of hope and forgiveness. The film hints that Xavier's dementia led to a telepathic seizure that caused the death of a number of mutants in the past. One night while on the run, Xavier, Laura and Logan spend the evening with a family. That night, lying in bed, Professor X says, "This was, without a doubt, the most perfect night I've had in a long time." Then, remembering the tragedy he caused, he says, "I don't deserve it, do I?"
Xavier's words reveal his deep sense of shame and regret, and his need for something this world cannot offer. Alongside Logan's guilt and struggle to connect, it shows these previously heroic figures to be all too flawed and human.
This is a wonderful thing about the gospel: we don't deserve it. We don't earn God's love and forgiveness by working hard or being good, but rather, "it is by grace you have been saved, through faith . . . not by works, so that no one can boast" (Eph 2:8a-9). Philip Yancey describes grace in in the following way:
Grace means there is nothing we can do to make God love us more . . . And grace means there is nothing we can do to make God love us less . . . Grace means that God already loves us as much as an infinite God can possibly love.
This human longing for forgiveness and peace is universal, and as one reviewer writes, Logan is a parable of "the hope that can be found in what we do not deserve." We are loved and accepted. No matter what path we have walked, no matter what darkness we have encountered, grace and love, forgiveness and hope are available to us because of what God has done through Jesus Christ.
https://ymi.today/wp-content/uploads/2017/03/Logan-Theres-no-living-with-killing.jpg
1057
1766
Contributor
https://ymi.today/wp-content/uploads/2017/05/ymi-logo-black-3.png
Contributor
2017-03-18 09:00:30
2021-09-09 16:55:32
Logan: There's no living with killing