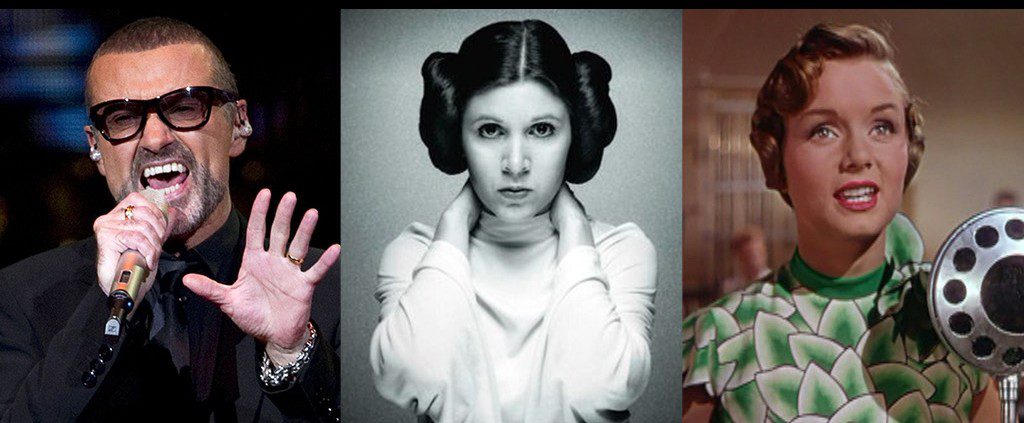 As if the sudden deaths of British pop singer George Michael, 53, and American actress Carrie Fisher, 60—just four days apart—weren't shocking enough, Fisher's mother, renowned US actress Debbie Reynolds, also passed away yesterday, just one day after her daughter's death. It was reported that she had suffered a stroke while planning for her beloved daughter's funeral arrangements and never regained consciousness. She was 84.
The untimely deaths of these three entertainers, all within the span of a week, wrap up a year that has seen the demise of many beloved celebrities. They include rock legends David Bowie and Prince, as well as British actor Alan Rickman of Harry Potter fame. For me, it was the death of American YouTuber Christina Grimmie that affected me the most as I had been following her journey as a singer since she first started.
But while there is nothing surprising about death (after all, people die every day), there's no way of getting used to it—especially if it involves our loved ones or someone we know.
Perhaps it was the fact that I had just watched Rogue One: A Star Wars Story a day before Fisher's passing, and Princess Leia (acted by Fisher) was the last person that appeared before the credits rolled. Or maybe it was because Fisher had been in the headlines lately after her latest memoir, The Princess Diarist, revealed that she had had an affair with fellow actor Harrison Ford while filming the original Star Wars trilogy. For some reason, I felt like I had lost a friend when I heard the news of her death.
And then to hear that her mother passed away merely one day later—I can't even imagine what the family must be going through. I wonder what they had talked about the week before as they gathered around the family table. Did they discuss plans for the future? Their dreams for 2017? Did anyone have any premonition that a double tragedy would happen just a week later?
As I try to wrap my head around this spate of deaths, I reach the same conclusion I had three years ago when my own father passed away after a massive stroke: Death is no respecter of persons. It can strike anyone anytime, anywhere.
Even as I write this, I'm fully cognizant of the fact that my turn on earth could be up anytime. I may not make it into 2017. I may not be able to achieve or complete what I plan to. Life is fleeting. Tomorrow is never a certainty. Whatever I have now is temporary.
What's with all this doomsday talk? you must be thinking. We're on the cusp of the new year, you're probably saying, let's look forward to 2017 with anticipation and positivity.
I cannot agree more. But if it's the "new year" we're waiting for in order to make new resolutions, to set our priorities right, and to devote time to what really matters, I'd say we might be missing an important lesson.
If not for anything, this year's spate of deaths should sound the alarm that life is fleeting. We simply cannot afford to put off what's important. Let's not busy ourselves with urgent but unimportant stuff. Let's find time for the important (but not necessarily urgent) matters.
The parable of the rich fool (Luke 12:13-21) highlights the temporal nature of our earthly lives and what our preoccupations should be—certainly not our earthly possessions. Have we been spending our time, effort, and resources on storing treasures in heaven? Do we pursue God's kingdom and live for others?
In Mitch Albom's memoir of his sociology professor Morrie Schwartz, Tuesdays with Morrie, he quotes something his late professor said which has stuck with me all this while: "When you learn how to die, you learn how to live."
I wonder how differently Michael, Fisher, and Reynolds would have chosen to spend their last days had they known those were their last. How would we spend our days differently if we knew they were our last?
https://ymi.today/wp-content/uploads/2016/12/2016-When-Death-Is-On-A-Roll.jpg
613
1024
Joanna Hor
https://ymi.today/wp-content/uploads/2017/05/ymi-logo-black-3.png
Joanna Hor
2016-12-30 10:00:09
2021-09-09 17:00:43
2016: When Death Is On A Roll