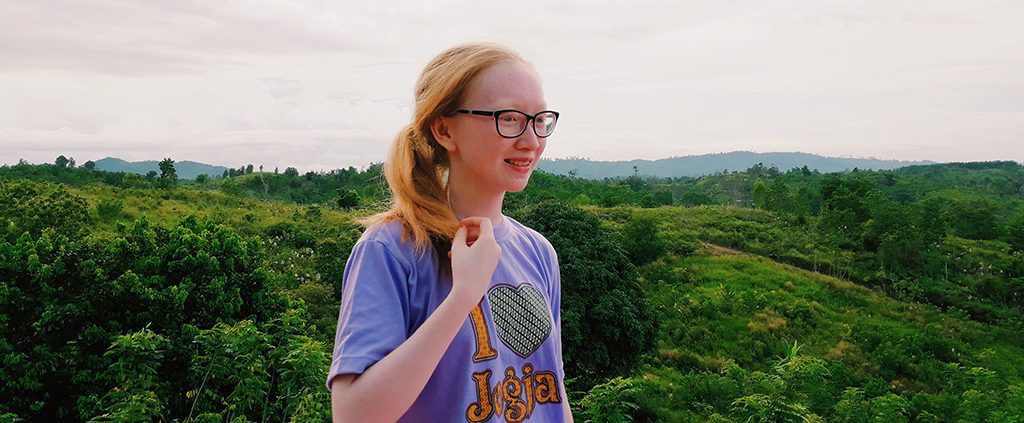 Written By Anatasya Patricia, Indonesia, Originally in Bahasa Indonesia
My name is Anatasya, and I have a skin condition called albinism.
When I was younger, I didn't feel any different from everyone else. I only realized that I was different when I looked at other people's skin and observed that the color of their skin is different from mine. I had never met people with the same skin color as me, so I could not understand what was wrong with me.
When I was child, I didn't care if people mocked or commented about my skin, simply because I didn't understand what they meant. As I grew up, though, I began to see that I was physically different from everyone else.
At first, I didn't know what was happening to my body. It wasn't until middle school that I began searching for answers. I then discovered that I have albinism.
Albinism is a physical disorder in the production of melanin that results in the partial or total lack of skin pigments. Because of that, my hair, my skin, and my eyelashes appear pale or even white. People who have albinism are called albinos. I don't really know what caused me to have albinism, but as far as I know, this disorder may also be genetic. My great grandmother was also an albino.
My physical state greatly affects my daily life. Too much sunlight would damage my ultrasensitive skin. I also attract a lot of curious stares when I'm outside, probably because most people have never seen an albino before. I often feel as if I am at the center of attention—but not in a positive way. I'm also frequently asked odd questions, such as what my mother ate while she was pregnant with me so that I was born as an albino. There were even some who wanted to take pictures with me.
At school, some of my school mates felt uneasy about my physical appearance. They gave me hurtful nicknames, such as the "tourist who lost her way into the village", or "walking corpse". When I heard these insults, I would cry and could not accept my condition. Although I knew that the difference was a physical one, I could not understand why people would react to me in this way.
However, I'm grateful that I still found genuine friends—especially in church—who didn't see or treat me any differently than anyone else. I'm also part of a support group called the Albino Community of Indonesia, which has 56 members. Through this group, I've gotten to know others just like myself, and we often share our stories, trade advice, and encourage each other in our journey.
I'm also thankful for my parents who would patiently listen to my struggles and continually remind me that I'm not any different from my friends—I can still do all the same things they're able to. They also assured me that I don't need to get mad when people insult me. They said that those insults were their means of showing me attention, even if it's done in a wrong way.
They also taught me to keep asking God for strength. This ignited a determination in me not to wallow in disappointment, grief, and anger over my situation, but to channel my energy into discovering God's purpose for me.
Even though my parents showed me through God's Word that in His eyes, we are all the same, I still could not understand why God created me this way. But once, during a family devotion, I was convicted by the verse that we were reading.
The verse was 1 Thessalonians 5:18, ". . . give thanks in all circumstances, for this is God's will for you in Christ Jesus." After the devotion ended, I kept the verse I read close to my heart. I prayed, asking for God's guidance that I may understand His will for my life.
In the end, I understood that God has the best plan for my life through my albinism. He didn't create me by mistake. He also didn't leave me alone in my struggles—He has surrounded me with a group of supportive friends and parents who are always there for me.
Another verse that spoke to me is from Proverbs 3:5, "Trust in the LORD with all your heart and lean not on your own understanding." This verse reminds me not to view my circumstances through my own understanding about the situation, but to place my hope in Him.
Now, I don't see my albinism as a drawback anymore. Instead, it's a God-given, unique trait that not many other people have, and I am grateful for it. Although that sense of inferiority hits me from time to time, I would pray for God to grant me strength so that I wouldn't wallow in grief.
My journey in understanding my condition has also helped me empathize with and reach out to those who feel lonely, insecure, or rejected. I understand how it feels like to be in that situation, so I try to approach them, talk to them, and befriend them.
I want to keep on glorifying God through my life. My dream is to be an English teacher so that I can educate the next generation with the light of God's Word.
https://ymi.today/wp-content/uploads/2019/01/I-Have-Albinism-But-Im-No-Different.jpg
613
1024
Contributor
https://ymi.today/wp-content/uploads/2017/05/ymi-logo-black-3.png
Contributor
2019-01-10 11:00:53
2019-01-10 16:39:11
I Have Albinism But I'm No Different