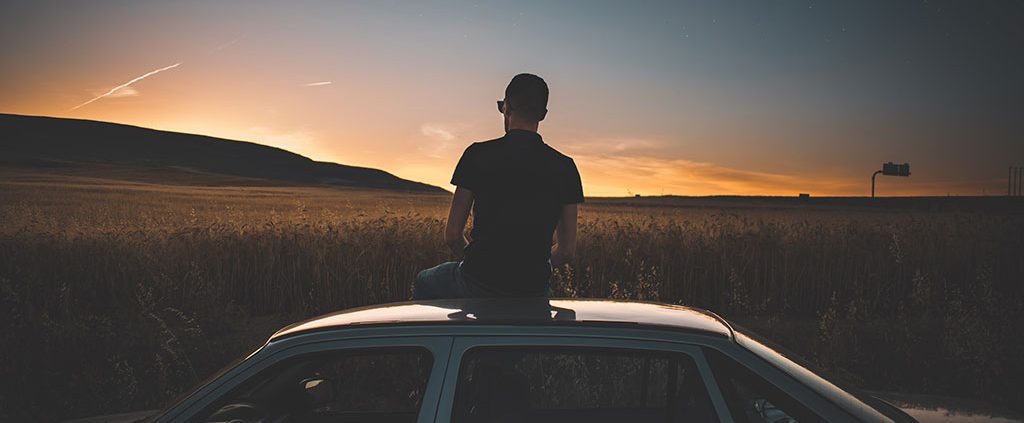 Written by Karen Pimpo, USA
It's been a year since I graduated college, and so much has happened already! I've been blessed with a fun and challenging job in my field of study. I live at a wonderful house with two friends. My life is overflowing with healthy, exciting, good things—most people would say that I've "arrived".
But some days, I'm ashamed to admit that I still struggle with discontentment. Despite all the good things that fill my life, there are moments when it's just not enough and these thoughts fill my mind: Am I so greedy that all of these blessings can't fulfill me? What's missing from my life? And the worst question: Where am I going?
Without a clear goal to strive towards, my life now seems stagnant instead of stable. There are so many possible paths for my life, but now that I've finished college and chosen a career and a city to live in, I wonder if I've made the right choices. The trajectory of my life seems to be heading somewhere pretty mundane—a normal, middle-class existence in America. Anxiously, I wonder if I was meant to be doing something more extraordinary or important or. . . meaningful?
The writer of Ecclesiastes faced a similar situation. Even though he had wisdom, status, wealth, and influence, he still felt at times that "everything is meaningless" (Ecclesiastes 1:2).
So what should we do when, like me, we've "arrived", and find ourselves feeling empty?
1. Go back to our first love
I saw a commercial recently that proclaimed, "Experiences are the true riches in life." I love experiences. I enjoy travel, concerts, and new activities. But some of the most wise and godly people I know collect very few experiences—yet their lives are still rich. They have learned that the true riches of life are found in the person named Jesus.
"Because your love is better than life, my lips will glorify you," exclaims the psalmist. "I will be fully satisfied as with the richest of foods. . . I cling to you" (Psalm 63:3-8, emphasis added).
When I feel anxious, it always comforts me to read my Bible, especially the Psalms, where the authors cry out with raw joy and pain. Through scripture, God tells us a story of mankind's fall and redemption that is so grand and beautiful that it puts all of our worldly experiences to shame.
Our experiences may be good, but in the end the dissatisfaction that we feel with these experiences points us to the best—the God who created them. It is He who gives meaning to all we do. And when we are grounded in His story, we do not need to fill our time chasing experiences.
2. Give up the driver's seat
Part of my anxiety during this period of stability is due to thinking that maybe I should be moving on to something better instead of staying put. Most of my college friends are getting jobs in other cities and moving away. Some are going overseas to be missionaries, or starting families of their own. Perhaps I should be seeking a new job, house, or dream?
I am in control of my life, which means I can steer it in the wrong direction. What if I'm missing something by staying here?
But these anxious thoughts are easily quieted when I remember that I'm not actually in control. We all have the power to make decisions, but the Christian's challenge is to release that control. Let God determine where you are going—He should be in the driver's seat!
I need to surrender my life to God by confessing that I can't do this on my own. I need to regularly choose to dwell on God's promises instead of my fears. Surrendering to God does not make me feel powerless. Instead, it brings immense comfort. If God is in control—not me—then all I need to do is listen to His voice and follow His direction.
Psalm 37:23 reminds us that, "The Lord makes firm the steps of the one who delights in him." If I'm supposed to move, or if I'm supposed to stay, God will let me know. That doesn't mean He will always make it clear when I want Him to. I remember how long I agonized over the decision of where to attend college; I was angry with God for not being more clear. But at just the right time, God helped me see what made one school a better fit than the other, and I had such peace about the decision. He made my steps firm.
3. Relax and enjoy the view
There's a scene in the movie The Shack (2017) where the main character Mack is walking with God through a gently rolling meadow dotted with trees. The sun is setting and the landscape is peaceful and beautiful.
Mack has been walking alongside God for a while, and it's unclear if they're nearing the final destination. He's feeling a little anxious and a little uncertain. "Is someone going to tell me where we're going?" Mack asks.
"Look around, Mack," God says in answer, gesturing to the beautiful landscape. "Don't forget to enjoy the journey."
Those are powerful words. It's as if God was saying, Can you simply enjoy each step of the journey with Me? That is very difficult for me to do. I like control, knowledge, and preparation. I want a complete view of the map before we start the trip. But that's not usually how God works. He asks us to trust Him for every step.
I've learned it's easier to find joy in the beautiful things of this life when I trust God for the final destination. When I do so, the blessings that I mentioned earlier—a great job, a good home, kind friends—come fully alive. I feel free to cherish them for this season of life, instead of feeling anxious about what changes the next season might bring.
So when I'm feeling anxious or restless, I remind myself to stop, look around, and enjoy the journey. Even the author of Ecclesiastes recognized that, "There is a time for everything, and a season for every activity under the heavens" (Ecclesiastes 3:1). There is a time to move forward, and there is a time to remain right where we are. Let's go back to our first love, give up the driver's seat, and enjoy the view for however long it lasts.
https://ymi.today/wp-content/uploads/2018/06/Ive-Arrived-Now-What.jpg
613
1024
Contributor
https://ymi.today/wp-content/uploads/2017/05/ymi-logo-black-3.png
Contributor
2018-06-22 10:00:18
2018-06-28 15:34:15
I've Arrived. Now What?