Written by Benjamin Wong, Singapore
I'm a natural introvert. I shy away from large groups, avoid opportunities to stand out, and feel my energy drain very quickly whenever attention is lavished on me. I struggle to look people in the eye when conversing, stammer when I'm undecided, and speak very quickly when I get nervous. I am far from being charismatic, much less popular.
On 28 August last year, however, I was crowned the pageant king of my cohort—otherwise known as Medicine King 2016.
Just to put things in perspective, the medicine faculty, where I am studying now, runs its pageant differently from other faculties at my university. For one, the competition is a lot less stiff. The 20 contestants (10 couples) alone made up six percent of our entire batch. Also, all we had to do was a simple photo-shoot, a dance performance, and a fun, X-Men themed catwalk. I've heard that other pageants include clothes-fitting sessions and professional photo-shoots.
Still, the win came as an absolute surprise. I'm pretty sure none of the events leading up to the voting earned me that coveted sash, so the entire journey reminded me of who really was in control.
In fact, I didn't even volunteer to join the pageant. None of the three male nominees in my house (also known as orientation group) wanted to run for the pageant, so we were all made to rate our interest level on a scale of 1 to 10. I was chosen simply because I gave the highest number (which I no longer remember).
From learning a dance meant to surprise and elicit laughter from the audience, to thinking of creative ways to dress up as the X-Men Quicksilver, I must admit that I found the experience to be quite fun at first.
But after a while, I became painfully aware that taking part in a pageant wasn't my cup of tea. Socializing with the in-crowd, posing for cool photos, and garnering votes on social media were way out of my comfort zone. I continued nevertheless.
And so, I went through pageant like everyone else. Often, reservations about my looks and popularity crept into my mind. I really did not want to come in last, so I texted and bugged my friends to like my Facebook photos. This fear soon became the driving force of all my thoughts and actions—till the final day of judging arrived.
On stage with two other finalists, I was posed a series of questions in front of almost our entire cohort.
"If you were an animal, what would you be?" I was asked.
"Umm . . . a colt," I replied, after a long pause.
My brain rummaged through the recesses of my mind in desperate search for an explanation. In that split second, I contemplated changing my answer to escape further awkwardness. But I immediately remembered my resolution to be unashamed of my faith.
You see, in the months leading up to my matriculation, I had been volunteering at a para-church organization, where I learned—among other things—about the person of Jesus through Bible Studies. During that time, I had come to appreciate how much everyone needed the gospel and therefore, how important evangelism was. Looking back on how hesitant I was to broach the topic of religion with my friends in my previous schools, I was determined to be vocal about my identity as a believer and to unashamedly grab opportunities to present Jesus to my friends in university.
I resolved to use this opportunity to present Jesus to everyone around, although I knew that the very words I would soon utter would be a straight ticket out of the competition: "Because Jesus rode a baby donkey into Jerusalem 2,000 years ago."
It was an awkward and clumsy reply, and the emcees didn't respond to my reply. The next moment, I was off the stage and waiting for the results.
Once again, my head was flooded with a stream of thoughts. On the one hand, I was overwhelmed with relief for coming so far. On the other hand, I felt my response didn't do justice to Jesus' significance in my life. My sense of guilt was compounded by the realization that I hadn't even touched on just how important Jesus was in my life.
The next moment saw the emcees announcing my name and me presented with the purple sash. I couldn't help but laugh in disbelief. "Is this my reward for being brave for You?" I kept wondering through the night.
Since then, I've taken the prize as an affirmation that God was pleased with my resolve to talk about Jesus' lordship in my life. It's also given me the opportunity to share the gospel with two friends and talk about Jesus boldly at interviews.
As I look back on my experience, I must admit I did not get off to a great start. Distracted by what others thought of me, I had lost focus on my true worth in Jesus. Thank God for waking me up and using an easily distracted soul like mine in a setting that glamourizes worldly values. As I think about how God used me—someone who's not pageant-material to win the competition—I can't help but be reminded of 1 Corinthians 1:27-31 (even though I know the context is completely different):
"but God has chosen the foolish things of the world to shame the wise, and God has chosen the weak things of the world to shame the things which are strong, and the base things of the world and the despised God has chosen, the things that are not, so that He may nullify the things that are, so that no man may boast before God. But by His doing you are in Christ Jesus, who became to us wisdom from God, and righteousness and sanctification, and redemption, so that, just as it is written, "Let him who boasts, boast in the Lord." (1 Corinthians 1:27-31, NASB)
My experience has given me a personal taste of the truth and beauty behind these words. All glory belongs to God because He alone bestows triumph, and Jesus alone is who we need to boast in!
If you're thinking of joining a pageant, here's my advice: Join it with your eyes open. It's okay to enter for the fun and the experience, but do be aware that your sense of worth will be challenged—the way people critique and compare you can be detrimental if you're not secure in your identity in Christ.
For me, I will forever remember those few moments on stage right after the emcees announced the title winner. I will never forget just how important it is to share the gospel, and how much greater the reward in heaven is for those who share about Jesus!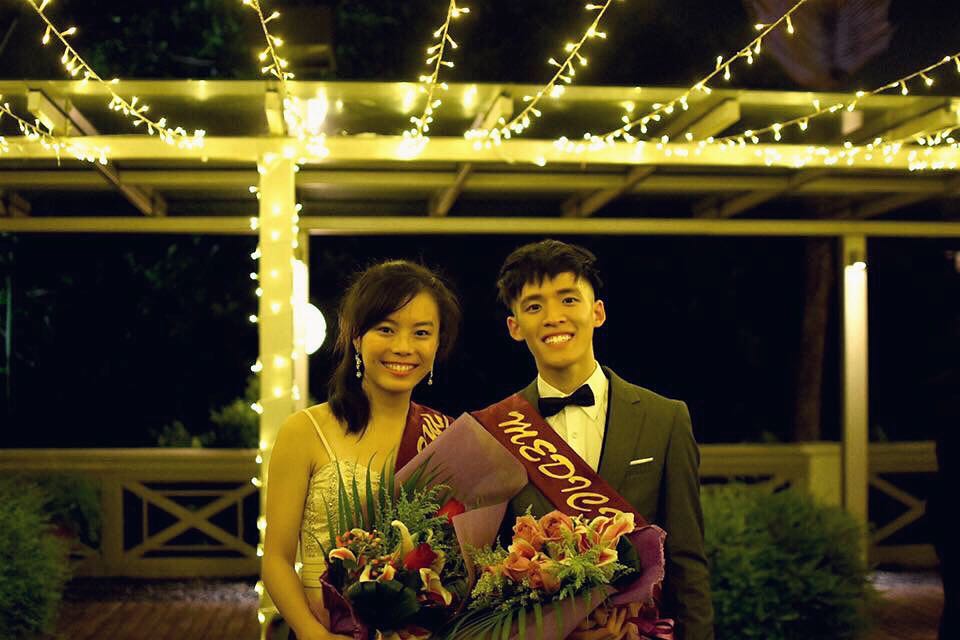 https://ymi.today/wp-content/uploads/2017/06/Confessions-of-an-Unexpected-Pageant-King.jpg
613
1024
Contributor
https://ymi.today/wp-content/uploads/2017/05/ymi-logo-black-3.png
Contributor
2017-06-14 10:00:38
2017-06-14 00:42:18
Confessions of an Unexpected Pageant King