Thanks to Covid-19 this year, job losses and pay cuts hung like heavy clouds over some of our heads as we worried over our finances. We counted every penny and pinched where we could. But those of us who managed to hold onto our jobs may have unwittingly swung to the other extent and overspent in a bid to keep boredom at bay. 
Whichever camp we're in, this Covid-19 economic climate serves as a reminder that the resources we have can come and go like the wind. All that we have comes from God and we're ultimately, stewards of what God has given us. 
So what if we used the everyday cards in our wallets as physical reminders of who we are and how that should affect the way we steward our finances? 
We've grouped the five most used cards in our wallets, and redefined how we can view each of these cards.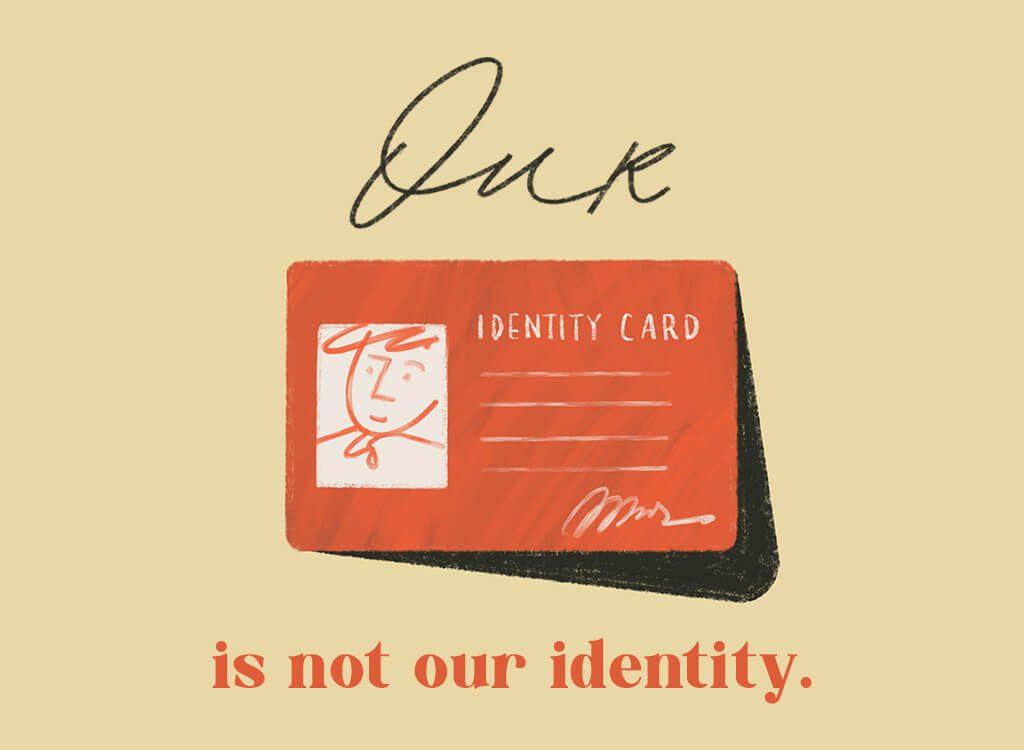 John 1:12-14
Yet to all who did receive Him, to those who believed in His name, He gave the right to become children of God – children not born of natural descent, nor of human decision, or a husband's will, but born of God.
We revel at every opportunity to hand out our name cards to prospective partners or clients, and feel a sense of pride whenever we're introduced by our job titles. But the ultimate reality is that these cards will soon be relegated to the corner of our drawers once we make a job switch–or worse, when we're made redundant by our companies due to an economic downturn.
For those of us who lost our jobs or had to take a pay cut, the truth of the gospel is a balm to our souls, for our identities aren't defined by our job status. Society may categorize us as employees and bosses but we're first and foremost children of God. Employed or otherwise, our worth in God's eyes doesn't change, and in Him, we have everything. 
He is our Provider, who tells us not to worry about what we should eat or what we should wear, for He knows and is able to meet all of our needs (Matthew 6:31-32). Instead, our preoccupation should be on how we're stewarding the resources God has given us.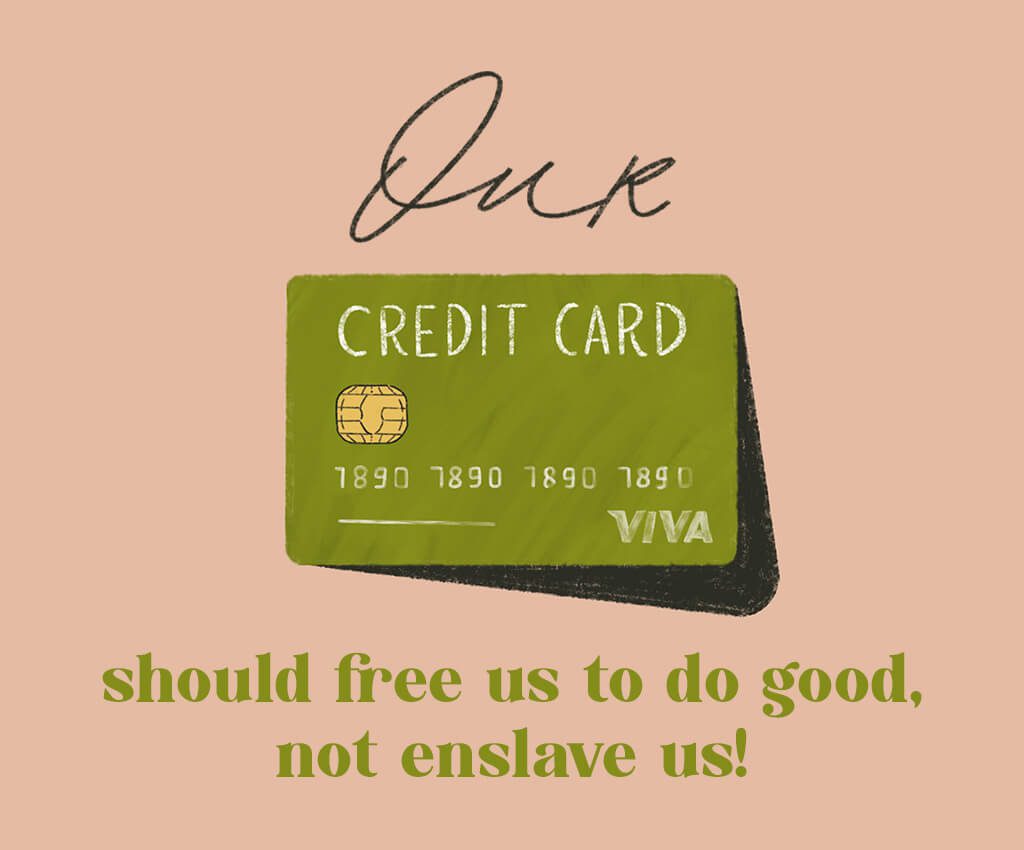 Proverbs 22:7
The rich rule over the poor, and the borrower is slave to the lender.
We all know the temptation that comes with "buying first and paying later". It doesn't help when there are so many attractive credit card incentives (low interest repayments! Earn points to go towards your next purchase!) that tempt us into signing up for more credit cards than we possibly need, or accepting a generous limit from our banks.
But credit card debts are a real thing and the momentary joy we feel from purchasing something we like (but absolutely do not need) can turn into guilt and regret when our monthly statements roll in and we realize we can't afford our expenses.
Scripture says the rich rule over the poor and the borrower is a slave to the lender (Proverbs 22:7).  Do we really want our banks or credit-loan companies to chase us for debt repayments and find ourselves struggling to pay off our debts?
Having said that, credit cards are not bad per se, and can be life saving if there's an urgent big ticket item we need to buy (for ourselves or others). It's all about utilizing them wisely and selectively. If we really need to swipe our plastic, one good question to ask ourselves could be, "Does this purchase impact my life or someone else's in a lasting positive way?"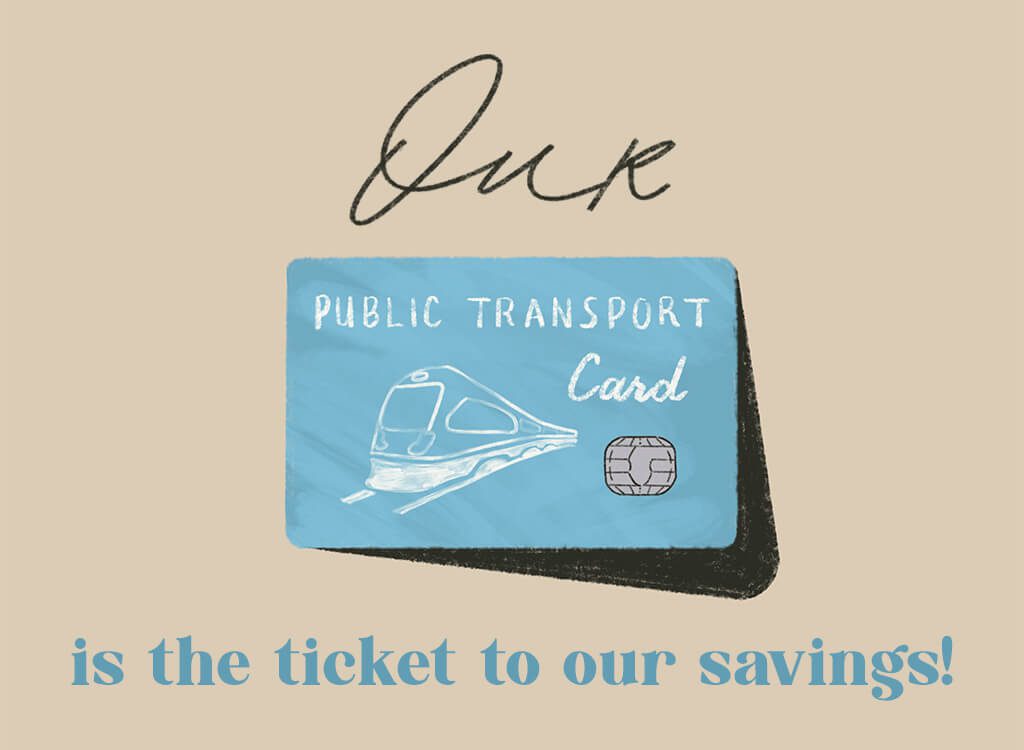 Proverbs 21:20
The wise store up choice food and olive oil, but fools gulp theirs down.
Squeezed like sardines in an overcrowded bus or on the tube isn't a welcoming picture. We'd much prefer to ferry ourselves to our destination in comfort and style, preferably in our own car, or if that isn't possible, a shared-ride or a cab.
But sometimes, sacrificing our own comfort and preferences to make sure we have enough to tide us through rainy days is worth it. Imagine how much we can save if we opt to use the public transport where we can, instead of pouring our money down the petrol tank? 
As Proverbs reminds us, the wise store up choice food and olive oil, but fools gulp their down (Proverbs 21:20). The "choice food and olive oil" here could be the extra savings we're able to put aside as a result of our intentional choices on how we spend our money, such as choosing to do our weekly shop at a cheaper supermarket, bringing in our own coffees or lunches to work instead of buying them, or shopping around for the best deal on our power bill–on top of opting for public transport.
A dollar saved a day may not look a lot, but if we're careful to save aside a few dollars where we can, it'll eventually add up.
1 Timothy 6:18
Command them to do good, to be rich in good deeds, and to be generous and willing to share.
We all love gift cards because they come with endless possibilities. They allow us to daydream about the different items we'd like to get from our favorite stores, and the flexibility of choosing what we'd really like to have. 
But, what if we used our gift cards to splurge on a thoughtful gift or food parcel for a family or friends that we know could do with a bit of help? Using our gift cards to treat others instead of just buying something for ourselves to enjoy is a way of passing on our blessing to others. Not only are we carrying out 1 Timothy 6:18 of being "rich in good deeds and to be generous and willing to share", we experience the blessing of blessing others (Acts 20:35).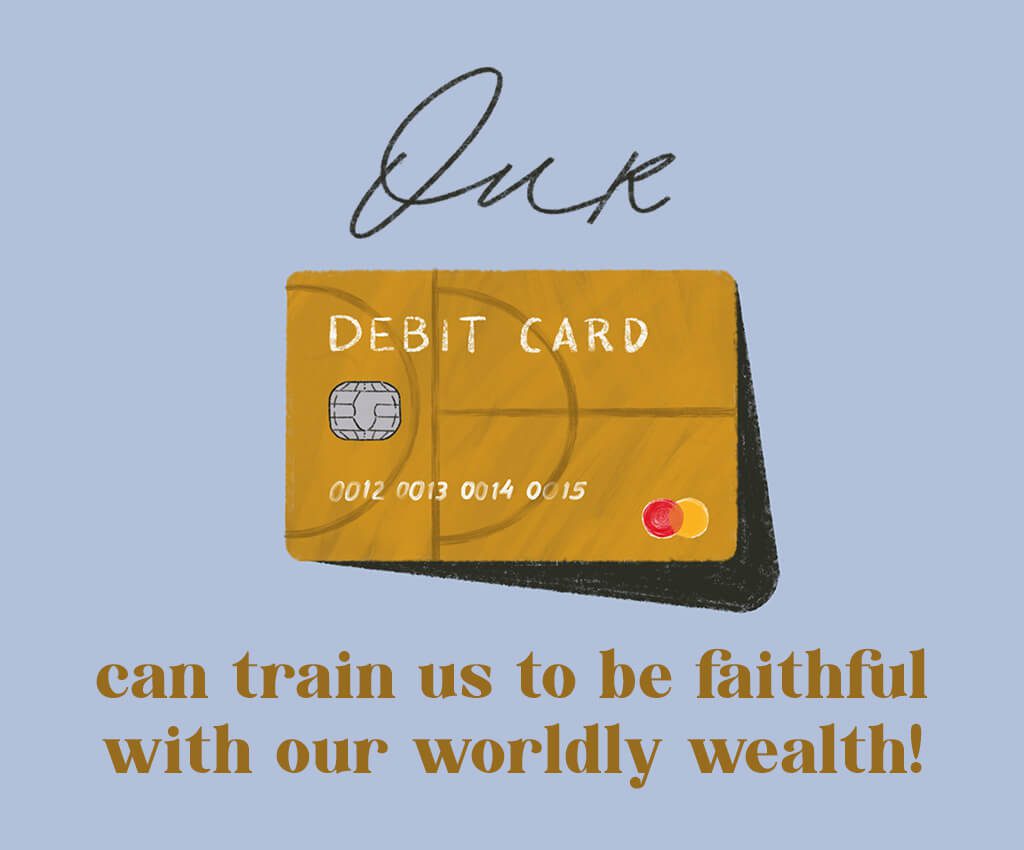 Luke 16:11
So if you have not been trustworthy in handling worldly wealth, who will trust you with true riches?
Debit cards, unlike their more frivolous cousin, the credit card, don't allow us to spend beyond what we have. Though "restrictive",  they force us to spend within our means and to only buy what is absolutely necessary. 
Because our funds are automatically deducted when a transaction goes through, we'd be more on our toes ensuring we've a nice, healthy balance to avoid going into an overdraft and incurring a heavy penalty. Also, it makes us more aware of just how much and where our money is spent (did we really just spend $300 on a pair of shoes,  thus bringing our opening balance of $500 to $200?). 
Debit cards teach us to be faithful to what we have and to budget accordingly to our limited resources. And here's the bigger reason: if we cannot be faithful in this important area, how can we expect God to entrust us with "true riches" (Luke 16:11)?
2 Corinthians 9:8
And God is able to bless you abundantly, so that in all things at all times, having all that you need, you will abound in every good work.