Title: Stations At The Cross
Materials: Acrylic and mixed media on wood panels
Description: These wood-crafted panels were done for Sacred Heart Church in Samford Village, Queensland, Australia to replace their aged and fading framed reproductions of the Traditional Stations of the Cross.
Prayerfully painted on 1.2m tall hoop pine kneelers stripped from old church pews, these Scriptural Stations of the Cross are rich in symbolism.
The individual panels were made by bracing two kneelers together in the same way early icon panels were braced in the 3rd and 4th centuries. The kneelers are a stark reminder of Christ praying in the garden of Gethsemane.
The worn edges, cracks, stains and nail holes were all deliberately retained to symbolise the wounds and suffering of Christ.
In a further link to the past, torn fragments of the old stations were collaged into the texture of each panel. These torn fragments are symbolic of both the curtain being torn in the temple, as well as our broken lives made whole through Christ's work on the cross.
The colours used are also highly symbolic: The white symbolises the purity of Christ, the grain accentuates the cross as well as Christ's humanity and the 18-karat gold leaf speaks of His divinity.
When placed together in the series, the outlines of two hills become visible. The upper hills represent the hills surrounding the Samford Valley and the lower hills represent the hills of Jerusalem, connecting the church community with their spiritual roots.
Artist Feature | Dianne Minnaar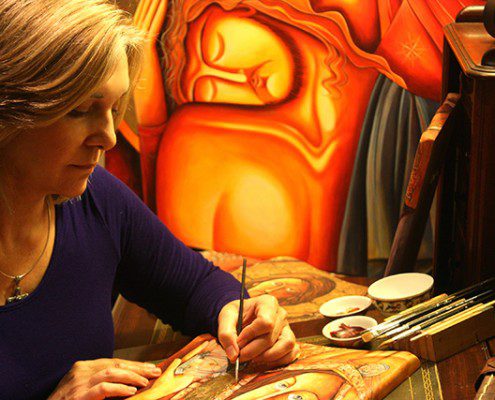 I've been a professional artist and calligrapher for over 30 years. I was born and trained in Graphic Fine Art and Biblical Studies in South Africa. In 2001, I immigrated to Australia. I am married and have two grown up children and a grandson.
My artworks are spiritual portraits. The hands I draw often carry an object as a metaphor for human or spiritual virtues (a lantern for guidance, a lily for hope, an open hand for gratitude, a scroll for prayerfulness.) I work primarily in acrylic and mixed media on wooden panels and I employ various tactile techniques such as scraping, sanding, collage, glazing and gold leafing. My work is stylised, narrative and dense with symbolism and layered patterns.
I want to create art that will enhance and enrich the lives of the people around me. For me, art is a joyous and a sacred thing. It is an expression of praise to God. The gift belongs to God. He simply calls me to imagine, to design, to notice the sounds, to reflect on His majesty and then to pick up a brush and embed His love into the work I am creating.