Screenshots taken from YouTube
Written by Simon Moetara, New Zealand
Rating: 4/5 stars
Editor's Note: This review contains major spoilers.   
Despite being a huge Marvel fan, I was prepared to give WandaVision a miss when the first few episodes started airing on Disney+.
Images of Wanda and Vision appearing in cheesy 1950s style TV shows seemed a long way from the MCU we knew so well. Social media posts discussing the first episode didn't inspire confidence either. The first I read said, "Well that was an hour of my life I won't get back." Another simply said, "Weird and boring!"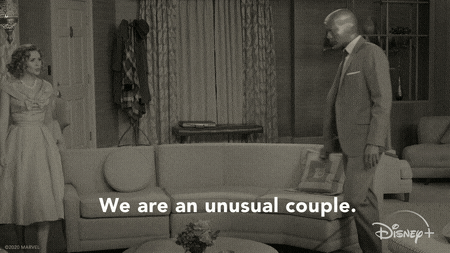 But a family member encouraged me to give it a go—so I did. In the midst of the goofiness and the canned laughter was a distinct sense of unease and a creepy sense of foreboding. As the later episodes revealed, there was a mystery to be solved here, and I was hooked.
Wanda vs. her grief and trauma
Many superhero narratives are founded on tragedy. Whether it's Bruce Wayne watching on as his parents are murdered, or Peter Parker losing his much-loved Uncle Ben, many of our beloved superheroes only assume the heroic mantle after experiencing tremendous loss.
And Wanda Maximoff has had more than her fair share of tragedy. In the Marvel Cinematic Universe, Wanda's parents were civilians killed by the horrors of war. She's experimented on by HYDRA, and later sees her brother Pietro die in Age of Ultron (2015). A mistake by Wanda during a mission in Lagos, Nigeria causes the deaths of 26 innocent people. She's then forced to kill her beloved Vision in order to protect the universe, only to see him die again as the mad titan Thanos rewinds time. Then she dies herself in the Snap.
All this adds up to a whole lot of trauma and suffering for one person to bear.
And now she appears to be the cause of "the Westview Anomaly" an entire New Jersey town hidden behind an impenetrable force-field ("the Hex"), taking more than 3,000 people hostage in her own sitcom-inspired, magic-manipulated reality.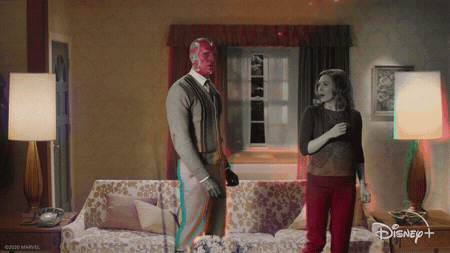 Unlike most superhero movies though, The Atlantic's Shirley Li notes that WandaVision isn't a story about an epic battle to save the world, but rather "one woman's efforts to save herself from her grief." Instead of focusing on big action sequences, the show opts for an earnest reflection on Wanda Maximoff's psyche as she copes with her deep grief and the deep trauma she has suffered in her life.
Grief and suffering is something common to all of humanity, and it's Wanda's story of grief that impacted me, specifically, her desire for love and security, and her sense of helplessness in the face of her anguish.
In an article for The Gospel Coalition, Sharon Dirckx, Senior Tutor at The Oxford Center for Christian Apologetics, shares three truths regarding grief and God's existence that I've found useful and directly applicable to the events that unfold in WandaVision.
1. If God exists, our sense of loss doesn't need to be suppressed
In an "off-camera" moment in Ep 6, Wanda shares with fake-Pietro that all she can recall from before Westfield was "feeling completely alone, empty, endless nothingness." It's from this interminable emptiness and cosmic loneliness that Wanda seeks to insulate herself.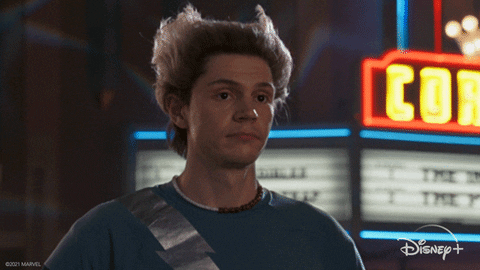 It's a feeling many of us are familiar with, as we've spent the past year grappling with a global pandemic, struggling with lockdowns and trapped within our Covid bubbles. And it's one that we resonate with as we watch Wanda exist within a self-made bubble of her own grief and suffering. Wanda has built walls of chaos magic around her self-contained world, mirroring the walls around her traumatised heart and mind that seek to protect her from pain and grief. Wanda seeks to avoid her suffering, living within the idealised life inspired by television comedies through the ages. The sitcom format is a safe place for Wanda, free to live life as she wishes it to be, away from the mess and pain of reality.
And yet Wanda eventually finds that her grief needn't be crushing and devastating. In a flashback, Vision offers Wanda a way through her pain: ". . . it can't be all sorrow, can it? . . . What is grief but love persevering?" (Ep. 8).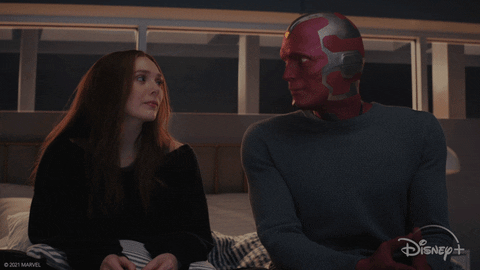 Dirckx declares that grief is an expression of injustice: "Death is not natural; it's an aberration that jars against the core of our being, regardless of our attempts to rationalise it." In fact, Dirckz continues, our cries point us toward God rather than away from him.
The Bible is filled with examples of people being real before God, expressing a wide range of emotions. Job suffered tremendous loss, and his "suffering was too great for words" (Job 2:13 NLT). The Psalmist cries out in lament,
My God, my God, why have you forsaken me?
Why are you so far from saving me,
so far from my cries of anguish? (Ps 22:1)
Navigating our way through grief and suffering can be painful. Messy. Even terrifying. But in our weakness, the Holy Spirit intercedes for us "with groanings that cannot be expressed in words" (Rom 8:26). As Dirckx points out, it may be raw and messy, but God comes close to those who bring their grief to him rather than suppress it.
 2. If God exists, we don't grieve alone
Wanda is effectively isolated in her grief. She wants no intrusion from the outside realm. There is no room for painful reality in her carefully woven fantasy world. She resists all initial attempts to pierce her illusion, ignoring FBI agent Jimmy Wu's attempt to contact her via radio, and ejecting S.W.O.R.D operative Monica Rambeau from Westview when she goes "off-script" and mentions Pietro's death. Sadly, no one from the Avengers appears to have kept in touch either.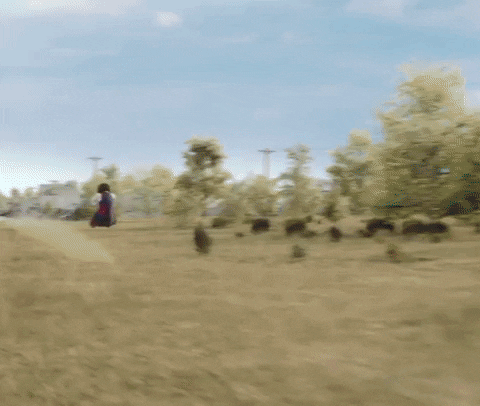 But we need not ever grieve alone, and God understands us in our suffering. Dirckx notes that at the centre of our faith stands one who was "despised and rejected," described as "a man of sorrows, acquainted with deepest grief" (Isa 53:3). When Jesus experienced the loss of His friend Lazarus, "a deep anger welled up within him" and "he wept" (John 11:33, 35). In Gethsemane He cried, "my soul is overwhelmed with sorrow to the point of death" (Matt 26:38), and on the cross He experienced unimaginable suffering and forsakenness. The God we love is "the Father of compassion and the God of all comfort, who comforts us in all our troubles" (2 Cor 1:3-4).
A key way in which I have experienced God's closeness in grief is through the love of His people. Evangelical author Philip Yancey notes that, time and again, suffering people have shared of their need for people to be available to them: "It is not our words or insights they want most; it is our mere presence." Yancey goes so far as to carefully state, "I believe we in the body of Christ are called to show love when God seems not to." In that sense of God's absence, our presence can aid those who suffer.
I remember being overwhelmed by grief when we lost our first child through miscarriage. My friend Evan would take me out, even though I couldn't put two words together. He would drive me around or buy me drinks as we sat silent in a café, or just sit on our couch playing the guitar. At other times, he joined in my wrestling about God. His presence was comforting.
When my father died, I was truly broken-hearted. My friend Jason, rather than avoiding the awkwardness of our grief, came close. He didn't say much. But he was there.
We don't ever need to grieve alone.
3. If God exists, there's hope beyond the grave
Not only does grief not need to be suppressed, but Dirckx shares that grief doesn't need to overwhelm and crush us.
Wanda fears being buried beneath the weight of her grief. In a flashback in Ep 8, Wanda shares with Vision about the incessant grief over her brother's death: "It's just like this wave washing over me, again and again. It knocks me down, and when I try to stand up, it just comes for me again. And . . . it's just gonna drown me." However, as WandaVision comes to an end, she is ready to face her pain. As the world Wanda created begins to collapse and unravel, she says goodbye to Vision yet again. Vision says to her, "We've said goodbye before, so it stands to reason . . . ", and Wanda finishes, ". . . we'll say hello again." The Good News for us Christians is that grief does not get the final word. In the midst of his grief, Job declares his faith in his redeemer (Job 19:25-26). In front of Lazarus' tomb, Christ brings incredible hope with his mastery over death and his declaration that he is the Resurrection and the Life (Jn 11:25). Because of Jesus, I will say "Hello" again to loved ones who have passed beyond the veil.
And that gives me hope.
If God doesn't exist, then this is it. This is the only life we get. Death is the end, and loss is forever.
But if God does exist—and I believe He does—then death has been defeated and will one day be removed entirely by God.
On that day, God will personally wipe away every tear, and He will put an end to death and mourning, to our tears and pain. He will deal with our grief once and for all (Rev 21:4).
What a good day that will be.
https://ymi.today/wp-content/uploads/2021/03/What-Wandervision-teaches-us-about-grief.jpg
613
1024
Contributor
https://ymi.today/wp-content/uploads/2017/05/ymi-logo-black-3.png
Contributor
2021-03-12 11:00:17
2021-03-12 19:02:08
WandaVision's Take on Grief Isn't Enough