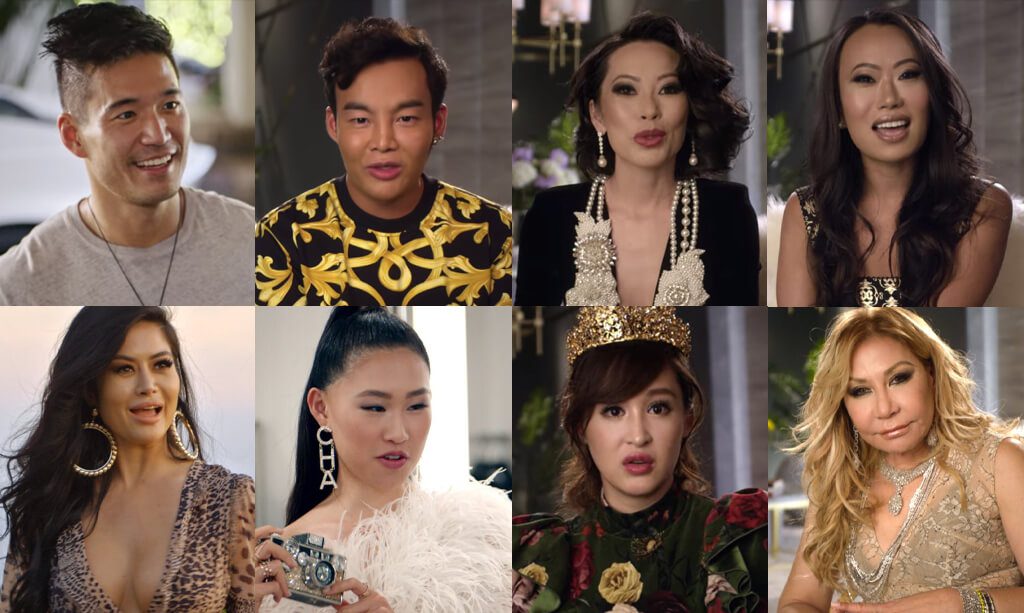 Editor's Note: This review contains spoilers.
Ever wondered what kind of life you might have if you're filthy rich? Well, get ready to be dazzled as Netflix's latest hit show, Bling Empire, shows us exactly what it'd look like.
If you haven't been acquainted with Bling Empire, imagine Crazy Rich Asians in real-life, with dollops of reality-TV drama from Keeping Up with the Kardashians and gorgeous real estate views from Selling Sunsets. Yup, this extremely popular reality show, currently ranking among the top 10 shows on Netflix, is over-the-top, indulgent, and extravagant.
The eight-episode reality series is set in Los Angeles, USA, and revolves around the social lives of a clique of eight uber rich Asian-Americans, who seem to have all the time and money in the world to throw parties dripping in bling (hence the name of the show), Botox, and booze.
But what's a show without drama? Of course, Bling Empire offers plenty of it; from petty cat fights over jewellery to toxic relationship patterns, there's never a dull moment.
The truth is, you'd probably lose some brain cells in the process of watching it. But if you're an entertainment junkie like me, you'd find it hard to stay away from this guilty pleasure when you're craving some mindless entertainment and escapism.
If you reckon you're going to binge on this bling, it might be worth giving this show a bit of a think. Here are three reasons why (I think) we never tire of shows like Bling Empire:
1. It shows us the life we all wish we could have
We get a sense that the cast of Bling Empire is no ordinary group of friends early in the show when a "birthday dinner treat" involves one of the cast members, heiress Anna Shay (probably the show's favourite) flying fellow cast member, entrepreneur Kelly Mi Li, and the latter's boyfriend, Andrew Gray, on a chartered private jet to France just to eat at her favourite restaurant in Paris: Maison du Caviar. But that's just the beginning.
She also has a penchant for shutting down luxury stores, including Boucheron, whenever she's in the mood for shopping, or having them (like Dior) come over to her house with their latest range of apparel, just so that she can pick out stuff to gift her friends—for no apparent reason.
And there are other similar moments in the show as well, such as when another cast member, socialite Christine Chiu, shuts down Two Rodeo in Beverly Hills for her son's first Chinese New Year, and later on throws a party that that doesn't just offer a cocktail bar, but also a Botox bar and a claw machine with Gucci products.
Most of us know we'd probably never be rich—let alone crazy rich—in our earthly lifetimes, so Bling Empire offers us the chance to live vicariously through the experiences of these millionaires. We get a close-up look into their opulent lives and hear their "true" feelings during their sit-down confessionals, making us feel like we're actually part of their inner circle.
But like Kelly revealed in the early part of the show, whatever we have in our earthly lives can be taken away in an instant. In short, she used to be even richer (than she currently is), but one day "the government showed up and took everything from us", and her ex-husband ended up getting arrested for his involvement in a multi-million dollar text message fraud scheme.
So it would be foolish to cling onto anything that we have on earth, because even bling will fade someday. Instead, the greater reality is this: one day, all of Christ-followers will be very very very rich. And unlike what we have now, that inheritance is unfading (1 Peter 1:3-5), and glorious (Eph 3:16). Because that inheritance is God Himself. And we are promised "the riches of his glory" which is essentially, the summation of His being. Think of His majesty, His might, His holiness, His purity, His perfection—one day, we will get to see it all face to face and enjoy it for eternity.
So as crazy and luxurious the lifestyles we see on Bling Empire may be, nothing we've seen can actually compare to what is in store for you and me in eternity.
2. It shows us that we all struggle with the same things
Beneath the glitz, glamour, and couture, we see our flashy cast wrestle with things we're all acquainted with, like self-worth, identity, unrequited love, break-ups and grief, to name a few.
First, there's Christine's struggle to gain acceptance from her in-laws for many years, until she finally manages to conceive and bear them a male heir. Next, there's Korean-American model Kevin Kreider's journey of discovering his roots, which takes him on a journey to find his biological parents—all while he's harbouring a one-sided affection for Kelly. In the meantime, we witness Kelly's tumultuous on-off relationship with Andrew which takes a toll on her friendships. We also follow the journey of DJ Kim Lee, who—after hearing Kevin's story—got inspired to find her own biological father who had left her family years ago, to fill the "missing piece" in her heart.
But the one that really struck a chord with me personally was denim heiress Cherie Chan's struggle with grief after losing her mother to cancer. Cherie even seeks out a medium to ask if she would be reunited with her mother at some point. Watching her articulate her feelings of loss from being physically separated from her mother reminded me of my own journey in processing the loss of my father after he passed away some years ago.
Rich or poor, all of us will have to experience the brokenness of sin in our lives, be it in our relationships, surroundings, or even in our own bodies. But as believers, it really doesn't matter if we never gain acceptance, meet the expectation of others around us, or even find ourselves wrestling with some debilitating illness. Because of Christ, our worth and our future is secure. We are God's children (Rom 8:14), and nothing—neither death nor life, nor angels nor rulers, nor things present nor things to come, nor powers, nor height nor depth, nor anything else in all creation—will be able to separate us from the love of Christ Jesus our Lord (Rom 8:38-39).
3. It shows us that we're all human at the end of the day
Perhaps one of the more distinctive (and surprising) characteristics of this crazy rich cast is their belief in the occult. Throughout the series, we see them take turns to consult different "healers", which include a fortune teller, shaman, medium, and a hypnotherapist in a bid to either get over or remember their past, as well as get a glimpse into their future.
While we as believers may not subscribe to the same set of beliefs and practices (and certainly don't have that kind of budget to book ourselves one of those "healing" sessions), we, too, constantly wrestle with uncertainty about the future and what God's plans are for our lives. As Ecclesiastes 3:11 (ESV) tells us, "[God] has put eternity into man's heart, yet so that he cannot find out what God has done from the beginning to the end." Try as we might, we will never be able to know how our lives would pan out in the future, no matter how much we're willing to pay someone to tell us. Ultimately, only God is in control of our lives.
All we can do is to trust in the one who knows our future and promises that all things work together for the good of those who love Him and who have been called according to His purpose (Rom 8:28).
Whether Bling Empire left you wishing you had more bling or reminded you how important it is to treasure the riches we already have—one thing's for sure, this life will pass by in the blink of an eye. So as we wait for the future to unfold, let's heed the call of the preacher to "fear God and keep His commandments, because this is the whole duty of man", knowing that everything on this earth will eventually pass away, except God's words (Matthew 24:35).
https://ymi.today/wp-content/uploads/2021/01/3-Reasons-Why-Were-Drawn-to-Bling-Empire-2.jpg
613
1024
Joanna Hor
https://ymi.today/wp-content/uploads/2017/05/ymi-logo-black-3.png
Joanna Hor
2021-01-26 19:00:25
2021-01-27 10:09:56
3 Reasons Why We're Drawn to Bling Empire