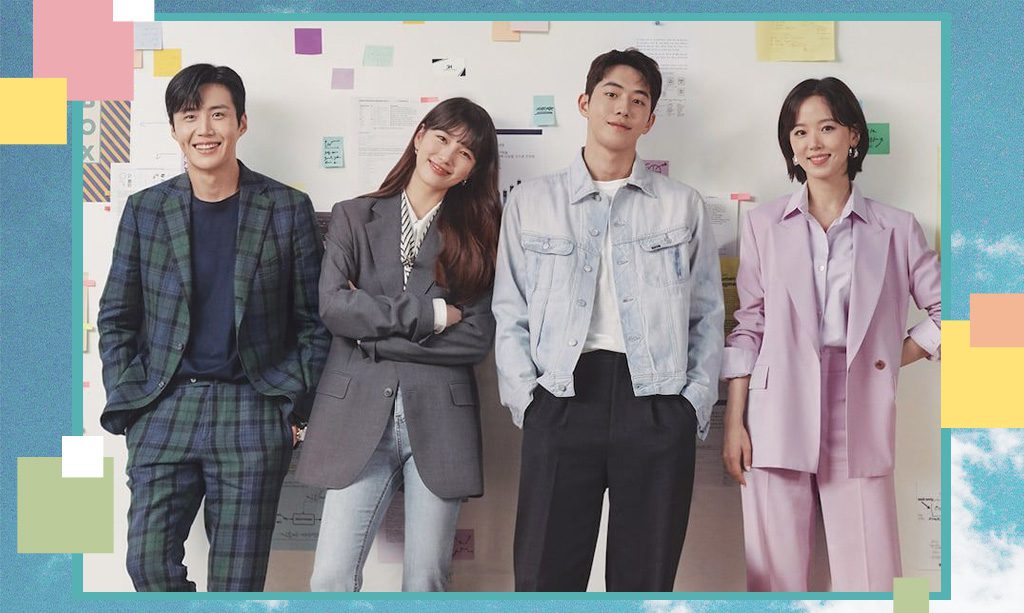 Image taken from Facebook
Editor's Note: This review contains mild spoilers.
Over the past few weeks, a shipping war has overtaken the Internet.
If you've been seeing images of Kim Seon-Ho (who plays the second male lead, Han Ji-pyeong, in Start-Up) and his famous dimples popping up on your social media feeds with the hashtag #TeamGoodBoy or #TeamJiPyeong, it's because the recent k-drama Start-Up has ignited one of the fiercest shipping wars and strongest second-lead syndromes since Reply 1988.
Fans all over the world have been up in arms about the way the romantic plot has unfolded in this latest drama, with many believing that Han Ji-pyeong is more deserving of the female lead, Seo Dal-mi's (played by Bae Suzy) affections than the male lead, Nam Do-san (played by Nam Joo-hyuk), and have taken to the digital space to make their case for why they're part of #TeamGoodBoy.
But heated romance aside, Start-Up has also been making waves for realistically portraying the classic story of underdogs beating the odds with lots of hard work, grit, and perseverance, as they attempt to make their mark in the world of tech start-ups.
Most of the action takes place in a fictional utopian tech start-up incubator called Sandbox, where our leads, Dal-mi, Do-san, and their start-up Samsan Tech, land in their attempt to kick-start their dreams. It's there that they learn what it really takes to run a start-up . . . and get caught up in a love triangle with their mentor Han Ji-pyeong (Kim Seon-ho), who's closer to Dal-mi than she thinks.
Whether you're on #TeamDoSan or #TeamJiPyeong, we can all probably see a little bit of ourselves in the characters' journeys as we watched them navigate their workplace struggles, failed dreams, broken relationships, past (and present) mistakes, and strong opposition in order to find their footing and worth.
So, here are some essential life lessons from Start-Up that can speak into our own journeys—whether we're starting a new relationship or venture, helping others kick-start their own dreams, or figuring out exactly what we want to do with our lives:
1. Know that your worth isn't determined by your circumstances
If there's one message Start-Up drives home well, it's that no matter what kind of head start our privileges might have given us, how far we've climbed up the corporate ladder, or how much success we've achieved in life, all of us are plagued with different insecurities, emotional baggages, and fears.
There's Do-san, who struggles with imposter's syndrome for a "wrong turn" he made many years ago as a kid, Dal-mi whose rivalry with her sister In-jae is one of the driving plots of the drama, and also Ji-pyeong, who became highly successful at a really young age but leads a life marked with loneliness.
Over the 16 episodes of the drama, we see the integrity of these characters being tested as they're tempted to prove themselves or beat the competition through various means of deception. Though they encountered many challenges, these characters learn that the only way for them to find their worth is to come face-to-face with their personal demons.
In a world that's constantly pushing us to aim for the next achievement or lifegoal, it can be a struggle to get ahead in life and not lose ourselves in the process. In these moments, it's encouraging to remember that our worth is determined not just by who we are, what we're born with, or the trajectory our lives may take, but solely by what Jesus has done on the cross (Ephesians 2:8-9). In Him, we all find ourselves at the same starting point, and are given the grace and gifts to run the race He has marked out for us (Hebrews 12:1).
2. Build your life on what really matters
We often think that there is only one path to success, or one way to measure it, but an important lesson we can learn from Start-Up is that true success lies in using what we have to serve the needs of those around us.
No matter what you think of Dal-mi's romantic choices, there's no denying that Do-san made us all a little sniffly when after a lifetime of struggling to follow his dream, he decided that the first project his company, Samsan Tech, would focus on is based on something—or rather, someone—who's close to Dal-mi's heart.
As the Samsan Tech team discovered, success for them wasn't just about coming up with the most profitable model or the glitziest, most advanced technology, but to channel their technology into making the lives of others better. That's the dream they found worth following or aiming for.
For the rest of us who might not be in a field or position where our work directly impacts the people we care about or causes we're most passionate about, Dal-mi's grandma offer us a much more feasible option to start with.
Through her actions, she shows us that investing in what really matters begins with opening our eyes to see the needs of those around us and using what is already in our hands to help that person—whether it's acknowledging the pain of someone struggling with loneliness, giving them a second chance, lending a listening ear or offering a warm hug, or opening your home to someone who needs it.
3. Find a network of friends invested in your growth
When we're just starting out in life, we tend to be filled with naïve optimism—and that's exactly the case with our Samsan Tech group. They learn the hard way that no matter what heights they scale, there's still lots of ground they've yet to cover.
Initially, they were stung by the harsh criticism of their mentor, Han Ji-pyeong, who's not afraid to dish out some hard truths to keep their feet firmly planted on the ground. But in their haste to secure a lucrative acquisition deal with US-based tech giant, 2STO, the team discovers that what they need isn't just the praise of those impressed with their technology or skills, but the perspectives and wisdom of someone who has gone ahead of them, and has their growth and best interests at heart.
As Proverbs 27:6 reminds us, "Wounds from a friend can be trusted, but an enemy multiplies kisses." Painful as it may be, Start-Up shows us the value of being wounded by friends who aren't afraid to speak the truth in love and help us see the blind spots that are holding us back from growing in life.
4. Don't forget the people who got you there
Start-Up had me hooked from that tear-jerking pilot episode, where we saw Dal-mi's dad struggling between his dream of starting up a venture of his own and providing for his family. Although he didn't manage to fulfil his dream, his story laid the groundwork for the concept behind Sandbox—and Dal-mi's own dreams later on.
For me, the most moving moments of this drama wasn't seeing the Samsan Tech guys triumph over the odds or overcome the obstacles before them, but witnessing the enduring strength of their relationships.
We see this in the way Dal-mi's grandma took Ji-pyeong in as a young orphan, and continued to look out for him as an adult even when he tried to push her away. Even though he felt burdened by the emotional debt he owed her, he recognised that he couldn't have gotten to his current point without her help. Or how Dal-mi's mum discovered that the one person who was willing to take her in after her fall from grace was the one person she had shunned and looked down upon. These were the moments that truly formed the heart of the show.
Seeing the characters recognise the time, love, and support they received from one another reminded me that we can't get anywhere in life or build anything on our own. It takes the kindness of someone else to spark that desire within us to set our lives down a certain path, the warmth of a friend to embrace and help us rebuild our lives when we fail, and the support of strong friendships and bromances to bring a dream to life.
These are just four key takeaways from Start-Up that made me reflect on the people who have journeyed with me in life—and what I'm truly building my life towards. They are especially close to my heart because they remind me of a time when I lost my first job and saw my own dreams crash in a single day.
It was during those times that I needed my friends to sit with me in the dark silence, remind me of my worth in Christ, and challenge me to get out of my comfort zone when it was time to start up my life again.
They helped me see that the setback I had experienced was just a small blip in my journey with God, and it's never too late to get started again. Walking with these friends, and most importantly, our ultimate Friend (Luke 7:34) showed me that as long as we have Christ, we have everything that's essential to build a life that matters.
What other life lessons from Start-Up caught your attention? Share with us in the comments section below and check out more of our k-drama reviews!
https://ymi.today/wp-content/uploads/2020/12/Start-up-featured-image.jpg
613
1024
Rebecca Lim
https://ymi.today/wp-content/uploads/2017/05/ymi-logo-black-3.png
Rebecca Lim
2020-12-21 12:00:59
2021-07-31 14:27:43
4 Essential Life Lessons From Start-Up