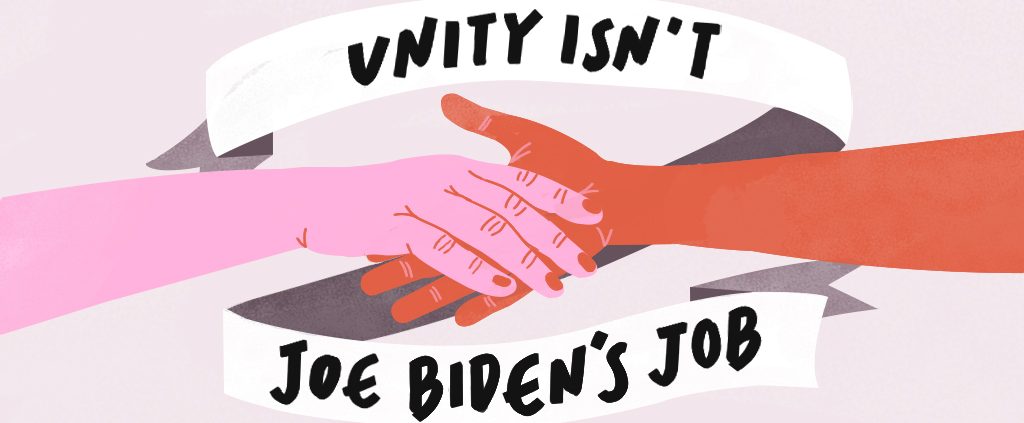 As my family watched the votes come rolling in on election night last week, I couldn't help but feel a sense of heaviness at the obvious division in the U.S. The percentages of votes for the two candidates were so equal in most states that we Americans couldn't have manufactured a more perfect split if we tried.
This disconnect in my country is a burden on many people's hearts and minds. To see the very clear data that represents just how divided the USA is, well, it's discouraging to say the least.
And now that Democratic Party candidate Joe Biden has been projected as the winner, I hear a lot about what a huge task he has in front of him—how this job of bringing unity to the "United States" is a daunting undertaking, and maybe even impossible. Yes, Joe Biden may have won the election, but he's won leadership of a country that is very much fractured.
Unfortunately, the political split of America has also affected the Church. Christians are just as divided as the rest of the country. As tempting as it might be to believe a new candidate will unify us, the thought that keeps pressing on my heart is that true unity isn't Joe Biden's job . . . it's ours.
Putting this responsibility on his shoulders is misplacing it. Unity starts with the Church (Philippians 2:2). And our unity in the Church will be reflected to the world. It will change how we interact with others and how people view the Church. This is of utmost importance, not just in terms of America's political divide, but in terms of how the Church represents Christ to the world.
The Call to Unity is Scriptural
It begins with Jesus—In John 17, in what is known as the High Priestly prayer, Jesus prays for unity with and among His people, the Church. He prays in verses 22 and 23,
. . . that they may be one as we are one—I in them and you in me—so that they may be brought to complete unity. Then the world will know that you sent me and have loved them even as you have loved me.
Jesus' prayer for unity is very much tied up in love—love between the Father and Son, love between Jesus and the Church, and love between the Church and the world. A union with Jesus is going to demand unity. It's going to demand a love for one another.
Paul continues Jesus' theme of unity in the Church. In 1 Corinthians, he pleads with the church in Corinth, a city known as a melting pot, a conglomeration of various peoples and cultures:
I appeal to you, brothers and sisters, in the name of our Lord Jesus Christ, that all of you agree with one another in what you say and that there be no divisions among you, but that you be perfectly united in mind and thought (1 Corinthians 1:10).
All this sounds good and dandy, but how do we do this? How do we become a people unified, and a people that sow peace, not division?
It Begins at Home
Mother Teresa said it best: "If you want to change the world, go home and love your family." I feel confident that the call towards unity begins in our homes.
This call shapes how I teach my children, how I speak in front of them, and how they see me talk to my friends and coworkers. My husband and I have a responsibility to model unity and love for our children. This means affirming the various skin colors we see as all part of God's great creation, or teaching them that we can still love our friends even when we disagree with them.
The other day I picked our daughter up from school, and she came running into my arms crying—a girl had said something unkind on the playground and my kiddo was heartbroken.
We talked about how we are going to be kind even when others aren't, and how that's a hard choice to make sometimes, but we are going to make it. We are going to be marked by our love, not our hate or anger. As our kids grow, I know these opportunities to practice peace and unity will continue to show up.
And because of this, my response to Jesus' call to seek unity begins at home.
But It Doesn't Stay There
The effect of this unity won't stay at home, though. It will seep into our lives and relationships and work, and into the world.
Dallas Willard speaks of how we each have a particular realm of influence and that as Christians, we can bring the kingdom to bear in our particular realm. For me this would be my classroom. I have influence and authority in that tiny little corner of the world, so that's where I can be a force for unity and its resulting peace.
But how do we do this? What does it look like practically?
First, I think it begins with a look inward before we make judgements about others. Jesus says in Matthew 7, "Why do you look at the speck of sawdust in your brother's eye and pay no attention to the plank in your own eye?" (v. 3).
For a look inward, we could consider trying Ignatius of Loyala's practice of the Examen, where we take intentional time each evening to reflect back on the conversations we've had, the actions we've taken, the people we've interacted with, and then consider what confession might be in order, and what guidance or instruction from God might need to be heeded.
Secondly, we might need to have hard conversations and receive correction. Consider the people in your realm. Are there conversations that need to take place? Is there truth that needs to be spoken or heard? Is there correction you need to be willing to receive?
A last thought is about social media, and how even our words on social media should reflect Christ. I talk about this with my students often, how the words we post are lasting, and how much influence our words have. The Church needs to be proactive in not feeding the mania on social media. I'm going to posit that real change is going to come from real face-to-face conversations, not tweets or memes or rants on Instagram. Let's be aware of our voice—in all its forms—and the weight it carries. Having a realm is a great position of responsibility; we need to make sure we are using it for good, not for harm.
And so, as a reflection of the challenge in my own heart, I exhort the Church—especially the Church in America—to pursue peace in this season, to be willing to disagree and still love one another.
May our political parties not define us, but our love of Jesus. And may we remember, at least as it relates to the Church, unity isn't Joe Biden or any other politician's job, it's ours.
https://ymi.today/wp-content/uploads/2020/11/Unity-Isnt-Joe-Bidens-Job_v4.jpg
613
1024
Ashley Ashcraft
https://ymi.today/wp-content/uploads/2017/05/ymi-logo-black-3.png
Ashley Ashcraft
2020-11-13 12:00:40
2021-03-10 13:06:23
Unity Isn't Joe Biden's Job