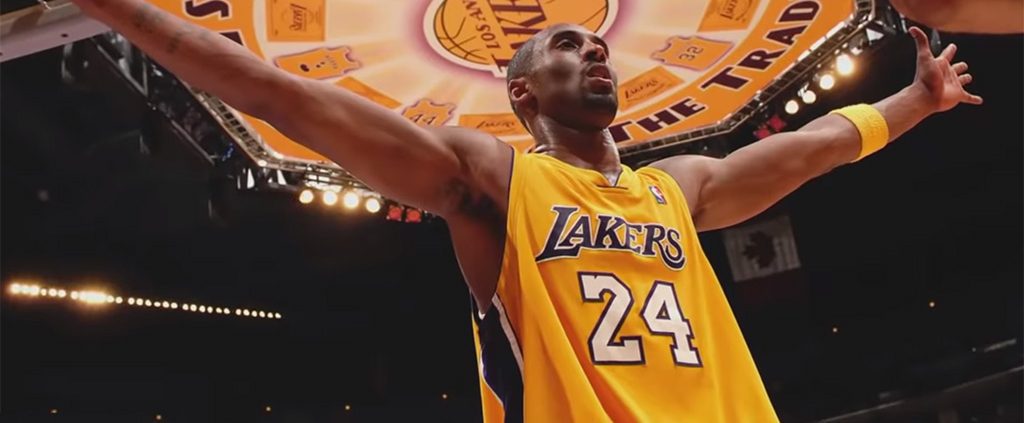 Screenshot taken from YouTube Video
Written by Alex Tee Ee Han, Singapore
On 26 January 2020, the world mourned and grieved over the loss of one of the greatest legends in the basketball fraternity: Kobe Bryant. He and his 13-year-old daughter, Gianna—along with seven others—died in a tragic helicopter crash on Sunday morning, enroute to his youth basketball academy.
Kobe had been using the helicopter as a mode of transport "to maintain his body", to ensure it wouldn't get worn out by the traveling and remained fresh for games. No one could have predicted that it would ever lead to his demise.
Over the past two days, tributes have been pouring in, in honor of the NBA star. Kobe Bryant's work ethics and "never give up" mentality has been an inspiration to athletes. His whole life has been a story about striving to be the best, and a reminder that we are responsible for our own success.
He backed up his philosophy with his achievements, being a five-time NBA Champion, 18-time NBA All Star, 11-time member of the All NBA First Team and two-time NBA Scoring Champ (courtesy of stats.com), throughout his 20-season NBA career with the Los Angeles Lakers. He wowed audiences with his signature fade-aways and clutch shots during crunch times. The impact he made as a player has been nothing short of inspiring, making him a household name even among those who are not basketball fans.
As a basketball coach, I see Kobe's influence playing out on the courts during my coaching sessions. "Kobeeeee . . .", my players would say, each time they attempt a turnaround jumper into a fade-away on the basketball court.
His sudden and tragic passing reminds us of the frailty of life and how little control we have over when—or how—we may die.
But as we mourn his loss, let's also celebrate his life and what he has taught us over his 41 years.
Kobe showed us what focus looks like
Most people would know Kobe as the Black Mamba (#mambamentality), a persona he took on each time he hit the court, to give him the focus he needed to deal with issues on the court. He got the idea of this persona from the movie Kill Bill, where the Black Mamba was described as a deadly assassin due to its agility and aggressiveness. And that's what he proved to be once he was on the court. Placing aside all other matters and distractions, including injuries, he focused on the game at hand and fixed his eyes on winning the game.
In Hebrews 12:1-2, believers are also encouraged to take on the persona of a focused athlete in our journey as Christians:
Therefore, since we are surrounded by so great a cloud of witnesses, let us also lay aside every weight, and sin which clings so closely, and let us run with endurance the race that is set before us, looking to Jesus, the founder and perfecter of our faith, who for the joy that was set before him endured the cross, despising the shame, and is seated at the right hand of the throne of God.
There are so many things that can distract us from running the Christian race well. It could be our career, wealth, relationships, personal sins, etc. The author of Hebrews tells us that these things cling to us and weigh us down like weights, which will affect our race as Christians. Instead of focusing on these things, we are to look at those who have ran the race before us, and to look to Jesus as our goal. If we are able to find our focus, not only will we be able to complete the race, we will complete it well!
Kobe showed us what passionate hard work looks like
Kobe's work ethic as a player was intense. Among other things:
He was always the first player in the gym.
He would put up 400 shots during practice.
He iced his knees for 20 minutes three times per day and did acupuncture so he wouldn't get hurt.
He was strict about what he ate.
He would watch the video playback during half time in order to do better in the next half.
The purpose Kobe found in basketball drove him to work harder than any other player. How can our purpose in Christ drive us in the same way? For believers who are now saved, Paul in Philippians 2:12-13 reminds us:
Therefore, my beloved, as you have always obeyed, so now, not only as in my presence but much more in my absence, work out your own salvation with fear and trembling, for it is God who works in you, both to will and to work for his good pleasure.
While salvation is a gift, working it out is our responsibility! The idea to "work out" our salvation suggests that it requires effort and commitment on our part to know God better. This is not going to happen from wishful thinking, but intentional actions. But the comfort is that we are not doing this by our strength alone, but God is working hand in hand with us as we grow as well!
#mambaout
Death is a grim teacher. It brings out lessons for the living at the expense of another's life. Thank you Kobe, for showing us what focus and hard work can do for a person not just on the court, but off the court; not just physically, but spiritually as well.
https://ymi.today/wp-content/uploads/2020/01/Kobe-bryant.jpg
613
1024
Contributor
https://ymi.today/wp-content/uploads/2017/05/ymi-logo-black-3.png
Contributor
2020-01-28 16:30:47
2020-01-28 21:10:18
Remembering Kobe Bryant: What I've Learned from the Basketball Legend