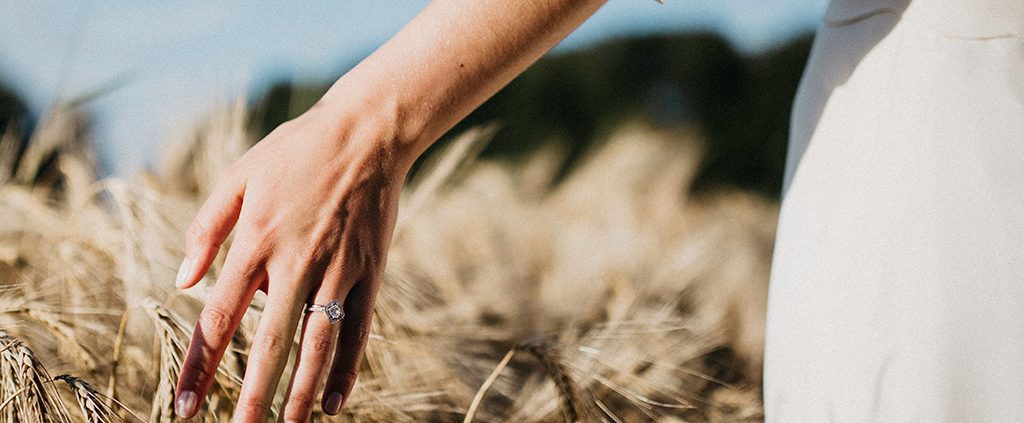 Written by Debra Fileta, USA
Debra Fileta is a professional counselor, national speaker, relationship expert, and author of True Love Dates: Your Indispensable Guide to Finding the Love of Your Life and Choosing Marriage: Why It Has To Start With We > Me where she writes candidly about love, sex, dating, relationships, and marriage. She's the creator of True Love Dates, which reaches millions of people with the message that healthy people make healthy relationships.
"All I want in life is to get married." Her eyes welled up with tears as she told me about her one and only desire in life. I had just finished up a speaking engagement, when this 23-year-old woman came up to me to share a little about her journey.
She had been born and raised in a Christian home and from the time she could remember, she had been brought up with the mentality that her sole purpose in life was to find a man and get married. But when things didn't seem like they were going according to plan, she started to panic.
Hers was one of the many conversations I've been having lately about marriage. Not just because I'm married. And not just because I'm a professional counselor who happens to specialize in relationships. But because this year in particular, I've been purposeful about gathering many different perspectives about marriage for my new book, Choosing Marriage, coming out this May. It's a book for both singles and couples, so it's been a necessary part of the process to "pick the brains" of both crowds as I tackle this important topic.
But something that has caused me take a step back is the realization that we live in a culture that idolizes marriage. We don't necessarily respect it, but we sure do idolize it.
It's not that I didn't recognize this before. Growing up in Christian culture and then topping it off by going to Christian college, dreaming about marriage was commonplace. Some even joked that they went to college just to get their "MRS" Degree. It was the "ultimate goal" of a Christian single. It's what you lived for. One day, you would get married, and then life would finally begin.
There's nothing wrong with desiring marriage. In fact, it's a desire placed in us by God Himself (Mark 10:6-8). I, for one, have been known to encourage men and women to be honest about their desire for marriage and then follow that up by engaging in healthy dating relationships and interactions with the opposite sex.
No, what scares me the most is not our desire for marriage, it's our expectations of marriage.
Expectations Vs. Reality
I believe we put marriage on a pedestal expecting it to do things for us that it just can't do. In gathering data for my book, I interviewed 1,000 singles and 1,000 married people asking them their perspective on what marriage was like. Needless to say, the results were fascinating. What singles think marriage will be like, compared to what married couples report marriage to be like turned out to be completely different things. In topics of sex, communication, conflict, and intimacy—what singles thought marriage to be like, was very different than what couples reported marriage to actually be like in those particular categories.
And when our expectations of marriage meet the reality of marriage, we end up disappointed. Devastated. Disillusioned. And sometimes, even divorced.
We have a generation of people who are entering marriage with high expectations coupled with low understanding. In fact, over 96 percent of the married people I surveyed reported that they believe singles don't really know what they're getting into when it comes to marriage. And who could blame them? It's something that's not being taught.
We spend so much time glorifying marriage, yet such little time preparing for it. Such little time getting to know ourselves. Such little time healing from our past. Such little time understanding what we need in a relationship. Such little time differentiating healthy relationships from unhealthy ones. Such little time determining the kind of people who are a good match, and the kind that aren't. Such little time setting goals. Such little time living life abundantly.
And when the rubber meets the road and reality hits, that very thing that we put on such a high pedestal comes crashing down.
Resetting Our Expectations
I believe the first step in preparing for marriage, is getting our expectations right about marriage. Because Jesus doesn't say that "life abundantly" starts when we get married, He says it starts when we enter relationship with Him (John 10:10). For the believer in Christ, life abundantly is happening right here, right now, in this very moment—no matter what your relationship status. The abundant life is taking place in the interactions we have with the people God has already placed in our lives. The abundant life is learning to share the love of Christ with those in desperate need of receiving it. The abundant life is found in catching a glimpse of our calling and taking steps to fulfill that calling no matter what our relationship status. The abundant life is lived out as we seek to become more like Christ in everything we do.
It's so important to get this right: marriage may be a beautiful part of your journey, but it's not your final destination. Not even close. For those of you who are living to find purpose in a relationship, I'm here to tell you that that's not going to happen.
When we see relationships as the last step on our road of purpose, we find ourselves facing a wall of disappointment with nowhere left to go when we finally arrive. As one young woman put it in an email to me, "I thought marriage could give me all that I was lacking, but when I got there, I realized I was still lacking". Marriage may be an avenue in fulfilling our purpose, but it is never the final destination.
We need to seek God's purpose for our lives far beyond finding a spouse, allowing His will and His plans to be the course that guides our lives and influences our direction. Rather than asking what God can do for us, we need to look to Him in seeking what we can do for Him. In this is true purpose.
And who knows? We might just run into a spouse along the way—this I can personally vouch for. But nevertheless, purpose is not dependent on this possibility.
Marriage can give you perspective—but not purpose.
Marriage can bring you a helper—but not healing.
Marriage can offer you comradery—but it can't complete you.
Only Christ can. And if you can't find those things standing alone, you certainly won't find them in marriage either. But for those of you who can grasp these things before marriage, you'll enter marriage more fulfilled than you could imagine.
And two fulfilled people in a marriage makes for the best kind of marriage.
So don't live just to get married. Live to live. Live to heal. Live to grow. Live to learn. Live to serve Jesus. Right here, right now, where God has placed you. Because life abundantly doesn't start once you get married. Life abundantly is happening now. So learn to live life well, and you just never know who you'll meet along the way.
https://ymi.today/wp-content/uploads/2018/02/Dont-Live-to-Get-Married-Live-to-Live.jpg
613
1024
Contributor
https://ymi.today/wp-content/uploads/2017/05/ymi-logo-black-3.png
Contributor
2018-02-21 10:00:21
2018-02-20 09:42:46
Don't Live to Get Married. Live to Live.