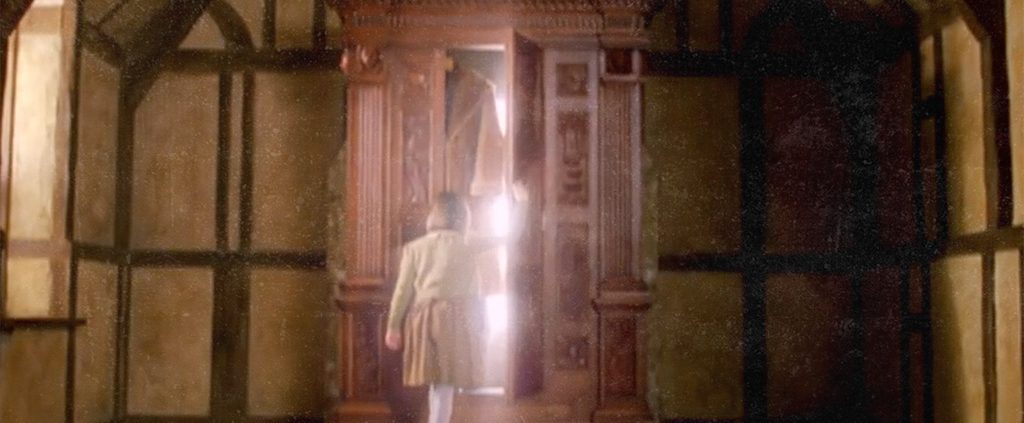 Photo taken from Official Trailer
Written By Abigail Ellington, USA
At church as a child, when I was supposed to draw a picture of what I thought heaven would look like, I scribbled yellow crayon all over the page, conveying light and glory. Heaven was a mystery to me, and I feared it would be like my illustration: empty of all that I found beautiful in the world, characterized only by gold and blinding light. We would all be happy, and pain and tears would be gone, but wouldn't praising God for eternity get tiresome?
My fears faded when I read The Chronicles of Narnia. In these classic novels by British novelist and Christian apologist C.S. Lewis, children experience extraordinary adventures in another world and develop relationships with Aslan, the lion who represents God. Through the truths which these stories conveyed, I recognized God as the source and fulfilment of all beauty and goodness.
Fantasy stories are often criticized as escapist distractions from the real world, but The Chronicles of Narnia shaped my affections for God and showed me how to deeply love and engage with the world around me. The longings which fantasy awakes need not destroy one's love for the real world or distract from what truly matters.
On the contrary, fantasy can highlight and communicate profound values which are too big and beautiful for us to fully grasp any other way. Someday, wrong will be made right, our Savior will return, and what we have lost will be restored to even greater beauty. Much of what we know about God comes from the incarnation: God taking on human flesh and dwelling among us. Because we know God primarily through Christ embodying Him on earth, it should not surprise us that we understand theological concepts best when they are conveyed to us through familiar form and symbols. Narnia's influence endures because it illustrates how God can be both love and thunder, what it means to seek nobility and honor, and how goodness and truth will win out in the end.
My desire for a world like this did not cast gloom over or dissatisfaction with my dull life. Instead, it deepened my appreciation of material and spiritual realities, because I learned that they belonged together. Heaven is not an escape from the world, but the ultimate fulfilment and perfection of the world which God created and called good. If God could make this finite, temporary earth so beautiful, why would I ever think that a new heaven and a new earth would be dull and lifeless? I came to believe what Jewel the Unicorn said of heaven in the final book in the Narnia series, The Last Battle: "This is my real country. This is what I have been longing for all my life, though I never knew it until now." When Christ returns, we will live in resurrected, perfect bodies, experiencing the presence of God and the final satisfaction of a story well-told.
The knowledge that we will one day experience everything good in its true and real form should lead not to dismissal of the world, but to deeper enjoyment of it. The feelings I experience when reading the Narnia books, gazing at sunsets, or watching sunlight filter through the trees in my backyard are not wasted vanities. They are opportunities for worship, and hints of everything to come. As C.S. Lewis wrote in The Weight of Glory, the earthly things we find most enthralling "are good images of what we really desire," and only break our hearts if we depend upon them. "For they are not the thing itself; they are only the scent of a flower we have not found, the echo of a tune we have not heard, news from a country we have never yet visited."
In heaven, I will experience all of the beauty and joy that I have felt in a piercing but inadequate sense in my time on earth. This redeemed, new world will be more beautiful than anything I can imagine, and until then, I am right to cherish the beauties and joys which will be magnified there.
Good fantasy is not a distraction from reality, but promotes hope that there is more to life than what we currently experience. Narnia affirmed my deepest longings and showed me how to direct them towards God. When I read the following quote from The Weight of Glory, my eyes fill with tears, because C.S. Lewis showed me this beauty through his fantasy stories and immeasurably impacted my faith: "At present we are on the outside of the world, the wrong side of the door. We discern the freshness and purity of morning, but they do not make us fresh and pure. We cannot mingle with the splendors we see. But all the leaves of the New Testament are rustling with the rumor that it will not always be so. Some day, God willing, we shall get in."
https://ymi.today/wp-content/uploads/2017/08/How-Narnia's-Fantasy-Led-Me-to-the-Truth.jpg
613
1024
Contributor
https://ymi.today/wp-content/uploads/2017/05/ymi-logo-black-3.png
Contributor
2017-08-07 10:00:37
2020-02-28 22:09:50
How Narnia's Fantasy Led Me to the Truth