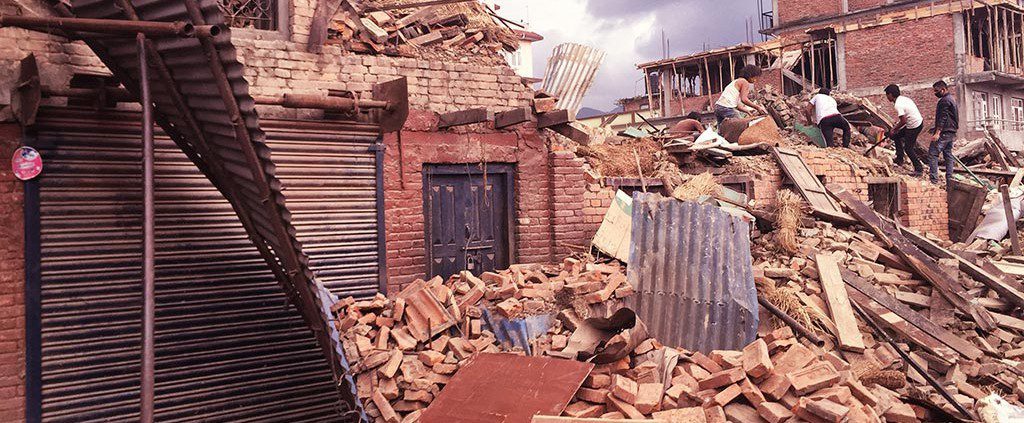 Photos By Jea Ng
Written By Jea Ng, Singapore
25 April 2015. It was the day my friend came to Nepal to visit me (I was mid-way through my one-year missions stint in Nepal). It was also the day the world witnessed the most horrific earthquake to strike Nepal since 1934. More than 8,000 people were killed and more than 21,000 people injured.
My friend and I were attending a church service on the third floor that morning. It was sermon time and the preacher was halfway through his reading from Genesis 17 when the entire building started to shake violently. I could hear the deep rumbling of the ground below us; birds outside were flying in all directions, and everything around us rattled.
Coming from earthquake-free Singapore, it took me some time to realize that I was in the middle of an earthquake—a 7.8 magnitude one, I found out later. My first thought was, "I need to get out of this building!" So I grabbed my bag and stood up, all ready to dash down to the ground floor.
But when I looked around me, I saw that none of the Nepali believers had moved. Instead, they remained sitting or standing, their hands raised up to God as they prayed fervently.
Immediately, I felt ashamed as I realized how, unlike them, my first instinct had not been to cry out to God for help. So I sat down again and prayed earnestly. I prayed that God would keep the building standing. I prayed that God would stop the earthquake. I prayed that God would save us. But at the back of my mind, I couldn't help but think: "This is going to be the last day of my life."
After a few seconds, the tremors died down. Everyone cheered and clapped. Then it started again. Then we continued to pray. The earthquake lasted for less than a minute, but at that point, it felt like forever. The tremors eventually subsided and we could walk down the stairs in an orderly fashion.
Some of the believers remained indoors and sang, "Dhanyabaad Yesu mero man dheki", which means "Thank you Jesus from my heart". Tears filled my eyes at the sight of them singing out to the Lord.
Suddenly, there was a commotion outside. I couldn't fully comprehend what was going on because my Nepali wasn't good enough. We saw some men running towards the big blue gate of the church and shutting it. We found out later that there was an elephant roaming around outside and they had wanted to keep it from coming into the church compound. The whole situation felt so surreal.
Later on, as we walked home, we saw that most of the brick walls surrounding people's houses had collapsed. People were gathered in groups in open spaces, and many were trying to make phone calls. At one site, a three-storey house had been completely destroyed, and police were trying to remove the rubble. A crowd of about 100 people were gathered there, some watching, some taking photos. We weren't sure if there were any deaths.
For an hour or so, we felt the ground jerk or sway below us. There were many aftershocks that day—and in the days, weeks, and months to come. For the next few days, we slept in tents. Every morning, we sang "10,000 Reasons" to remind ourselves that every day was a day to be thankful for, and hoped that things would get better.
Different people reacted to the shock differently. Some of my co-workers had post-trauma anxiety and had to return to their home countries to seek professional help and to heal. In my case, I knew God was calling me to stay—even though the Singapore High Commission in New Delhi and the Ministry of Foreign Affairs had contacted my mom to ask her about me and had offered to evacuate me. At that point, I was convicted to stay so that I could be with the people of Nepal, and was grateful that my parents respected my decision. I eventually stayed in Nepal for a total of 18 months—till July this year.
Does the earthquake still have an impact on me, now that I'm back in Singapore?
Yes, in some ways. Till today, whenever I hear a sound similar to that of the earthquake alarm, my body automatically stiffens up and responds as if there is danger. In my first week back home, there were times when I felt as if my bed was swaying while I was lying down. And when I went on a cruise, the vibration of the ship below me reminded me of the earthquake.
Does that mean I am still traumatized? I don't think so. It's just a new "normal" that I have to learn to survive with. Through the experience of the earthquake, I now understand much more deeply this verse from Isaiah 54:10, which says, "'Though the mountains be shaken and the hills be removed, yet my unfailing love for you will not be shaken nor my covenant of peace be removed,' says the Lord, who has compassion on you."
In the midst of chaos, God is remains unshakable.
https://ymi.today/wp-content/uploads/2016/09/Nepal-Earthquake-2.jpg
613
1024
Contributor
https://ymi.today/wp-content/uploads/2017/05/ymi-logo-black-3.png
Contributor
2016-09-23 10:00:25
2018-07-19 09:49:05
Reliving the Horrific 2015 Nepal Earthquake