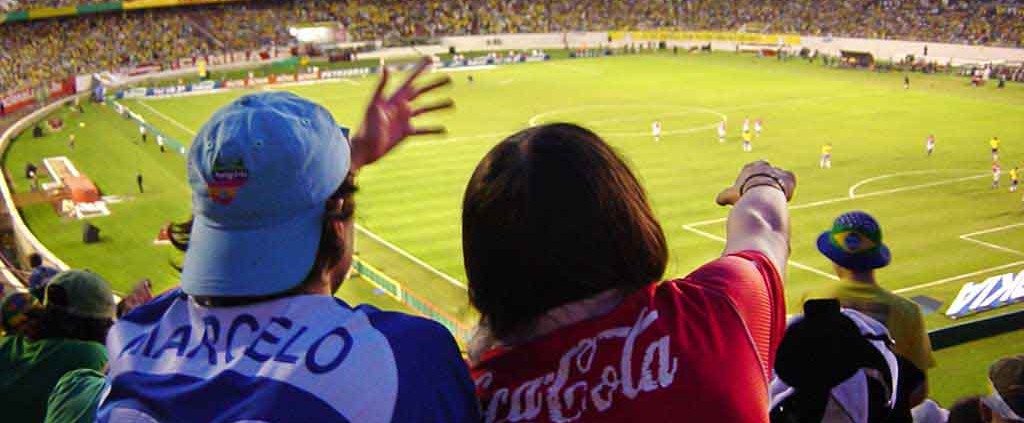 Day 10
If you aren't celebrating, it's because you are looking in from the outside.
READ: Romans 8:18-25
Appearing on football's biggest stage can be quite daunting. With dozens of television cameras training on you and through them countless millions of pairs of eyes watching your every movement, you can be forgiven if you feel a little nervous. Then there are the pundits reporting "live" in every major tongue, analyzing your every pass, shot, and tackle. Of course, the 100,000 screaming, flag-waving fans watching from the stands cannot be ignored either. For icing, you get the dignitaries—presidents, heads of state, prime ministers—and even kings and queens gracing the occasion.
In short, you are the focus of global attention, watched by wide-eyed barefoot kids in slums as well as splendidly attired royalties in VIP boxes.
It seems there is no comparable occasion today that could rival this quadrennial event. The entire world is on the same page, watching with bated breath.
But the Bible tells of a coming day that will surpass this event by far. It is the day God has set aside for the revealing of His children. On that day, every creature great or small in the entire creation will gather together to witness the spectacular presentation. Nervous? You bet!
Before that mind-boggling day hits, make sure you are among the children of God (Romans 8:19).
World Cup Trivia
Zakumi is the name of the 2010 World Cup's mascot in South Africa. What does it mean? How many times has the World Cup been held outside of Europe?
Did you know…
that the FIFA World Cup was first televised in Switzerland in 1954?
https://ymi.today/wp-content/uploads/2014/06/Day-10.jpg
613
1024
Contributor
https://ymi.today/wp-content/uploads/2017/05/ymi-logo-black-3.png
Contributor
2014-06-21 00:00:46
2014-12-10 19:08:24
The Perfect Game Plan: A Glorious Day