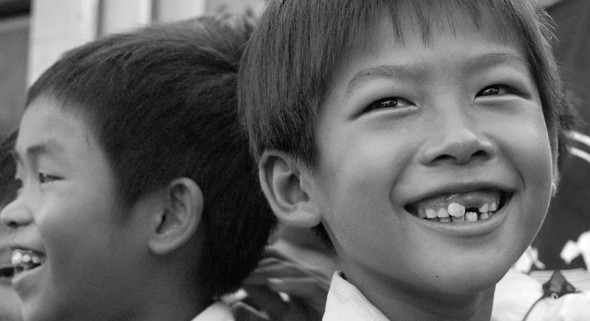 On my most recent trip to Nepal, I visited a village school that a Nepalese friend of mine helped to start up. Upon arrival, I was greeted by toothy grins and cheeky looks from the 72 students. It was definitely love at first garland as they piled never-ending heaps of the stuff over my neck.
As the days passed, I grew more and more attached to the children. The girls would run to me for help when their braids came loose, and the children would often beckon me to enter their class just for fun. I was even invited to visit their homes when school was over. After spending a week at the school, I had gotten so used to seeing their faces, hearing their laughter, and calling most of them by name, that it was pure torture when it was time to say goodbye.
Back at home a month later, I looked through photographs of them and to my horror realized that I had forgotten most of their names! I was furious with myself.
But thank God that He is not like me. Our Father in heaven never has this problem of forgetting names. In fact, He knows us beyond our names! Each of us is created specially by Him in His own image (Genesis 1:27), and as the Psalmist says in Psalm 139:13, "You made all the delicate, inner parts of my body, and knit me together in my mother's womb." Imagine someone knowing everything about you before you were even conceived! That's how well God knows each one of us—better than we know ourselves.
Jesus said, "I am the good shepherd; I know my own sheep, and they know me, just as my Father knows me and I know the Father. So I sacrifice my life for the sheep" (John 10:14-15). It's because of His intimate knowledge and love for us that Christ came down to earth. He knew that we aren't able to save ourselves from heading straight for destruction. Romans 5:8 says, "But God showed his great love for us by sending Christ to die for us while we were still sinners." And so for those God has chosen as His own, He purchased with His blood by dying selflessly on the cross for their sins. That's how much He loves us.
Therefore, through the disappointments, disapprovals and disagreements we'll experience in life, we could rest in the comfort of His love. Let's take time to praise and worship the name of our Lord who created us lovingly and then died for us, who we can go to in times of need, who is merciful and just, and who will most definitely not forget us.
https://ymi.today/wp-content/uploads/2013/04/kid.jpg
411
590
Tracy Phua
https://ymi.today/wp-content/uploads/2017/05/ymi-logo-black-3.png
Tracy Phua
2013-04-15 10:00:04
2014-12-08 22:28:39
Forget Me Not