Scripture Readings in Preparation for Easter
Compiled by Koh Siang Kiang (Associate Professor at Singapore Bible College)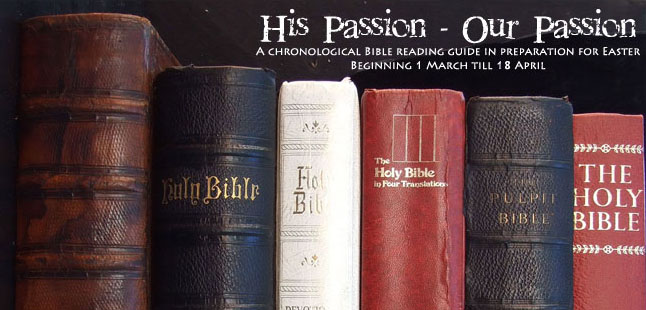 Why this reading plan?
Last Christmas, when I was encouraging people to prepare their hearts for the season, many looked at me and asked, "How?" When I told them to read the Gospels and to reflect on God's Word they asked, "Where do I begin?"
With Good Friday and Easter coming in 2 months, I realize that this opportunity of helping people to know God more intimately is not to just ask them to read and respond to God's Word. I need to give them a tool.
And, I am extending this invitation to you also – with the hope and prayer that the passion for God will grow in YOU!
Introduction:
You may have heard of some Christian events and wondered what they are. Like me, you may be too afraid to ask. So, let me share the little I do know to encourage you to "dig" deeper in preparation for Easter.
If you want to know Jesus, a logical place to begin is the Gospels which record His life and teaching.
Of the 89 chapters in the four gospels, Matthew, Mark, Luke and John, 26 of those were dedicated to the events leading to the cross and the resurrection of Jesus Christ. This is approximately 1/3 of the writings concerning His life, and a great place to start!
About the Reading Plan:
To help you understand, this chronological compilation will unveil events as they happened each day leading up to Christ's cruxifiction on the cross.
Some days you will be reading about one event, from all four Gospels. Other days you may read from only one. This could either be because only one gospel records that particular account, or the passage is a long one and I've divided the readings for your ease.
Now you are ready to begin with the Bible reading. May the Word of God be an encouragement as you learn more about Christ in preparation for the coming Easter. Be blessed!
Click here to download or view the handy Bible Reading Plan for Easter and keep a copy of it in your Bible!
https://ymi.today/wp-content/uploads/2012/03/His-Passion-Our-Passion.jpg
613
1024
Contributor
https://ymi.today/wp-content/uploads/2017/05/ymi-logo-black-3.png
Contributor
2012-03-06 12:40:14
2014-12-18 14:57:57
His Passion - Our Passion