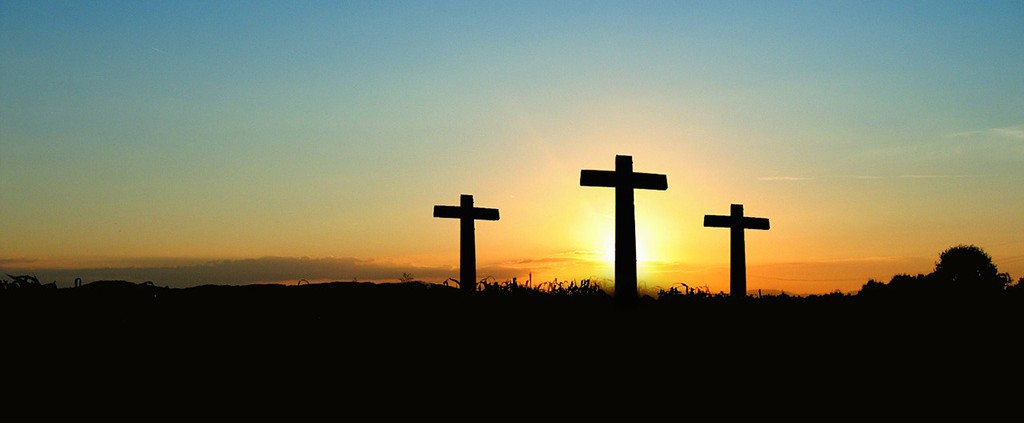 These people lived over the course of history from the Old Testament to the 20th Century and yet they shared one thing in common: they were young people who readily answered the call of God. Their lives impacted others.
God uses the most ordinary people to bring the gospel to many parts of the world. Some of these missionaries even went to the grave for what they did. I won't lie. I've been impressed, inspired and encouraged after reading books on these giants of faith, but this zeal usually last for a mere 5 seconds.
I've always viewed all these cases as too idealistic and utopian. I also felt God would never call me and even if He did, He probably didn't have a choice left. As I delved deeper into His Word, it said otherwise. It all begins with me.
What does God's Words say?
Jesus started His ministry by seeking out His disciples. In that time, the Pharisees also had their own followers. Young men who wanted to become a disciple of the Pharisee had to vie and even beg for a position. However, Jesus' ministry was different. His disciples didn't need to vie or fight for a place; they only had to obey Jesus' call to follow Him.
Today, obedience to the call of God is something that few of us recognise as important. God calls out to us but we turn a deaf ear to Him.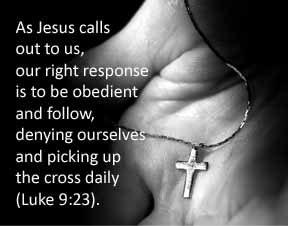 Sometimes we even secretly pray that He calls the person beside us instead.
We must first come to a realization that God's work in our lives is an ongoing process. He uses His Words to teach, rebuke, correct and train us in righteousness (2 Tim. 3:16). The process of sanctification is through and through (1 Thess. 5:23) in our lives.
Jesus reminds us that we who belong to Him will know His voice when He calls and we will follow Him (John 10:27). As He calls out to us, our right response is to be obedient and follow, denying ourselves and picking up the cross daily (Luke 9:23).
However, this faith that we have in following Christ cannot and should not be mere lip service. From James 2:14 – 25, we know that faith without deeds is dead. James highlighted the example of Abraham who faithfully followed what God told him to do even to the point of sacrificing Isaac, his son. Abraham's faith was made complete in what he did at the altar. "Abraham believed God, and it was credited to him as righteousness" (v.23).
Abraham's act of faith showed an active submission to the Lord. Isaac was the promised child that Abraham had been waiting for through whom he would have descendants as numerous as the stars. But yet God asked for Isaac's life. Abraham had to rid himself of his parental obligations and doubts about God. He had to wholly trust that God ultimately worked all things good for His namesake.
How than is such a lesson applicable in today's context?
Jesus gave the answer in Matthew 5:13. We are to be salt and light of the earth. This is our act of exercising faith and deeds through active submission to the Lord.
Salt
Salt in Jesus' time existed in rock forms. The purer the quality of salt, the more expensive it would be. It was of importance at that time because of its qualities. It preserves and adds flavour to foods.
Similarly, we are made important and sought after by the qualities God has given. Our lives are meant to add flavour to the lives of others. We are meant to introduce what never was there in the lives of non-Christians: Jesus Christ. Through our lives, as used by God, we may influence the lives of others as well.
Light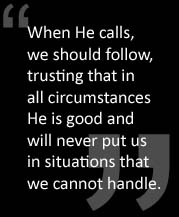 Light illuminates the dark, providing guidance to all. The source of this light in us is Jesus. Our lives are meant to shed the light of Jesus to all those around us. We are meant to be exemplary in all we do, pointing people to the truth, and eradicating darkness.
As salt and light, we must actively submit to God, remembering His goodness at all times. This submission requires us to open up our lives to God that He may work in and through us for His glory alone. Like Abraham, we should not allow our personal expectations to hinder us from following God. When He calls, we should follow, trusting that in all circumstances He is good and will never put us in situations that we cannot handle.
How than can I put into practice all these lessons?
A consistent service of sharing His gospel to those around us is what Jesus commissioned us to do. This sharing is done even in our day-to-day activities when people observe our lives.
"A new command I give you: Love one another.
As I have loved you, so you must love one another.
By this all men will know that you are my disciples,
if you love one another."
—John 13: 34–35
This verse constantly reminds us that by our love, people will know that we are Jesus' disciples.
Daily remind yourself of the gospel of Christ, the richness of grace and mercy and the everlasting life promised. Fix your eyes upon the Creator, run the race of faith unhindered and glorify Him in all you do.
This is how you can change the world.
Written By Isaac Tan for YMI
https://ymi.today/wp-content/uploads/2009/06/Can-we...really-.jpg
613
1024
Contributor
https://ymi.today/wp-content/uploads/2017/05/ymi-logo-black-3.png
Contributor
2009-06-05 00:43:24
2014-12-31 11:42:04
Can we . . . really?